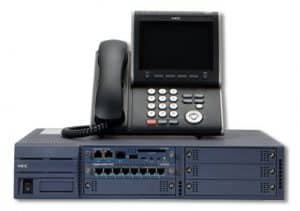 NEC business telephone systems are built to last, typically from 12 to 15 years. It is not uncommon to have a NEC SV8100 telephone system last even 20 years or more. If you bought a NEC SV8100 telephone system, there is a good chance it's still running well and supporting your business today.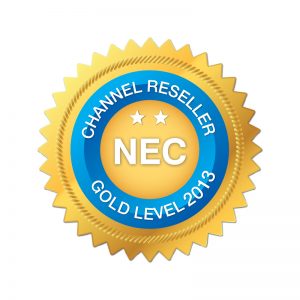 Teleco fully supports all NEC business telephone systems. This includes the NEC DSX, NEC SL1100, NEC IPK II, NEC IPK, NEC Aspire, and NEC DS1000/2000. We can provide service support, add-ons, moves, repairs, administration, upgrades and maintenance service contracts. We provide emergency service and carry all NEC phone system parts in stock for immediate repairs.
UNIVERGE SV8100
The UNIVERGE SV8100 is a unique IP communication solution for any small and/or medium sized business today—whether you have 5, 25 or up to 500 employees…just getting started or already long established…have a single office, a home office or multiple locations. Its expandability means it can work at any level, from a technically superior phone system, to a truly state of the art unified communications platform. The SV8100 unifies your communications, providing your employees with a solution that lets them handle all their business communications on the device of their choice: their laptop, mobile phone, office phone or home phone—using wired, wireless or broadband connections.
Suitable for growth: Modular construction
The UNIVERGE® SV8100 Communications Server is a key component of this foundation and is the ideal system for businesses that wish to compete and grow.. You can deploy a pure IP solution or any combination of IP and traditional telephone technology with a single NEC SV8100 system.
Easy to use Call Management
Real-time business management with MyCalls application. MyCalls gives you all the information you need to manage every aspect of call activity & performance.
Customisable terminals and handsets
UNIVERGE® SV8100 terminals and handsets are like no other. Their modular construction means you can change the design for exact business requirements. They can then be upgraded at a later stage without having to replace them – a great investment protection that no other telephone system offers.
Free Mobile Extensions
System functionality straight to your mobile. The SV8100 Mobile Extension feature is like being in when you're out. Treat your mobile like your desk phone and enjoy system features while you're on the move. Best of all, Mobile Extensions are built in at no extra cost to the NEC SV8100!
Serving Customers Effectively with Unified Communications
Business ConneCT helps unify an entire organization, enabling individuals, departments and locations to work more efficiently by ensuring seamless internal and external communications. Users can connect and show presence from wherever they are via phones, PCs, mobile devices, faxes and the web – effortlessly.
True Business Mobility
The SV8100 range of IP DECTs offers a more fl exible way of working. Access to the main system features mean employees are more reachable, more quickly.
Click here for an NEC SV8100 Brochure or Data Sheet

NEC's UNIVERGE Desktop Digital Terminals offer features and benefits that brilliantly capture the essence of form and function while providing businesses the means to seamlessly communicate with their customers and coworkers. These telephones, which are an important part of NEC's UNIVERGE360 approach, deliver exceptional value and can be customized to fit your organization's needs. With their user-friendly ergonomic design, a range of models to choose from and a choice of interfaces and options, they provide users with access to the full power of UNIVERGE communication platforms.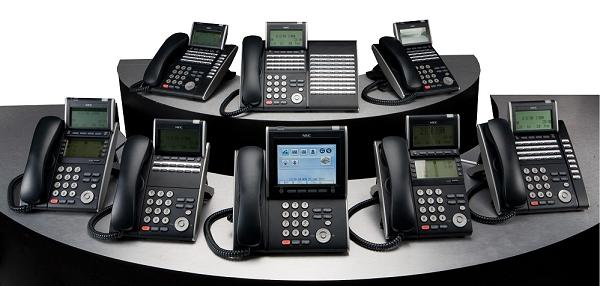 From the entry level DT310 2E to the DT330 Desi-Less telephone, all NEC Univerge are built to NEC's exacting standards of reliability, functionality, and ease of use. All phones come equipped with backlit keypad, hands-free intercom, Easy to use soft keys / LCD prompts on display models, Directory dial key, 1000 system speed dials, 1000 group speed dials, 10 personal speed dials, 600 phone book entries, Conference key, Wall mountable, and Message waiting indicator. Most handsets also include navigation wheel, caller ID history, headset port, full duplex speakerphone operation, Optional items on high end handsets include Bluetooth handsets, added direct station select keys, paperless all LCD version with customizable interface.
NEC's UNIVERGE Desktop IP Terminals provide all the features and functionality of traditional phones with the seamless integration of advanced IP applications. Integration of voice and data is no longer limited to the network or the PC desktop; it is now in the end-users' hands, providing role-enabled communications as part of NEC's UNIVERGE360 approach.
UNIVERGE Desktop IP Terminals are ergonomically designed for natural comfort and facilitate use through an array of menu-driven soft key functions and easy-access function keys. Together, these aspects of the terminal deliver power, versatility and programmability to all user stations, maximizing efficiency and productivity.
Because the entire desktop surface is crafted for user productivity and fosters better speed, service and performance, the UNIVERGE Desktop IP Terminal can help your business reach more profitable heights.
Part No.
Description
Model
670094
SV8100 9.5 Inch 32IP System Package. Consists of: (1) 670067 9.5″ 3-Slot Chassis, (1) 670005 Standard CPU Blade, (1) 670104 32-Resourse VoIP Daughter Board
SV8100 9.5″ 32IP System Package
670095
SV8100 9.5 Inch 64IP System Package. Consists of: (1) 670067 9.5″ 3-Slot Chassis, (1) 670005 Standard CPU Blade, (1) 670105 64-Resourse VoIP Daughter Board
SV8100 9.5″ 64IP System Package
670096
SV8100 9.5 Inch 128IP System Package. Consists of: (1) 670067 9.5″ 3-Slot Chassis, (1) 670005 Standard CPU Blade, (1) 670106 128-Resourse VoIP Daughter Board
SV8100 9.5″ 128IP System Package
670023
SV8100 19 Inch 32 IP Package. Consists of: (1) 670015 19″ 6-Slot , (1) 670005 Standard CPU Blade, and (1) 670168 32-Resource VoIP Daughter Board
SV8100 19″ 32 IP Package
670013
SV8100 19 Inch 64 IP Package. Consists of: (1) 670015 19″ 6-Slot , (1) 670005 Standard CPU Blade, and (1) 670169 64-Resource VoIP Daughter Board
SV8100 19″ 64 IP Package
670024
SV8100 128 19 Inch IP Package. Consists of: (1) 670015 19″ 6-Slot , (1) 670005 Standard CPU Blade, and (1) 670170 128-Resource VoIP Daughter Board
SV8100 19″ 128 IP Package
670144
9.5 Inch SMB Value Package. Consists of: (1) 670067 9.5″ 3-Slot Chassis, (1) 670176 Value Package CPU Blade (equipped with (2) InMail Ports & InMail Email Notification Feature with 4 Clients), (1) 670525 Memory Daughter Board, (1) 670103 InMail/VRS Daughter Board, (1) 670966 InMail 1G CompactFlash, (1) 670215 8×2 Combo Station Blade with hard-wired 4-Port Trunk Daughter Board, (4) 680002 12-Button Digital Terminals/Black. (670215 is a temporary replacement for the 670128 and 670111.)
9.5″ SMB Value Package
670093
SV8100 9.5 Inch Digital System Package. Consists of: (1) 670067 CHS2U-B 9.5" 3-Blade Chassis, (1) 670005 CD-CP00 CPU Blade, (1) 670128 CD-LTA Combo Station Blade (8-pt Dig./2-Pt An.) Temporarily replaced with 670295.
SV8100 9.5" Digital System Package
670295
SV8100 9.5-Inch Digital System Package Plus. Consists of: (1) 670067 CHS2U-B 9.5" 3-Blade Chassis, (1) 670005 CD-CP00 CPU Blade, (1) 670215 CD-LTDH Combo Station Blade with hard-wired 4-Port Trunk Daughter Board (4 x 8 x 2.) This is a temporary package.
SV8100 9.5" Digital System Package Plus
670010
SV8100 19 Inch Digital System Package. Consists of: (1) 670015 19″ 6-Slot Chassis, (1) 670005 Standard CPU Blade, and (1) 670107 8-Port Digital Station Blade. Temporarily replaced with 670296.
SV8100 Digital System Package
670296
SV8100 19 Inch Digital System Package. Consists of: (1) 670015 19″ 6-Slot Chassis, (1) 670005 Standard CPU Blade, and (1) 670109 16-Port Digital Station Blade. This is a new, permanent package.
SV8100 19″ Digital System Package Plus
670067
9.5 inch 3-Slot Chassis. Contains power supply, (1) expansion blade slot, (3) universal blade slots, (2) universal blade slot covers, (1) Installed expansion blade slot cover, wall-mount/shelf-mount brackets. Can be expanded to (6) blade slots with the 670068 3-Slot Expansion Chassis. Power specification for UPS: 263VA(at 120VAC). The CPU Blade must be installed in the first slot of the controlling base chassis.
CHS2U B-US
670068
9.5 inch 3-Slot Expansion Chassis. Contains: (1) Expansion Blade Slot, (3) universal blade slots, (3) universal blank slot covers, (1) Installed expansion blade slot cover, installation brackets. Attaches to 9.5 Inch 3-Slot Base Chassis. Expansion blades are not required to install this expansion chassis.
CHS2U E
670015
19 inch 6-Slot 2U chassis. Contains: Power supply, (6) Universal blade slots, (5) installed blade slot covers, (1) Installed expansion blade slot cover, fan. Power specification for UPS: 263VA(at 120VAC). The CPU Blade must be installed in the first slot of the controlling base chassis. NOTE: The 19″ Chassis does NOT come equipped with mounting hardware.
CHS2U-US
670100
Expansion Blade for 9.5 Inch 3-Slot or 19 Inch 6-Slot Base Chassis. Required for connection between base chassis and up to (3) 670067 or 670015 expansion chassis. Installs in dedicated Expansion Blade slot. Also provides (64) additional system resources for DTMF Receivers, Caller ID, and Dial Tone Detection.
PZ-BS10
670101
Expansion Blade for 9.5 Inch 3-Slot or 19 Inch 6-Slot Expansion Chassis. Required for connection between expansion chassis and base chassis. One required for each 670067 or 670015 being used as an expansion chassis. Installs in dedicated Expansion Blade slot. Equipped with 4-ft. 8-conductor Interface cable.
PZ-BS11
670130
IPK/IPKII Migration Blade. Installs in the IPK / IPKII Chassis. SV8100 must be equipped with 2.5 software or above, Memory Expansion Daughter Board (PZ-ME50 – 670525), and Expansion Blade (PZ-BS10 – 670100).
MGN-U10
670510
Wall-Mount Bracket Set for 19 Inch 6-Blade Chassis. One required per chassis.
CHS1U/CHS2U Wall Mount Kit
670508
Rack-Mount Bracket Set for 19 Inch 6-Blade Chassis. For mounting in a 19" equipment rack. One suggested per chassis.
CHS2U Rack Mount Kit
670501
Joint Bracket Set for 19 Inch 6-Blade Chassis. Installed between (2) 19" chassis, for stabilization. Also used to join a 19" chassis to the Floor-Mount Box (670019). Contains (2) brackets & (8) screws.
CHS2U Joint Bracket Kit
670019
Floor-Mount Box for 6-Blade Chassis and/or CHS External Battery Box (670602). Allows mounting one 19" 6-Blade chassis (670015) and/or CHS External Battery Box (670602) to the floor, horizontally. Additional chassis can be added using the Joint Bracket Set (670501).
CHS Base Unit
670513
Floor-Mount Bracket Set for 6-Blade Chassis. Allows mounting one chassis to the floor, vertically.
CHS2U Stand Kit (K)
670522
Floor-Mount Bracket Extension Set. Expands 670513 Floor-Mount Bracket Set, to allow addition of 2nd and 3rd 6-Blade Chassis.
CHS2U Stand Kit (EXT)
670603
Short Term Battery Box Kit for 9.5 Inch 3-Slot Chassis. Installs on each 9.5" 3-Blade Base Chassis. Consists of: (1) 670504 Small Battery Box and (1) 670511 Small Battery Set : (2) 12V 0.8Ah lead-acid batteries. Does not provide surge protection or power conditioning, as SV8100 Chassis still plugs directly into AC outlet. Typical backup time: approximately 10 minutes.
3 Slot Chassis BATT KIT
670601
Short Term Internal Battery Kit for 19 Inch 6-Blade Chassis. Installs inside each 19" 6-Blade Chassis. Consists of: 670509 Battery Mount, 670530 Cable, and 670533 Internal Battery Set: (2) 12V 2.3Ah lead-acid batteries. Does not provide surge protection or power conditioning, as SV8100 Chassis still plugs directly into AC outlet. Typical backup time: approximately 10 minutes.
CHS2U INT BATT KIT
670602
External Battery Box Kit. Installs adjacent to the 9.5" 3-Blade Controlling Base Chassis or beneath the 19" 6-Blade Chassis, if floor-mounted. (1) External Battery Box can be connected to each chassis or up to (4) Chassis. Maximum (1) per chassis. Consists of: (1) 670505 External Battery Box and (3) 670512 External Battery Set: (2) 12V 7.0Ah lead-acid batteries. Connects to dedicated battery connector on chassis. Each of the (4) output cables is approximately 6 feet in length. The External Battery Box contains (3) battery trays. Each tray holds one set of (2) batteries. Each tray is equipped with (2) cables for connection of batteries. Does not provide surge protection or power conditioning, as SV8100 Chassis still plugs directly into AC outlet. (1) External Battery Box Kit provides the following typical backup times: 45 min for (4) chassis, 67 min for (3) chassis, 90 min for (2) chassis, 135 min for (1) chassis. (2) External Battery Box Kits provide the following typical backup times: 90 min for (4) chassis and 180 min for (2) chassis.

CHS1U/CHS2U EXT BATT KIT
670531
External Battery Cable. Connects 3-Blade or 6-Blade Chassis to a customer-provided 12V battery, when the External Battery Box Kit is not used.
CHS BATT CA EXT-A
670005
CPU Main Processor Blade. Installs in first universal slot of the base chassis. Controls all system functions & operations. Provides system ports 1-64. Provides (4) NEC SIP Terminal licenses (with system software 3.1 or higher). Provides (32) system resources for DTMF Receivers, Caller ID, and Dial Tone Detection. Contains: (1) USB connector for updating system S/W, storing system databases, licensing, (1) Fast Ethernet connector, (1) 8-conductor mod jack for relay contacts for BGM/MOH music source/external page, (1) DIM connector for diagnostics, (2) Sub-mini audio input/output jacks for music inputs and/or external paging output, CR2032 lithium battery. Contains connectors for: (1) Memory Expansion Daughter Board, (1) Voice Mail Daughter Board, and (1) VoIP Daughter Board.
CD-CP00-US (CPU)
670176
Replacement CPU for SMB Value Package. Same as 670005, but is also equipped with 2-Port InMail License and 4-Client Email Notification License.
CD-CP00-US-9.5-Inch TDM VALUE
670525
Memory Expansion Daughter Board. Provides additional system memory. Required for: Multiple chassis applications, More than (64) system ports, More than (8) InMail/VRS Ports (with R4+), More than (1) CD-LTA Blade (670128) in system, system networking (NetLink/AspireNet), Software updates by remote maintenance. Maximum (1) per CPU Blade. Installs on CPU Blade.
PZ-ME50-US
670103
InMail/VRS/Modem Daughter Board. Contains built-in V.90 Modem. Required for system modem – if system is not already equipped with InMail or VRS. Allows remote system programming access. When equipped with a CompactFlash and licenses, also provides InMail and/or VRS functions. Not required for UM8000 voice mail products. Maximum (1) per system. Installs on the CPU Blade.
PZ-VM21
670168
32-Resource VoIP Daughter Board. Required for VoIP applications. Replaces PZ-32IPLA (670104). Installs on the CPU Blade. Maximum (1) VoIP Daughter Board (any size) per system. Licenses required for IP terminals and IP Trunks.
PZ-32IPLB
670169
64-Resource VoIP Daughter Board. Required for VoIP applications. Replaces PZ-64IPLA (670105). Installs on the CPU Blade. Maximum (1) VoIP Daughter Board (any size) per system. Licenses required for IP terminals and IP Trunks.
PZ-64IPLB
670170
128-Resource VoIP Daughter Board. Required for VoIP applications. Replaces PZ-128IPLA (670106). Installs on the CPU Blade. Maximum (1) VoIP Daughter Board (any size) per system. Licenses required for IP terminals and IP Trunks.
PZ-128IPLB
670701
System Port License for ports 65 to 256. Requires Memory Expansion DB (670525).
LK-SYS- 65 TO 256 PORT LIC
670700
System Port License for ports 257 to 712. Requires Memory Expansion DB (670525). Requires 65-256 System Port License (670701).
LK-SYS-UPG 257 TO 712 PORT LIC
670702
NetLink 1 Remote Node License. Integrates multiple systems into a single "virtual" communication server. Main site requires a license for each remote node. A single site with more than (4) chassis requires (1) Remote Node License. Maximum of (16) sites (Main & 15 Remote Sites) and (712) network-wide ports. Main site must have System Port Licenses that will accommodate the trunks and stations of all networked sites. Only one voice mail system can be installed in a NetLink application.
LK-SYS-NETLINK1-LIC
670703
NetLink 2 Remote Node License. Integrates multiple systems into a single "virtual" communication server. Main site requires a license for each remote node. A single site with more than (4) chassis requires (1) Remote Node License. Maximum of (16) sites (Main & 15 Remote Sites) and (712) network-wide ports. Main site must have System Port Licenses that will accommodate the trunks and stations of all networked sites. Only one voice mail system can be installed in a NetLink application.
LK-SYS-NETLINK2-LIC
670704
NetLink 5 Remote Node License. Integrates multiple systems into a single "virtual" communication server. Main site requires a license for each remote node. A single site with more than (4) chassis requires (1) Remote Node License. Maximum of (16) sites (Main & 15 Remote Sites) and (712) network-wide ports. Main site must have System Port Licenses that will accommodate the trunks and stations of all networked sites. Only one voice mail system can be installed in a NetLink application.
LK-SYS-NETLINK5-LIC
670705
NetLink 10 Remote Node License. Integrates multiple systems into a single "virtual" communication server. Main site requires a license for each remote node. A single site with more than (4) chassis requires (1) Remote Node License. Maximum of (16) sites (Main & 15 Remote Sites) and (712) network-wide ports. Main site must have System Port Licenses that will accommodate the trunks and stations of all networked sites. Only one voice mail system can be installed in a NetLink application.
LK-SYS-NETLINK10-LIC
670964
AspireNet License. Required for each SV8100 in an AspireNet network. Each UX5000 in an AspireNet network that includes an SV8100 must be equipped with a SV8100 Migration CPU. Important: This affects general feature operation. One AspireNet license is required in each SV8100 and UX5000 system in an AspireNet application. Maximum (50) nodes in an AspireNet network. Contact NEC Sales Engineering for all AspireNet voice mail applications that include an SV8100 system.
LK-SYS-ASP-NET-LIC
670099
UX5000 to SV8100 Migration Kit. Consists of: Migration CPU Blade (670098), SV8100 R6 License (670632), and White Panel Overlay. The White Panel Overlay can be placed on the CPU Blade to match the color of the existing UX5000 Chassis and blades. Refer to the UX5000 to SV8100 Migration Manual for details.
LK-MIGRATION CP00 KIT
670139
LK-Migration Kit. Consists of MGN-U10 ETU Migration Board (670130) for Elite 192 / IPK / IPKII, PZ-BS10 Expansion Blade (670100) for connecting to B64U10/20/30, PZ-ME50-US Memory Expansion Daughter Board (670525)
SV8100 MIGRATION KIT
670103
InMail/VRS/Modem Daughter Board. Provides the following functions: InMail Voice Mail, VRS (Voice Response System), and Modem for remote system access. InMail and VRS applications require the associated CompactFlash (670966) and InMail and/or VRS Licenses. Installs on CPU blade (670005). Maximum one per system. InMail can be used in conjunction with the VRS feature. VRS requires separate licenses. The total quantity of available ports between InMail and VRS is (16). Examples: if a system has (4) InMail ports, there can be a maximum of (12) VRS ports. If a system has (16) InMail ports, there can be no VRS ports.
PZ-VM21
670966
InMail/VRS 64-Hour 1G CompactFlash. Required for InMail and/or VRS applications. Maximum one per system. (Replaces 670831)
AK INMAIL-1G-APP CF
670782
InMail 2-Port License. More than (8) InMail and/orVRS ports requires R4 or higher and 670525 Memory Expansion Daughter Board.
LKS-VM-INMAIL2-LIC
670783
InMail 4-Port License. More than (8) InMail and/orVRS ports requires R4 or higher and 670525 Memory Expansion Daughter Board.
LKS-VM-INMAIL4-LIC
670784
InMail 8-Port License. More than (8) InMail and/orVRS ports requires R4 or higher and 670525 Memory Expansion Daughter Board.
LKS-VM-INMAIL8-LIC
670843
InMail 16-Port License (Requires R4 or higher and 670525 Memory Expansion Daughter Board)
LKS-VM-INMAIL16-LIC
670931
InMail Email Notification License. Provides support for SMTP email integration. Includes (16) InMail Email Clients (Licenses activated prior to 2/22/10 had only 5 clients). Additional email clients can be added.
Requires 670525 Memory Expansion DB.
LK-SYS-VM-EMAIL-LIC
670926
Additional 1-Client Email License
LK-VM-EMAIL-CLIENT1 LIC
670927
Additional 4-Client Email License
LK-VM-EMAIL-CLIENT4 LIC
670928
Additional 8-Client Email License
LK-VM-EMAIL-CLIENT8 LIC
670929
Additional 16-Client Email License
LK-VM-EMAIL-CLIENT16 LIC
670930
Additional 32-Client Email License
LK-VM-EMAIL-CLIENT32 LIC
670785
InMail Additional Language License. One license required per additional language. Select from (20) languages. Maximum (20) language licenses per system.

LKS-VM-LANGUAGE-LIC
670778
VRS 2-Port License. Provides the following VRS features: Automated Attendant (without voice mail), General Message, Personal Greeting, and ACD Messages.
LKS-VM-VRS2-LIC
670779
VRS 4-Port License. Provides the following VRS features: Automated Attendant (without voice mail), General Message, Personal Greeting, and ACD Messages.
LKS-VM-VRS4-LIC
670780
VRS 8-Port License. Provides the following VRS features: Automated Attendant (without voice mail), General Message, Personal Greeting, and ACD Messages.
LKS-VM-VRS8-LIC
670781
VRS 16-Port License. Provides the following VRS features: Automated Attendant (without voice mail), General Message, Personal Greeting, and ACD Messages.
LKS-VM-VRS16-LIC
670123
UM8000/UM8000 Lite Voice Mail Blade. Required for UM8000 and UM8000 Lite applications.
Contains (2) USB 1.0 Ports for keyboard support and (1) VGA connector for VHA monitor support. Installs in universal blade slot. Requires UM8000 Lite 2G CompactFlash & Port License.

CD-VM00
670836
UM8000/UM8000 Lite 110-Hour CompactFlash (2G). The UM8000 Lite is not compatible with the 550-Hour CompactFlash (8G). UM8000 Lite can be used as centralized VM in Netlink and CCIS network applications.
AKS UM-2G APP CF
670791
2-Port UM8000 Lite License. Provides basic, non-synchronized SMTP email notification for all (512) stations.
Equipped with (5) View App Seats, consisting of View Mail, View Call Plus, VMM (Outlook), VML (Lotus Notes), VMG (GroupWise) and Web Mailbox Manager. Additional seats can be added with optional licenses.
LKS-UMS-PORT 2 LITE-LIC
670852
4-Port UM8000 Lite License. Provides basic, non-synchronized SMTP email notification for all (512) stations.
Equipped with (5) View App Seats, consisting of View Mail, View Call Plus, VMM (Outlook), VML (Lotus Notes), VMG (GroupWise) and Web Mailbox Manager. Additional seats can be added with optional licenses.
LKS-UMS-PORT 4 LITE-LIC
670853
8-Port UM8000 Lite License. Provides basic, non-synchronized SMTP email notification for all (512) stations.
Equipped with (5) View App Seats, consisting of View Mail, View Call Plus, VMM (Outlook), VML (Lotus Notes), VMG (GroupWise) and Web Mailbox Manager. Additional seats can be added with optional licenses.
LKS-UMS-PORT 8 LITE-LIC
670854
16-Port UM8000 Lite License. Provides basic, non-synchronized SMTP email notification for all (512) stations.
Equipped with (5) View App Seats, consisting of View Mail, View Call Plus, VMM (Outlook), VML (Lotus Notes), VMG (GroupWise) and Web Mailbox Manager. Additional seats can be added with optional licenses.
LKS-UMS-PORT 16 LITE-LIC
670851
2-Port Upgrade License. Provides (2) additional UM8000 Lite ports to an existing system.
Required for expansions only.
Required for all UM8000 Lite port expansions.
If more than a 2 port expansion is required, use this license in conjunction with standard port licenses.
For example, if (6) expansion ports are required, use (1) 2-Port Upgrade and (1) 4-Port License (670852).
LKS-UMS-PORT 2 LITE UPG LIC
670855
UM8000 Lite to UM8000 Upgrade. Also requires upgrade to 8G CompactFlash (670837).
LKS-UMS-UPG FM LITE TO FULL- LIC
670837
UM8000 (Full) 550-Hour CompactFlash (8G). The UM8000 is not compatible with the 110-Hour CompactFlash (2G). UM8000 can be used as centralized VM in Netlink and CCIS network applications.
AKS-UM-8G APP CF
670792
UM8000 4-Port License. Provides basic, non-synchronized SMTP email notification for all (512) stations.
Equipped with (5) View App Seats, consisting of View Mail, View Call Plus, VMM (Outlook), VML (Lotus Notes), VMG (GroupWise) and Web Mailbox Manager. Additional seats can be added with optional licenses.
LKS-UMS-PORT 4 LIC
670793
UM8000 8-Port License. Provides basic, non-synchronized SMTP email notification for all (512) stations.
Equipped with (5) View App Seats, consisting of View Mail, View Call Plus, VMM (Outlook), VML (Lotus Notes), VMG (GroupWise) and Web Mailbox Manager. Additional seats can be added with optional licenses.
LKS-UMS-PORT 8 LIC
670794
UM8000 16-Port License. Provides basic, non-synchronized SMTP email notification for all (512) stations.
Equipped with (5) View App Seats, consisting of View Mail, View Call Plus, VMM (Outlook), VML (Lotus Notes), VMG (GroupWise) and Web Mailbox Manager. Additional seats can be added with optional licenses.
LKS-UMS-PORT16 LIC
670796
1-Port UM8000 Text-to-Speech License. Provides the ability to "speak" the text of Microsoft Exchange, Lotus Notes, and GroupWise based email messages.
User can Save, Forward, or Delete email messages.
Maximum of (2) ports per UM8000.
Not compatible with UM8000 Lite.
LKS-UMS-TTS-PORT-LIC
670797
UM8000 Text-to-Speech Language License. Ability to "read" email messages in multiple languages.
LKS-UMS-TTS-LANGUAGE-LIC
670786
1 Additional Client View App License – Supports client View Mail, View Call Plus, View Fax, Web Mailbox Manager, and integration with Microsoft Exchamge/Outlook (VMM), Domino/Lotus Notes (VML), and Groupwise/Novell (VMG).
LKS-UMS-CLIENT 1-LIC
670787
4 Additional Client View App License – Supports client View Mail, View Call Plus, View Fax, Web Mailbox Manager, and integration with Microsoft Exchamge/Outlook (VMM), Domino/Lotus Notes (VML), and Groupwise/Novell (VMG).
LKS-UMS-CLIENT 4-LIC
670788
8 Additional Client View App License – Supports client View Mail, View Call Plus, View Fax, Web Mailbox Manager, and integration with Microsoft Exchamge/Outlook (VMM), Domino/Lotus Notes (VML), and Groupwise/Novell (VMG).
LKS-UMS-CLIENT 8-LIC
670789
16 Additional Client View App License – Supports client View Mail, View Call Plus, View Fax, Web Mailbox Manager, and integration with Microsoft Exchamge/Outlook (VMM), Domino/Lotus Notes (VML), and Groupwise/Novell (VMG).
LKS-UMS-CLIENT 16-LIC
670790
32 Additional Client View App License – Supports client View Mail, View Call Plus, View Fax, Web Mailbox Manager, and integration with Microsoft Exchamge/Outlook (VMM), Domino/Lotus Notes (VML), and Groupwise/Novell (VMG).
LKS-UMS-CLIENT 32-LIC
670935
512 Client View App License – Supports client View Mail, View Call Plus, View Fax, Web Mailbox Manager, and integration with Microsoft Exchamge/Outlook (VMM), Domino/Lotus Notes (VML), and Groupwise/Novell (VMG).
LKS-UMS-CLIENT 512-LIC
670798
1-Port Fax License. Allows user to receive and forward faxes from their mailbox.
UM8000 Lite supports up to (2) fax ports.
UM8000 supports up to (4) fax ports.
LKS-UMS-FAX-LIC
670795
Additional Language License. UM8000 Lite & VM8000 support up to (25) languages.
Note: Additional languages use up storage space.
LKS-UMS-LANGUAGE-LIC
670799
Hospitality & PMS License. Provides hotel/motel features and allows interface with property management system.
Includes hospitality prompts in (5) languages.
LKS-UMS-HOTEL-PMS-LIC
670800
Additional Hospitality Language License. Includes (5) Hospitality Languages.
UM8000 Lite & UM8000 support up to (20) hospitality language prompt sets.
LKS-UMS-HOTEL-LANGUAGE-LIC
670420
InUCB Server Blade. Installs in universal blade slot of an SV8100 Chassis. InUCB Documentation CD included.
CD-INUCB
670986
InUCB UC Package for SV8100 (R5.1). Basic software for InUCB Unified Communications. Consists of: (50) InUCB User Licenses (UCBUL ) – Enables mailbox owners, (10) InUCB UC Desktop/Exec Insight Licenses, (50) InUCB Unified Messaging Licenses – Unifies Messaging for Exchange, (4) InUCB Soft Ports – Speech channels between UCB and SV8100 (Aculab SIP ports)
670967
InUCB 5-Client User License (UCBUL) – Enables (5) mailbox owners.
670968
InUCB 1-Console License
670969
InUCB 5-Client UC Desktop/Executive Insight License
670970
InUCB 5-Client Unified Messaging License
670971
InUCB 2-Soft Port License (Aculab SIP ports). Speech channels between UCB and SV8100.
670987
InUCB CC Package for SV8100 (R5.1). Basic software for InUCB Contact Center. Consists of: (5) InUCB User Licenses (UCBUL ) – Enables mailbox owners, (5) InUCB Control Licenses (Routing), (5) InUCB Agent Desktop Licenses (Agent or Supervisor), (4) InUCB Announce Port Licenses (Custom announcements), (4) InUCB Soft Ports – Speech channels between UCB and SV8100 (Aculab SIP ports)
670967
InUCB 5-Client User License (UCBUL) – Enables (5) mailbox owners.
670968
InUCB 1-Console License
670972
InUCB 5-Control License
670973
InUCB 5-Agent Desktop License – Agent or Supervisor.
670974
InUCB 4-Announce Port License – Custom announcements.
670975
InUCB Callback License (1 per site)
670971
InUCB 2-Soft Port License (Aculab SIP ports). Speech channels between UCB and SV8100
670122
InRouter Blade with 8-Port QOS License. Provides T1/Ethernet WAN access.
Provides (15) VPN tunnels.
Most functions comparable to EdgeMarc 4300T.
Can be expanded with 750483 license, below.
Installs in universal blade slot.
CD-RTB
670124
8-Port Switching Hub Blade with POE. 8-port in-skin HUB Blade (PoE (802.3af) supported). Installs in universal blade slot.
CD-ETIA
670550
EdgeConnect 24-Port PoE Dataswitch. Provides 24 x 10/100 Mbps auto-sensing Ethernet ports, 2 x 10/100/1000 Mbps uplink "fiber" high speed server ports, 802.1Q based QoS with priority queuing, Inline Ethernet power (802.3af) with automatic power device detection. Power – supports (12) ports at 15.4 watts each, supports (24) ports at 7.5 watts each. Supports (24) DT710/730 type terminals. DT750 terminals require more power. See technical documetation for details. Manufactured by Edgewater Networks.
EdgeConnect 2402PoE
750481
Ethernet WAN Access Router with 2-Port QoS License Key. Cannot be expanded. Equipped w/ rack-mounting brackets.
EM-4500-SOHO
750482
T1/Ethernet WAN Access Router with 8-Pt QoS License Key. Provides (15) VPN Tunnels. Includes: 4Port 10/100Mbps Ethernet switch, VLan support, QoS and security support. Can be expanded to 24 ports with 750483 licenses. Equipped w/ rack-mounting brackets. Most functions are comparable with the in-skin CD-RTB (670122).
EM-4300T-08
750483
8-Port QoS Expansion License for InRouter Blade and EM-4300-T-08 External Router. Provides (8) additional QoS ports for the 670122 InRouter Blade or 750482 EM-4300T-08 router.
Maximum of (2) 8-Port License Upgrades can be added to either, for a total of (24) port licenses.
4300 8-Port License Key
750309
Spare Rack Mount Brackets for NEC EdgeMarc 4300T or 4500 SOHO Routers.
SPARE EDGEMARC RACK BRACKETS
670632
Release 6.0 Feature License. ncludes the following new features: NAT Traversal Enhancement ("IP Terminal Plug and Play"), PC Programming via Outbound IP Connection – Also requires 670998 Maintenance License and system must be equipped with 670525 Memory Expansion Daughter Board, Standard SIP Terminal Transfer (Unscreened/blind transfer), InMail Enhancements: Email Notification Save/Delete Option, Cascading Message Notification – Select Days of Week, Find Me/Follow Me – Select Days of Week, Automatic Message Playback Option, Mark previously Saved Message as New Option, Change Message Playback Order (FIFO or LIFO). The following R6 feature is available without the R6 license: Remote System Upgrade Enhancement – System requires the 670525 Memory Expansion Daughter Board.Also includes the R5, R4, and R3 enhancement features. R6 system software download from NTAC Website. Some R6, R5 & R4 features (other than those listed above) are also included without the R6 License. Refer to the R6 Release newsletter for details. Automatically provided at no charge in the LMS, for all CPU's that are registered after the release of R6.
LK-SYS-MAINVERSION 6 LICENSE
670709
Automatic Call Distribution (ACD) License. Uniformly distributes calls among agents of a programmed ACD group. Provides: (64) ACD Groups, (512) ACD Agents, (12) Supervisors
LKS-SYS-ACD-LIC
670630
ACD Skill Based Routing License. Distributes calls based on ACD Agent's priority level setting. Routing set for each ACD Group. One license per system. Also requires 670629 R5 (V5000) License.
LK-SYS-ACD-SKILLBASE-LIC
670812
InACD MIS Basic License. Required for InACD MIS features. Consists of: Basic InACD MIS Feature, (1) InACD MIS Monitor License, (3) InACD MIS Agent Client Licenses. Additional Monitors (670813) & Client Licenses (670814) can be added as required. Requires ACD License (670709). Requires SV8100 ACD MIS Suite, available as a no-charge download from the NTAC Website.
LKS-ACDMIS-BASIC-LIC
670813
InACD MIS Monitor License (Qty 1). Provides: Real-time desktop display of ACD status and ACD reporting capabilities. Requires InACD MIS Basic License (670812). (1) InACD Monitor license is included with the Basic InACD package (670812). Up to (4) Monitor Licenses can be added, for a system maximum of (5). Requires SV8100 ACD MIS Suite, available as a no-charge download from the NTAC Website.
LKS-ACDMIS-ADDMON-LIC
670814
InACD MIS 5-Agent Client License. Provides: On-screen "Agent State" indicator, "Real-Time Ticker" display of queue statistics and text messages, Ability to send text messages to other Agent Client users. Maximum of (512) InACD MIS Agent Client Licenses per system. Not required to be monitored by InACD Monitor. Requires InACD MIS Basic License (670812). Requires SV8100 ACD MIS Suite, available as a no-charge download from the NTAC Website.
LKS-ACDMIS-AGENT-LIC
670706
SV8100 Hotel-Motel/PMS License. Provides Hotel/Motel features. Also see UM8000 Lite/UM8000 Hospitality License (670799-page 12) and PVA-PMS Interface Package (670547).
LKS-SYS-HM-LIC
670707
SV8100 SMDR License. Enables Station Message Detail Recording output. Required for Communications Analyst Licenses.
LKS-SYS-SMDR-LIC
750305
Audio Input/Output Adapter. Provides (2) audio ports for interface with MOH, BGM, and/or external paging. (Note: The CPU blade also provides (2) built-in audio ports.) Also provides audio interface for Doorboxes. Uses (1) digital station port.
PGD(2)-U10 ADP
670131
Packet Voice Application Blade (PVA). Provides the following optional features when equipped with an associated CompactFlash and license(s): MultiMedia Conference Bridge, PMS Interface, CCIS T1 Networking. See specific CompactFlash and Licenses below. Within each feature, provides DTMF Detection, DTMF generation, General Tone Detection, and Automatic Gain Control (AGC). Installs in universal blade slot. Maximum of (3) PVA Blades per chassis. Maximum of (8) PVA Blades per system.
CD-PVAA
670838
PVA Multimedia Conference Bridge CompactFlash. Provides Multimedia Conference Bridge features. Requires a dedicated PVA Blade (670131) and (1or 2) Multimedia Conference Bridge licenses (670816). Two PVA blades can be installed for the Conference Bridge feature, but the maximum quantity of conference bridge parties per system is 16.
AKS CONF BRIDGE APP CF
670816
PVA 8-Port Multimedia Conference License. Provides (8) Ports of Multimedia Conference. Maximum (16) ports per system.
LKS-PVA-CONF-PORT8-LIC
670547
PVA-PMS Interface Package. Provides interface to customer's Property Management System in Hotel/Motel Applications. Consists of: (1) 670131 PVA Blade, (1) 670938 AKU-PVA PMS CompactFlash, (1) 670937 PVA-PMS License, (1) 670545 PVA-PMS Serial Cable. Replaces 750116 PMS Interface Unit.
AK-PVA-PMS-KIT
670918
CCIS T1 Networking CompactFlash. Provides K-CCIS Networking for point-to-point T1 network applications. Requires a dedicated PVA Blade (670131) and PVA CCIS Port Licenses (below). Maximum (24) channels per PVA Blade.
PVA CCISOIP APP CF
670815
4-Channel PVA CCIS License. Provides (4) channels of K-CCIS Networking. Maximum (24) channels per PVA Blade.
LK-PVA-CCIS-PORT-4-LIC
670924
24-Channel PVA CCIS License. Provides (24) channels of K-CCIS Networking. Maximum (24) channels per PVA Blade.
LK-PVA-CCIS-PORT-24-LIC
670802
Communications Analyst Full 20 License. Call accounting features for 20 Stations. Features include Call Alert, Project and Case Billing Manager and Campaign Manager. Requires SV8100 SMDR Licenses (670707). Requires software download from NTAC Website or System Application CD (670830).
LKS-CA 20 STATION PKG-LIC
670803
Communications Analyst Full 256 License. Call accounting features for 256 stations. Features include Call Alert, Project and Case Billing Manager and Campaign Manager. Requires SV8100 SMDR Licenses (670707). Requires software download from NTAC Website or System Application CD (670830).
LKS-CA 256 STATION PKG-LIC
670848
Communications Analyst Additional 256 Station License. Used in conjunction with CA Full 256 (670803).
LKS-CA ADD STA256-LIC
670807
Communications Analyst Remote Site Support License. Required for each site to be monitored. Used in conjunction with 670803. This license is installed on the main site CPU. In CCIS network applications, each remote SV8100 site must be equipped with an SMDR license (670707). Not required for NetLink Network applications.
LKS-CA-ADD REMOTE SITE-LIC
670804
Communications Analyst 5-Client License. Provides concurrent user access for (5) additional PCs on the customer's LAN. Compatible with CA Full 20 (670802) and CA Full 256 (670803).
LKS-CA-NW-5CLIENT-LIC
670811
Communications Analyst Web Reporting 5-Pack License. Allows Internet browser access to reports for (5) named users.
LKS-CA-WEB REPORTING 5CLIENT-LIC
670805
Communications Analyst Upgrade License from CA Full 20 to CA Full 256.
LKS-CA UPG 20 TO 256-LIC
670808
Communications Analyst Traffic Analysis License. Enables understanding of trunk utilization.
LKS-CA TRAFFIC ANALYSIS-LIC
670809
Communications Analyst PMS Integration License. Provides interface to property management systems for guest billing services.
LKS-CA PMS INTEGRATION-LIC
670849
Communications Analyst Remote Site Serial License. Software that runs on remote site PC. Helps buffer local data during network downtime. Allows connection to a remote phone system that is equipped with serial output only.
LKS-CA REMOTE SITE SOFTWARE-LIC
670830
System Application CD – Communication Analyst. Also available as no-charge download from NTAC Website.
AK SYSTEM PC APP CD
670941
E911 OSN – Basic Package. Maintains E911 Private Switch Automatic Location Identification (PS/ALI) data. Supports NENA recommended E911 registry format. Consists of: ESN Registry/E911 Registry, Centralized database & storage for PS/ALI details for all PS/ALI information. ESN ALI Lookup – Software tool allows users to search all ALI information. Included within ESN Registry. ESN Administrator Console – provides centralized administration of the ESN Application Suite and connects to centralized or distributed database. Also used to configure & manage the OSN application. One Admin Console can be used to control remote sites. ESN On-site Monitoring Service Module (EOMS). Monitors activity on the SV8100 to identify 911 calls and takes action to notify Alarm Clients. One EOMS required per site. Additional EOMS modules can be added at alternate sites with optional licenses (670942). ESN Alarm Client. Provides (5) users with real-time alarm indications through screen pops and/or email notifications. Additional alarm clients can be added with optional license (670943). NOTE: Must be used in conjunction with the CA Full-256 License.
LKS-E911 ESN SUITE-LIC
670942
E911 On-Site Monitoring Service License. One required for each remote site – if used in "centralized" application, where the main site is equipped with an OSN Service Basic Pkg.
LKS-E911 MONITOR-ADDON-LIC
670943
E911 Additional Five-Client Alarm License. Allows an additional (5) users to receive alarm indications through screen pops and/or email notifications.
LKS-E911 ALARM CLIENT-LIC
670201
SV8100 Appointment Reminder. An IVR application, the Appointment Reminder enables the SV8100 system to automatically call customers to remind them of their upcoming appointment. Interfaces with the SV8100 via VoIP. Consists of: External 1U Server Box and (16) Appointment Reminder Ports. Requires: SV8100 R6.02 or higher, IP Daughter Board (IPLA or IPLB), and 8-16 3rd-Party IP Terminal Licenses.
APPOINTMENT REMINDER
670713
4 IP Trunk License – Supports four SIP or H.323 trunks. All IP Trunk licenses are combined for proper Remote site allocation. This License is not required to support the CCISOIP Trunking feature.
LK-SYS-IP TRUNK4-LIC
670714
8 IP Trunk License – Supports eight SIP or H.323 trunks. All IP Trunk licenses are combined for proper Remote site allocation. This License is not required to support the CCISOIP Trunking feature.
LK-SYS-IP TRUNK8-LIC
670715
16 IP Trunk License – Supports sixteen SIP or H.323 trunks. All IP Trunk licenses are combined for proper Remote site allocation. This License is not required to support the CCISOIP Trunking feature.
LK-SYS-IP TRUNK16-LIC
670110
4-Port Loop-Start/Ground-Start Trunk Blade. Provides Caller-ID. Includes (2) Power-Failure circuits. Installs in universal blade slot. Accepts (1) PZ-4COTF Daughter Board (670111). Temporarily replaced with 670213.
CD-4COTB
670111
4-Port Loop-Start/Ground-Start Trunk Daughter Board. Provides Caller-ID. Installs on CD-4COTB Blade (670110) or CD-LTA Blade (670128).
Maximum (1) per blade. Temporarily replaced with 670213.
PZ-4COTF
670213
8-Port Loop-Start/Ground-Start Trunk Blade. Provides Caller-ID. Includes (2) Power-Failure circuits. Installs in universal blade slot. This is a temporary item.
CD-8COTBH
670118
T1/PRI Interface Blade. Can be programmed for (24) trunks or can be fractionalized in increments of 4. Installs in universal blade slot.
CD-PRTA
670119
Common Carrier Handler (Digital CCIS) Interface Blade. Provides a common channel signal through to a CCIS network and controls the signaling between systems. Contains single 24-channel 64Kb/s digital signal circuit that can be configured for each digital CCIS app.
CD-CCTA
670116
2-Channel BRI Blade. Installs in universal blade slot. Accepts (1) PZ-2BRIA Daughter Board (670117). See hardware manual for maximum blades per sys.
CD-2BRIA
670117
2-Channel BRI Daughter Board. Installs on CD-2BRIA Blade (670116) or CD-LTA Blade (670128).
PZ-2BRIA
670120
4-Port DID/OPX Blade. Installs in universal blade slot.
CD-4DIOPA
670121
4-Port E&M Tie Line Blade. Supports 2/4-Wire, Type I/V. Installs in universal blade slot.
CD-4ODTA
670535
Installation Cable. 25-pair cable for connection between Trunk / Station blades and MDF. Also used for relay contacts on CPU. Cable length is approximately 14 feet. MDF end is unterminated. Blade end is terminated with (6) 8-conductor mod plugs.
Installation Cable (Mod8-25Pair)
670107
8-Port Digital Station Blade. Installs in universal blade slot. Accepts (1) PZ-8DLCB Daughter Board (670108). Temporarily replaced with 670109.
CD-8DLCA
670108
8-Port Digital Station Daughter Board. Installs on the CD-8DLCA Digital Station Blade (670107). Temporarily replaced with 670109.
PZ-8DLCB
670109
16-Port Digital Station Blade. Installs in universal blade slot.
CD-16DLCA
670112
4-Port Analog Station Blade. Provides Message Waiting lamping. Installs in universal blade slot. Accepts (1) PZ-4LCA (670113) or PZ-8LCE Daughter Board (670115). Temporarily replaced with 670214.
CD-4LCA
670113
4-Port Analog Station Daughter Board. Provides Message Waiting lamping. Installs on CD-4/8LCA Blades (670112/670114). Temporarily replaced with 670214.
PZ-4LCA
670114
8-Port Analog Station Blade. Provides Message Waiting lamping. Installs in universal blade slot. Accepts (1) PZ-4LCA (670113) or PZ-8LCE Daughter Board (670115). Temporarily replaced with 670214.
CD-8LCA
670115
8-Port Analog Station Daughter Board. Provides Message Waiting lamping. Installs on CD4/8LCA Blades (670112/670114). Temporarily replaced with 670214.
PZ-8LCE
670214
16-Port Analog Station Blade. Provides Message Waiting lamping.
CD-16LCAH
670128
8-Port Digital Station / 2-Port Analog Station "Combo" Blade. Installs in universal blade slot. Accepts: PZ-4COTF Trunk Daughter Board (670111) or PZ-2BRIA BRI Daughter Board (670117). If system is not equipped with Memory Exp DB (670525), Maximum (1) per system. If system is equipped with Memory Exp DB (670525), Maximum (2) per 19" 6-Blade Chassis or Maximum (2) per combined 9.5" 3-Blade Chassis/Exp Chassis. Temporarily replaced with 670215.
CD-LTA
670215
8-Port Digital Station / 2-Port Analog Station "Combo" Blade with Hard-wired 4-Port Trunk Daughter Board. Installs in universal blade slot. If system is not equipped with Memory Exp DB (670525), Maximum (1) per system. If system is equipped with Memory Exp DB (670525), Maximum (2) per 19" 6-Blade Chassis or Maximum (2) per combined 9.5" 3-Blade Chassis/Exp Chassis. This is a temporary item.
CD-LTDH
670716
Single NEC SIP Client license – Support NEC MLT SIP (DT700) Terminal. (IP Terminal License is included with each Soft Phone to support Soft Phone only)
LKS-SYS-IP TERMINAL-1-LIC
670860
Encryption License. Provides encryption for all NEC IP Terminals in a specific system. Compatible with NEC SV8100 IP terminals and SV Softphones only. Not compatible with 3rd Party SIP terminals or MH240 WiFi terminals.
LKS-SYS-ENCRYPTION-LIC
670721
Single 3rd Party SIP Client license – Support 3rd party SIP telephones, NEC MLT SIP Terminals, SIP DECT and UCB. For 3rd Party SIP terminals, NEC IP Terminals (Including SIP DECT) and / or UCB
LK-SYS-IP-TERMINAL-SIP1-LIC
670965
Video License – System Wide. One required per system, to support applications with 3rd Party SIP video terminals, such as the Polycom VVX-1500 6-Line Media Phone.
LKS-SYS-SIP VIDEO-LIC
670727
1st Party CTI (TAPI over Ethernet) 1-Client
LKS-SYS-1ST-CTI1-LIC
670731
3rd Party CTI (TAPI 2) License. System-wide TAPI 2 license. Required for 3rd Party CTI (TAPI 2) applications. Also required for all SV8100 applications with InUCB or UCB Server.
LKS-SERVER-3rd-CTI- LIC
670898
Open Application Interface (OAI) Activation License. One required per system.
LKS-SYS-SOAI-LIC
670893
DTPlusWare Client License 1-Port. DTPLusWare enhances the displays of SV8100 terminals. Primarily used with the Sophi IP Terminal. Also compatible with 3 and 5-line display terminals, but feature access is limited. DTPlusWare supports the following features: Incoming Call Popup & Redirect, Call Setting, User Directory with Presence, Company Directory (Active Directory), Instant Message,Weather, Bulletin Boards,World Clock, Photo Album. Release 2 features are now available: Supports iPhone, Virtual Keyboard (DT750 only), New Icons, and Incoming Call Feature Enhancement. Requires an MSIIS Server. See technical documentation for specifications. Requires PC APP CD Software – Available as no-charge download from www.necntac.com.
LKS-DTPLusWare Client 1-Lic
670894
DTPlusWare Client License 4-Port. DTPLusWare enhances the displays of SV8100 terminals. Primarily used with the Sophi IP Terminal. Also compatible with 3 and 5-line display terminals, but feature access is limited. DTPlusWare supports the following features: Incoming Call Popup & Redirect, Call Setting, User Directory with Presence, Company Directory (Active Directory), Instant Message,Weather, Bulletin Boards,World Clock, Photo Album. Release 2 features are now available: Supports iPhone, Virtual Keyboard (DT750 only), New Icons, and Incoming Call Feature Enhancement. Requires an MSIIS Server. See technical documentation for specifications. Requires PC APP CD Software – Available as no-charge download from www.necntac.com.
LKS-DTPLusWare Client 4-Lic
670895
DTPlusWare Client License 8-Port. DTPLusWare enhances the displays of SV8100 terminals. Primarily used with the Sophi IP Terminal. Also compatible with 3 and 5-line display terminals, but feature access is limited. DTPlusWare supports the following features: Incoming Call Popup & Redirect, Call Setting, User Directory with Presence, Company Directory (Active Directory), Instant Message,Weather, Bulletin Boards,World Clock, Photo Album. Release 2 features are now available: Supports iPhone, Virtual Keyboard (DT750 only), New Icons, and Incoming Call Feature Enhancement. Requires an MSIIS Server. See technical documentation for specifications. Requires PC APP CD Software – Available as no-charge download from www.necntac.com.
LKS-DTPLusWare Client 8-Lic
670896
DTPlusWare Client License 16-Port. DTPLusWare enhances the displays of SV8100 terminals. Primarily used with the Sophi IP Terminal. Also compatible with 3 and 5-line display terminals, but feature access is limited. DTPlusWare supports the following features: Incoming Call Popup & Redirect, Call Setting, User Directory with Presence, Company Directory (Active Directory), Instant Message,Weather, Bulletin Boards,World Clock, Photo Album. Release 2 features are now available: Supports iPhone, Virtual Keyboard (DT750 only), New Icons, and Incoming Call Feature Enhancement. Requires an MSIIS Server. See technical documentation for specifications. Requires PC APP CD Software – Available as no-charge download from www.necntac.com.
LKS-DTPLusWare Client 16-Lic
670897
DTPlusWare Client License 64-Port. DTPLusWare enhances the displays of SV8100 terminals. Primarily used with the Sophi IP Terminal. Also compatible with 3 and 5-line display terminals, but feature access is limited. DTPlusWare supports the following features: Incoming Call Popup & Redirect, Call Setting, User Directory with Presence, Company Directory (Active Directory), Instant Message,Weather, Bulletin Boards,World Clock, Photo Album. Release 2 features are now available: Supports iPhone, Virtual Keyboard (DT750 only), New Icons, and Incoming Call Feature Enhancement. Requires an MSIIS Server. See technical documentation for specifications. Requires PC APP CD Software – Available as no-charge download from www.necntac.com.
LKS-DTPLusWare Client 64-Lic
670635
UC Desktop Suite InServer Bundle. Consists of: (1) 670421 InServer Blade, (1) 670919 Shared Services License, (1) 670981 Mobile Presence License, and (1) 670634 UC Desktop Client License for every purchased telephone in the associated system. This item is only available with new SV8100 systems and must be quoted through MasterQuote. Add-on users will utilize the standard UC Desktop Suite Client License (670903).
SV8100 UC Suite InServer Bundle
670903
Desktop Client License 1-Port. Provides complete call management and operation of a desktop terminal from a PC. Each client can be installed as a PC Assistant or PC Attendant. Provides integration with ACT and Goldmine CRM software. If one or more are installed as a PC Attendant, one Shared Services License (670919) is also required per system. If Enhancement Services are required (White Board, File Transfer, Desktop/Application Sharing, and Chat/Instant Messaging), use Desktop Client with Softphone (670908).
LK-DT CLIENT 1-LIC
670913
SP310 Softphone Client License 1-Port. Includes 4-Party Video (Softphone user plus 3 other parties), NEC SIP Terminal License (for use with Softphone only), Enhancement Services – White Board, File Transfer, Desktop/Application Sharing, and Chat (Instant Messaging)
LKS-SP E CLIENT-IP1 LIC
670908
Desktop Client/Softphone License 1-Port. Provides complete call management and operation of a desktop terminal from a PC. Each client can be installed as a PC Assistant or PC Attendant. Provides integration with ACT and Goldmine CRM software. If one or more are installed as a PC Attendant, one Shared Services License (670919) is also required per system. Each Softphone includes SP310 Softphone License with 4-Party Video (Softphone user plus 3 other parties), NEC SIP Terminal License (for use with Softphone only), Enhancement Services – White Board, File Transfer, Desktop/Application Sharing, and Chat (Instant Messaging)
LK-DT SP E CLIENT-IP1-LIC
670919
Shared Services License. Provides Shared Services features (Presence, Full System BLF/DSS, Quick Messaging, Directory & Contacts) for Desktop Suite. If any Desktop Client is configured as a PC Attendant, one Shared Services License is required per system.
LK-SYS-SHARED SVC-LIC
670869
PC Attendant Shared Services Upgrade License. Required when converting Desktop Suite 1.0 PC Assistant Client License to PC Attendant Client License.
LK-Desktop PC Attendant Shared SVC Upgrade –LIC
670184
Desktop Suite 4.0 Enhancement License. Provides InACD Agent capabilities. Also includes Outlook Calendar Presence feature from Desktop Suite 3.5 (670939). The following 4.0 features are provided without the license: Windows 7 collaboration support for Enhancement Services (White Board, File Transfer, Chat/Instant Messaging, and Desktop/Application Sharing), New easier-to-use GUI (Enhanced BLF, Animated Presence, Drag and Drop Transfer), Group Phone Messaging/Group Quick Messaging. Refer to sales/tech documentation for full feature list. Requires SV8100 system software R5.01 or higher. Required when upgrading existing systems only. Replaces 670939.
LK-DT ENHANCEMENT 4LIC
670981
Desktop Suite Mobile Presence License. Provides ability for Mobile Extension user to view and set their presence and Call Forwarding rules via a Web browser from a mobile device or PC. This is a system-wide license. Requires: Desktop Suite 4.0 software, Shared Services License (670919), SV8100 system software R5.01 or higher
LK-SYS-MOBILE PRESENCE-LIC
670940
Desktop Suite Additional CRM Integration License. Provides system-wide support of integration with the following types of CRM software: Salesforce, TimeMatters, TigerPaw. Also includes Answering Center Module feature, which displays information on the party being called.
LK-DT CRM INTEGRATION-LIC
670421
InServer Blade. Pre-loaded with the following software: Desktop Suite application software, InACD application software, Windows XP OS embedded. Equipped with: VGA connector, Ethernet Jack, (4) USB connectors. Associated feature licenses are required. Installs in universal blade slot of SV8100 chassis. Requires SV8100 system software 5.01 or higher. Maximum (1) InServer Blade per system.
CD-SVRU
690000
DT710 2-Button Non-Display Terminal (BK). Equipped with (2) Programmable Function Keys, (10) Fixed Feature Keys, (1) Volume Control Key, Full-duplex speakerphone, Four-step adjustable legs, Built-in wall-mount, 9-Ft Handset Cord, Standard dial pad, Dataswitch with PC LAN jack. Not equipped with Security Key or headset jack. Does not support Terminal Adapters. Each IP terminal requires POE (802.3af) or an AC Adapter (AC-2R 780135 or AC-3R 780152). No base cord is provided – requires 8-conductor data cord. Each IP Terminal requires an NEC SIP Terminal License.
ITL-2E(BK) TEL
690001
DT710 IP 6-Button Display Terminal (BK). Equipped 3-line Display. (6) Programmable Function Keys, (10) Fixed Feature Keys, (4) Interactive Soft Keys, (1) Navigator Key, Full-duplex speakerphone, Four-step adjustable legs, Built-in wall-mount, 9-Ft Handset Cord, Standard dial pad, Dataswitch with PC LAN jack. Not equipped with Security Key or headset jack. Does not support Terminal Adapters. Each IP terminal requires POE (802.3af) or an AC Adapter (AC-2R 780135 or AC-3R 780152). No base cord is provided – requires 8-conductor data cord. Each IP Terminal requires an NEC SIP Terminal License.
ITL-6DE(BK) TEL
690071
DT710 IP DESI-Iess Display Terminal (BK). Equipped with single backlit screen alternates between main display and 8-Programmable Function Key display, (11) Fixed Feature Keys, (4) Interactive Soft Keys and Navigator Key, Full-duplex speakerphone, Four-step adjustable legs, Built-in wall-mount, 9-Ft Handset Cord, Standard dial pad, Dataswitch with PC LAN jack. Not equipped with Security Key or headset jack. Does not support Termianl Adapters. Each IP terminal requires POE (802.3af) or an AC Adapter (AC-2R 780135 or AC-3R 780152). No base cord is provided – requires 8-conductor data cord. Each IP Terminal requires an NEC SIP Terminal License.
ITL-8LDE-1(BK) TEL
690002
DT730 IP 12-Button Display Terminal (BK). Equipped with (12) Programmable Function Keys and (10) Fixed Feature Keys, (4) Interactive Soft Keys, Backlit dial pad, Backlit 4-line XML display, Navigator Key, Headset jack, Lock Key, Connector for 8-Button Line Key Unit, Connector for 60-Button DSS, Connector for ADA adapter, Full-duplex speakerphone, Four-step adjustable legs, Built-in wall-mount, 9-Ft Handset Cord, Standard dial pad, Dataswitch with PC LAN jack, Each IP terminal requires POE (802.3af) or an AC Adapter (AC-2R 780135 or AC-3R 780152). No base cord is provided – requires 8-conductor data cord. Each IP Terminal requires an NEC SIP Terminal License.
ITL-12D-1(BK) TEL
690003
DT730 IP 12-Button Display Terminal (WH). Equipped with (12) Programmable Function Keys and (10) Fixed Feature Keys, (4) Interactive Soft Keys, Backlit dial pad, Backlit 4-line XML display, Navigator Key, Headset jack, Lock Key, Connector for 8-Button Line Key Unit, Connector for 60-Button DSS, Connector for ADA adapter, Full-duplex speakerphone, Four-step adjustable legs, Built-in wall-mount, 9-Ft Handset Cord, Standard dial pad, Dataswitch with PC LAN jack, Each IP terminal requires POE (802.3af) or an AC Adapter (AC-2R 780135 or AC-3R 780152). No base cord is provided – requires 8-conductor data cord. Each IP Terminal requires an NEC SIP Terminal License.
ITL-12D-1(WH) TEL
690004
DT730 IP 24-Button Display Terminal (BK). Equipped with (24) Programmable Function Keys, (10) Fixed Feature Keys, (4) Interactive Soft Keys, Backlit dial pad, Backlit 4-line XML display, Navigator Key, Headset jack, Lock Key, Connector for 8-Button Line Key Unit, Connector for 60-Button DSS, Connector for ADA adapter, Full-duplex speakerphone, Four-step adjustable legs, Built-in wall-mount, 9-Ft Handset Cord, Standard dial pad, Dataswitch with PC LAN jack, Each IP terminal requires POE (802.3af) or an AC Adapter (AC-2R 780135 or AC-3R 780152). No base cord is provided – requires 8-conductor data cord. Each IP Terminal requires an NEC SIP Terminal License.
ITL-24D-1(BK) TEL
690005
DT730 IP 24-Button Display Terminal (WH). Equipped with (24) Programmable Function Keys, (10) Fixed Feature Keys, (4) Interactive Soft Keys, Backlit dial pad, Backlit 4-line XML display, Navigator Key, Headset jack, Lock Key, Connector for 8-Button Line Key Unit, Connector for 60-Button DSS, Connector for ADA adapter, Full-duplex speakerphone, Four-step adjustable legs, Built-in wall-mount, 9-Ft Handset Cord, Standard dial pad, Dataswitch with PC LAN jack, Each IP terminal requires POE (802.3af) or an AC Adapter (AC-2R 780135 or AC-3R 780152). No base cord is provided – requires 8-conductor data cord. Each IP Terminal requires an NEC SIP Terminal License.
ITL-24D-1(WH) TEL
690006
DT730-IP32 IP 24+8-Button Display Terminal (BK). Equipped with 24-Btn Terminal equipped with 8-Btn Line Key Unit. (32) Programmable Function Keys, (10) Fixed Feature Keys, (4) Interactive Soft Keys, Backlit dial pad, Backlit 4-line XML display, Navigator Key, Headset jack, Lock Key, Connector for 8-Button Line Key Unit, Connector for 60-Button DSS, Connector for ADA adapter. Full-duplex speakerphone, Four-step adjustable legs, Built-in wall-mount, 9-Ft Handset Cord, Standard dial pad, Dataswitch with PC LAN jack, Each IP terminal requires POE (802.3af) or an AC Adapter (AC-2R 780135 or AC-3R 780152). No base cord is provided – requires 8-conductor data cord. Each IP Terminal requires an NEC SIP Terminal License.
ITL-32D-1(BK) TEL
690007
DT730 IP 24+8-Button Display Terminal (WH). Equipped with 24-Btn Terminal equipped with 8-Btn Line Key Unit. (32) Programmable Function Keys, (10) Fixed Feature Keys, (4) Interactive Soft Keys, Backlit dial pad, Backlit 4-line XML display, Navigator Key, Headset jack, Lock Key, Connector for 8-Button Line Key Unit, Connector for 60-Button DSS, Connector for ADA adapter, Full-duplex speakerphone, Four-step adjustable legs, Built-in wall-mount, 9-Ft Handset Cord, Standard dial pad, Dataswitch with PC LAN jack, Each IP terminal requires POE (802.3af) or an AC Adapter (AC-2R 780135 or AC-3R 780152). No base cord is provided – requires 8-conductor data cord. Each IP Terminal requires an NEC SIP Terminal License.
ITL-32D-1(WH) TEL
690010
DT730 IP DESI-less Display Terminal (BK). Equipped with (4) Alternating Function Key Screens – each with (8) Desi-less Function Keys, (11) Fixed Feature Keys, (4) Interactive Soft Keys, Backlit dial pad, Backlit 4-line XML display, Navigator Key, Headset jack, Lock Key, Connector for 8-Button Line Key Unit, Connector for 60-Button DSS, Connector for ADA adapter, Full-duplex speakerphone, Four-step adjustable legs, Built-in wall-mount, 9-Ft Handset Cord, Standard dial pad, Dataswitch with PC LAN jack, Each IP terminal requires POE (802.3af) or an AC Adapter (AC-2R 780135 or AC-3R 780152). No base cord is provided – requires 8-conductor data cord. Each IP Terminal requires an NEC SIP Terminal License.
ITL-8LD-1(BK) TEL
690011
DT730 IP DESI-less Display Terminal (WH). Equipped with (4) Alternating Function Key Screens – each with (8) Desi-less Function Keys, (11) Fixed Feature Keys,(4) Alternating Function Key Screens – each with (8) Desi-less Function Keys, (11) Fixed Feature Keys, (4) Interactive Soft Keys, Backlit dial pad, Backlit 4-line XML display, Navigator Key, Headset jack, Lock Key, Connector for 8-Button Line Key Unit, Connector for 60-Button DSS, Connector for ADA adapter, Full-duplex speakerphone, Four-step adjustable legs, Built-in wall-mount, 9-Ft Handset Cord, Standard dial pad, Dataswitch with PC LAN jack. Each IP terminal requires POE (802.3af) or an AC Adapter (AC-2R 780135 or AC-3R 780152). No base cord is provided – requires 8-conductor data cord. Each IP Terminal requires an NEC SIP Terminal License.
ITL-8LD-1(WH) TEL
690019
DT750 IP-Sophi IP Color Touch Screen Terminal (BK). Equipped with Backlit Color XML Display with Touch Panel, (10) Fixed Feature Keys, (4) Interactive Soft Keys, Navigator Key, Backlit dial pad, Headset jack, Lock Key, Connector for (1) optional adapter (ADA or BHA), Connectors for both a 60-Btn DSS and 8-Btn LK, Full-duplex speakerphone, Four-step adjustable legs, Built-in wall-mount, 9-Ft Handset Cord, Standard dial pad, Dataswitch with PC LAN jack. No base cord is provided – requires 8-conductor data cord. Each IP Terminal requires an NEC SIP Terminal License.
ITL-320C-2(BK) TEL
690009
DT730-IP12 IP 12-Button Display Terminal with Power Failure Adapter (PSA-L). Refer to "Terminal Adapters" section for PSA-L details. Available in black only.
ITL-12PA-1(BK) TEL
690065
DT730 IP 12-Button Display Terminal with Gigabit Adapter (GBA-L)
ITL-12DG-1(BK) TEL
680000
DT310 Digital 2-Button Non-Display Terminal (BK). Equipped with (2) Programmable Function Keys. (11) Fixed Feature Keys, (1) Volume Control Key – Half-duplex speakerphone, 4-step adjustable legs, Built-in wall-mount, 9-Ft Handset Cord, 7-Ft Base Cord, Standard dial pad – No headset jack
DTL-2E-1(BK) TEL
680001
DT310 Digital 6-Button Display Terminal (BK). Equipped with 3-line Display, (6) Programmable Function Keys, (13) Fixed Feature Keys, (4) Interactive Soft Keys, (1) Volume Control Key, Half-duplex speakerphone, 4-step adjustable legs, Built-in wall-mount, 9-Ft Handset Cord, 7-Ft Base Cord, Standard dial pad – No headset jack
DTL-6DE-1(BK) TEL
680062
DT310 Digital 12-Button Non-Display Terminal (BK). Equipped with (12) Programmable Function Keys, (11) Fixed Feature Keys, (1) Volume Control Key, Half-duplex speakerphone, Adjustable legs, Built-in wall-mount, 9-Ft Handset Cord, 7-Ft Base Cord, No Navigator Key or headset jack. Does not support Terminal Adapters.
DTL-12E-1(BK) TEL
680002
DT330 Digital 12-Button Display Terminal (BK). Equipped with (12) Programmable Function Keys, (10) Fixed Feature Keys, (4) Interactive Soft Keys, Navigator Key, 4-line display, Backlit dial pad, Full-duplex speakerphone, Adjustable legs, Built-in wall-mount, 9-Ft Handset Cord, 7-Ft Base Cord, Headset jack, Connector for 16-Button DLS Console, Connector for (1) optional adapter (APR, ADA, BHA, or BCH).
DTL-12D-1(BK) TEL
680003
DT330 Digital 12-Button Display Terminal (WH). Equipped with (12) Programmable Function Keys, (10) Fixed Feature Keys, (4) Interactive Soft Keys, Navigator Key, 4-line display, Backlit dial pad, Full-duplex, Adjustable legs, Built-in wall-mount, 9-Ft Handset Cord, 7-Ft Base Cord, Headset jack, Connector for 16-Button DLS Console, Connector for (1) optional adapter (APR, ADA, BHA, or BCH).
DTL-12D-1(WH) TEL
680004
DT330 Digital 24-Button Display Terminal (BK). Equipped with (24) Programmable Function Keys, (10) Fixed Feature Keys, (4) Interactive Soft Keys, Navigator Key, 4-line display, Backlit dial pad, Full-duplex, Adjustable legs, Built-in wall-mount, 9-Ft Handset Cord, 7-Ft Base Cord, Headset jack, Connector for 16-Button DLS Console, Connector for (1) optional adapter (APR, ADA, BHA, or BCH).
DTL-24D-1(BK) TEL
680005
DT330 Digital 24-Button Display Terminal (WH). Equipped with (24) Programmable Function Keys, (10) Fixed Feature Keys, (4) Interactive Soft Keys, Navigator Key, 4-line display, Backlit dial pad, Full-duplex, Adjustable legs, Built-in wall-mount, 9-Ft Handset Cord, 7-Ft Base Cord, Headset jack, Connector for 16-Button DLS Console, Connector for (1) optional adapter (APR, ADA, BHA, or BCH).
DTL-24D-1(WH) TEL
680006
DT330 Digital 24 + 8-Button Display Terminal (BK). Equipped with (32) Programmable Function Keys (24+8LK Unit), (10) Fixed Feature Keys, (4) Interactive Soft Keys, Navigator Key, 4-line display, Backlit dial pad, Full-duplex, Adjustable legs, Built-in wall-mount, 9-Ft Handset Cord, 7-Ft Base Cord, Headset jack, Connector for 16-Button DLS Console, Connector for (1) optional adapter (APR, ADA, BHA, or BCH).
DTL-32D-1(BK) TEL
680007
DT330 Digital 24 + 8-Button Display Terminal (WH). Equipped with (32) Programmable Function Keys (24+8LK Unit), (10) Fixed Feature Keys, (4) Interactive Soft Keys, Navigator Key, 4-line display, Backlit dial pad, Full-duplex, Adjustable legs, Built-in wall-mount, 9-Ft Handset Cord, 7-Ft Base Cord, Headset jack, Connector for 16-Button DLS Console, Connector for (1) optional adapter (APR, ADA, BHA, or BCH).
DTL-32D-1(WH) TEL
680010
DT330 Digital DESI-less Display Terminal (BK). Equipped with Backlit 4-Line Display, (4) Alternating Function Key Screens – each with (8) Desi-less Function Keys, (11) Fixed Feature Keys, (4) Interactive Soft Keys, Navigator Key, 4-line display, Backlit dial pad, Full-duplex, Adjustable legs, Built-in wall-mount, 9-Ft Handset Cord, 7-Ft Base Cord, Headset jack, Connector for 16-Button DLS Console, Connector for (1) optional adapter (APR, ADA, BHA, or BCH).
DTL-8LD-1(BK) TEL
680011
DT330 Digital DESI-less Display Terminal (WH). Equipped with Backlit 4-Line Display, (4) Alternating Function Key Screens – each with (8) Desi-less Function Keys, (11) Fixed Feature Keys, (4) Interactive Soft Keys, Navigator Key, 4-line display, Backlit dial pad, Full-duplex, Adjustable legs, Built-in wall-mount, 9-Ft Handset Cord, 7-Ft Base Cord, Headset jack, Connector for 16-Button DLS Console, Connector for (1) optional adapter (APR, ADA, BHA, or BCH).
DTL-8LD-1(WH) TEL
680008
DT330 Digital 12-Button Display Terminal with Bluetooth Handset (BK). Preassembled to eliminate labor time associated with replacing the handset on a DTL-12 Terminal with the Bluetooth Handset Adapter (BCH-L).
DTL-12BT-1(BK) TEL
680009
DT330 Digital 12-Button Display Terminal with Power Failure Adapter (BK). Preassembled to eliminate labor time associated with replacing the handset on a DTL-12 Terminal with the Power Failure Adapter (PSA-L).
DTL-12PA-1(BK) TEL
680012
60-Button DSS Console (BK). Compatible with: ITL-320C, IP-12/24/32-Button/DESI-less terminals, Digital 12/24/32-Button/DESI-less terminals. When used with an IP terminal: Attaches and connects directly to the IP terminal, Requires an AC adapter (780135 or 780152). When used with a digital terminal: Attaches to the terminal or the terminal's optional 8-Button Key Assembly, but connects to a separate digital station port., Does NOT require an AC Adapter. Contains built-in wall-mount. When a 60-Button DSS Console needs to be wall-mounted with a terminal that is equipped with an adapter (APR, ADA, or Bluetooth Hub), a DSS Wall Mount Adapter (P/N 680754) is required. Maximum (1) DSS Console per IP terminal (See note). Maximum (32) DSS Consoles per digital terminal. Maximum (32) DSS Consoles per system.
DCL-60-1(BK) CONSOLE
680013
60-Button DSS Console (WH). Compatible with: ITL-320C, IP-12/24/32-Button/DESI-less terminals, Digital 12/24/32-Button/DESI-less terminals. When used with an IP terminal: Attaches and connects directly to the IP terminal, Requires an AC adapter (780135 or 780152). When used with a digital terminal: Attaches to the terminal or the terminal's optional 8-Button Key Assembly, but connects to a separate digital station port., Does NOT require an AC Adapter. Contains built-in wall-mount. When a 60-Button DSS Console needs to be wall-mounted with a terminal that is equipped with an adapter (APR, ADA, or Bluetooth Hub), a DSS Wall Mount Adapter (P/N 680754) is required. Maximum (1) DSS Console per IP terminal (See note). Maximum (32) DSS Consoles per digital terminal. Maximum (32) DSS Consoles per system.
DCL-60-1(WH) CONSOLE
680014
8-Button Key Assembly (BK). Adds (8) programmable keys to DT330 (Digital 12/24/32-Button & DESI-Less), DT730 (IP-12/24/DESI-less) & DT750 320C terminals. Not compatible with DT310 or DT710 type terminals. Attaches and connects directly to the IP/digital terminal. Does not use a separate digital station port. Maximum (1) DLS per IP or digital terminal.
8LK-L(BK) UNIT
680015
8-Button Key Assembly (WH). Adds (8) programmable keys to DT330 (Digital 12/24/32-Button & DESI-Less), DT730 (IP-12/24/DESI-less) & DT750 320C terminals. Not compatible with DT310 or DT710 type terminals. Attaches and connects directly to the IP/digital terminal. Does not use a separate digital station port. Maximum (1) DLS per IP or digital terminal.
8LK-L(WH) UNIT
750480
Single Line Telephone Adapter. Converts (1) digital station port to (1) analog station port. Equipped with (2) RJ-11 type jacks and (1) base cord. Connects to (1) port of a digital station blade or daughter board.
SLTII(1)-U10 ADP
750305
Doorbox/Page/Audio Adapter. Provides interface and relay contacts for (2) Doorchime boxes. (Can also be used for MOH, BGM, or external paging zones.). Uses (1) digital station port.
PGD(2)-U10 ADP
721160
Doorchime Box. Surface-mount Doorchime Box. Requires Doorbox/Page/Audio Adapter (750305).
DP-D-1A
780135
AC Adapter / Domestic Power. Required for: IP terminal that does not receive Power Over Ethernet (POE), 60-Button DSS connected to an IP terminal, 2nd (and above) 60-Button DSS connected to a digital terminal. Supports North American power requirements: Input: 60Hz 120V, Output:: 24VDC 600mA
AC-2R
780152
AC Adapter / International Power. Required for: IP terminal that does not receive Power Over Ethernet (POE), 60-Button DSS connected to an IP terminal, 2nd (and above) 60-Button DSS connected to a digital terminal. Supports international power requirements: Input: 50-60Hz 100-240V, Output: 27VDC 750mA
AC-3R
690631
AC Adapter for Gigabit Adapter. Input: 50/60Hz 100-240V, Output: 27VDC 1.0A
AC-L
780122
POE Converter. Converts inline POE specification from 802.3af to CDP.
ILPA-R
680600
APR Analog Port Adapter w/ Ringing. Provides analog station connection. For Digital 12/24/32-Btn/DESI-less terminals only. If the associated terminal is wall-mounted, a Wall-Mount Adapter (680610) is required. Installs in the optional terminal adapter slot on the bottom of applicable terminals. Does not require an AC adapter.
APR-L
680601
ADA Call Recording Adapter. Provides connections for audio input & output. Equipped with (2) Stereo mini audio jacks – 1 Input / 1 output. For Digital 12/24/32-Btn/DESI-less and IP-12/24/32/DESI-less/320C only. If the associated terminal is wall-mounted, a Wall-Mount Adapter (680610) is required. Installs in the optional terminal adapter slot on the bottom of applicable terminals. Does not require an AC adapter.
ADA-L
680603
Power Failure Transfer Adapter (BK). Transfers an IP or digital terminal to a pre-connected outside trunk when commercial power is down or the user manually activates the switch. Consists of: PSA Handset Cradle (Replaces the terminal's existing handset cradle.), Replacement non-backlit dial (for PF use), Line cord for connection to PF line. For DT330 type (Digital) and DT730/DT750 type (IP) terminals only. A terminal that is equipped with this adapter cannot be wall-mounted.
PSA-L(BK)
680604
Power Failure Transfer Adapter (WH). Transfers an IP or digital terminal to a pre-connected outside trunk when commercial power is down or the user manually activates the switch. Consists of: PSA Handset Cradle (Replaces the terminal's existing handset cradle.), Replacement non-backlit dial (for PF use), Line cord for connection to PF line. For DT330 type (Digital) and DT730/DT750 type (IP) terminals only. A terminal that is equipped with this adapter cannot be wall-mounted.
PSA-L(WH)
680602
BHA Bluetooth Hub Adapter. Provides interface for user-provided Bluetooth cordless headset. For Digital 12/24/32/DESI-less terminals only. Installs in the optional terminal adapter slot on the bottom of applicable terminals.
BHA-L
690630
Gigabit Adapter for IP Terminal. 10/100/1000 Kbit dataswitch that allows a SV8100 IP terminal to connect to a gigabit LAN and provide a gigabit LAN jack for an associated PC. Consists of Gigabit module, mounting assembly, 13-inch power cable, and 18-inch LAN cable. Adapter becomes part of terminal's leg assembly. Compatible with any SV8100 IP Terminal. Requires 802.3af POE or an AC Adapter (690631). Associated IP terminal cannot be wall-mounted.
GBA-L
690631
AC Adapter for Gigabit Adapter. Input: 100-240V 50/60Hz 1.0A, Output: 27VDC 1.0A
AC-L
680605
BCH Bluetooth Handset Adapter (BK). Provides Bluetooth cordless handset operation. Replaces the terminal's handset, cradle & legs. Bluetooth handset is equipped with: 20-Character/2-Line Display, (8) Programmable Function Keys, (6) Fixed Feature Keys & Navigator Key, Lithium-Ion Rechargeable Battery, Dial, Belt Clip, User Guide. Handset charges when in the cradle. Maximum range is 50 meters. For Digital 12/24/32-Button terminals only. Not available for white terminals. Note: When a BCH is installed, an APR, ADA, or BHA adapter cannot be installed.
BCH-L(BK)
690063
Replacement Battery for Bluetooth Handset. Lithium-Ion 3.7V-1100mAh
Batt Pack for BT Handset
780581
USB Handset for Softphones. Equipped with (4) programmable function keys. Check NTAC Website for PC O/S compatibility.
UTR-1W-1(BK)
690628
Push-to-Mute Handset. For Digital & IP Terminals.
ITL/DTL PTM handset(BK)
690629
Push-to-Talk Handset. For Digital & IP Terminals.
ITL/DTL PTT handset(BK)
690600
French Function Keypad Assembly (BK). Replaces the assembly of (7) fixed function keys, Menu key, and Navigator key. The designations of the fixed feature keys are in French. For Digital 12/24/32-Button/DESI-less terminals and for IP 6/12/24/32-Button/DESI-less and 320C terminals.
BS(F)-L(BK) KIT
690601
French Function Keypad Assembly (WH). Replaces the assembly of (7) fixed function keys, Menu key, and Navigator key. The designations of the fixed feature keys are in French. For Digital 12/24/32-Button/DESI-less terminals and for IP 6/12/24/32-Button/DESI-less and 320C terminals.
BS(F)-L(WH) KIT
690602
Spanish Function Keypad Assembly (BK). Replaces the assembly of (7) fixed function keys, Menu key, and Navigator key. The designations of the fixed feature keys are in Spanish. For Digital 12/24/32-Button/DESI-less terminals and for IP 6/12/24/32-Button/DESI-less and 320C terminals.
BS(S)-L(BK) KIT
690603
Spanish Function Keypad Assembly (WH). Replaces the assembly of (7) fixed function keys, Menu key, and Navigator key. The designations of the fixed feature keys are in Spanish. For Digital 12/24/32-Button/DESI-less terminals and for IP 6/12/24/32-Button/DESI-less and 320C terminals.
BS(S)-L(WH) KIT
690608
Retrofit Lower Panel Assembly (BK). Consists of 13-button lower panel key assembly (excluding dial) and plastic dial/function key cover. Adds Redial, Conf, Directory, and Message keys. Contains volume keys instead of Navigator Key.
LCD(BL)-L(BK)
690609
Retrofit Lower Panel Assembly (WH). Consists of 13-button lower panel key assembly (excluding dial) and plastic dial/function key cover. Adds Redial, Conf, Directory, and Message keys. Contains volume keys instead of Navigator Key.
LCD(BL)-L(WH)
690610
ICON Panel for Digital 2/6-Btn & IP 2-Btn Terminals (BK). Shows Icon for each of the (11) fixed function keys.
ICONPANEL(R)-L(BK)
690611
ICON Panel for Digital 2/6-Btn & IP 2-Btn Terminals (WH). Shows Icon for each of the (11) fixed function keys.
ICONPANEL(R)-L(WH)
690606
ICON Panel for 12/24/32/Desi-less/Sophi Terminals(BK). Shows Icon for each of the (7) fixed function keys.
ICONPANEL(V)-L(BK)
690607
ICON Panel for 12/24/32/Desi-less/Sophi Terminals(WH). Shows Icon for each of the (7) fixed function keys.
ICONPANEL(V)-L(WH)
680755
ICON Panel for IP Sophi (ITL-320C) Terminals. Shows Icon for each of the (7) fixed function keys.
ICONPANEL(S)-L(BK)
680606
12-Line Key Expansion Module Kit (BK). Converts 12-Button Display Terminal (Digital or IP) to 24-Button. Includes 24-button faceplate & designation sheet.
12LK-L(BK) KIT
680607
12-Line Key Expansion Module Kit (WH). Converts 12-Button Display Terminal (Digital or IP) to 24-Button. Includes 24-button faceplate & designation sheet.
12LK-L(WH) KIT
680016
DESI-Less LK/LCD Unit for Digital Terminals (BK). Consists of backlit DESI-Less unit & backlit display unit.
Replaces the Function Key Module and the existing display module in a DT330 Digital 12/24/32-Button terminal, to convert it to DESI-less. Not compatible with DT310-type terminals.
8LKD(LD)-L(BK)
680017
DESI-Less LK/LCD Unit for Digital Terminals (WH). Consists of backlit DESI-Less unit & backlit display unit.
Replaces the Function Key Module and the existing display module in a DT330 Digital 12/24/32-Button terminal, to convert it to DESI-less. Not compatible with DT310-type terminals.
8LKD(LD)-L(WH)
690013
DESI-less LK/LCD Unit for IP Terminals (BK). Consists of backlit DESI-Less unit & backlit display unit. Replaces the Function Key Module and the existing display module in a DT730 IP 12/24/32-Button terminal, to convert it to DESI-less. Not compatible with DT710-type terminals.
8LKI(LD)-L(BK)
690014
DESI-less LK/LCD Unit for IP Terminals (WH). Consists of backlit DESI-Less unit & backlit display unit. Replaces the Function Key Module and the existing display module in a DT730 IP 12/24/32-Button terminal, to convert it to DESI-less. Not compatible with DT710-type terminals.
8LKI(LD)-L(WH)
680608
Backlit Display for Digital 12/24/32-Btn Terminals (BK). Replaces the standard non-backlit Display Module in a DT330 Digital 12/24/32-Button terminal.
LCD(BL)-L(BK)
680609
Backlit Display for Digital 12/24/32-Btn Terminals (WH). Replaces the standard non-backlit Display Module in a DT330 Digital 12/24/32-Button terminal.
LCD(BL)-L(WH)
690612
Braille Label Kit – For all SV8100 terminals.
Sticker-Braille-L Kit
680610
Terminal Wall Mount Adapter. For wall-mounting an IP/DG terminal that is equipped with an ADA or APR adapter.
WM-L
680754
DSS Wall Mount Adapter. For wall-mounting a 60-Button DSS Console when its associated terminal is equipped with an ADA or APR adapter.
DSS WM-L
680650
Designation Sheets for 2-Button IP & Digital Terminals (Pkg of 25 – 2/sheet)
DESI ITL/DTL-2E (25/Pkg)
680651
Designation Sheets for 6-Button IP & Digital Terminals (Pkg of 25 – 2/sheet)
DESI ITL/DTL-6DE (25/Pkg)
680649
Designation Sheets for 12-Button Non-Display Digital Terminals (Pkg of 25 – 2/sheet)
DESI ITL/DTL-12E-1 (25/Pkg)
680652
Designation Sheets for 12-Button IP & Digital Terminals (Pkg of 25 – 2/sheet)
DESI ITL/DTL-12D (25/Pkg)
680659
Designation Sheets for 24-Button IP & Digital Terminals (Pkg of 25 – 2/sheet)
DESI ITL/DTL-24D (25/Pkg)
680653
Designation Sheets for 8-Button Key Assembly (Pkg of 25 – 1/sheet)
DESI ITL/DTL-8LK (25/Pkg)
680660
Designation Sheets for 32-Button IP & Digital Terminals (Pkg of 25 – 1/sheet). 24-Button Terminal & associated 8LK Assembly
DESI ITL/DTL-32D (25/Pkg)
680654
Designation Sheets for 60-Button DSS Console (Pkg of 25 – 1/sheet)
DESI ITL/DTL-60 (25/Pkg)
680655
Designation Sheets for Main Side Panels of All Terminals with Clear Side Panels (Pkg of 25 – 1 pair/sheet)
DESI ITL/DTL-SIDE (25/Pkg)
680656
For Display Side Panels of 12/24/32-Button Terminals with Clear Side Panels (Pkg of 25 – 2/sheet)
DESI ITL/DTL-LCDV (25/Pkg)
680657
For Display Side Panels of Sophi Terminals with Clear Side Panels (Pkg of 25 – 1 pair/sheet)
DESI ITL/DTL-LCDS (25/Pkg)
680658
Blank inserts for the Directory Card Units (680739 & 680738). (Pkg of 25 – 2/sheet)
DESI ITL/DTL Directory Card(25/Pkg)
680739
Directory Card Unit for 2/6-Btn Terminals/Qty 1. Includes mounting clip, directory card & plastic cover. Installs at the top of the terminal.
VAL Directory Card
680738
Directory Card Unit for 12/24/32-Btn & Desi-less Terminals/Qty 1 . Includes mounting clip, directory card & plastic cover. Installs at the top of the terminal. Not compatible with CTS Terminal.
ECO Directory Card
680700
Red Side Base Panels (Qty 10 pairs) – for all SV Terminals
PANEL(Red-Base)-L
680701
Red Side Display Panels (Qty 10 pairs) – for 12/24/32/DESI-less Terminals
PANEL(Red-VLCD)-L
680702
Red Side Display Panels (Qty 10 pairs) – for Sophi (320C) Terminals
PANEL(Red-SLCD)-L
680703
Blue Side Base Panels (Qty 10 pairs) – for all SV Terminals
PANEL(Blue-Base)-L
680704
Blue Side Display Panels (Qty 10 pairs) – for 12/24/32/DESI-less Terminals
PANEL(Blue-VLCD)-L
680705
Blue Side Display Panels (Qty 10 pairs) – for Sophi (320C) Terminals
PANEL(Blue-SLCD)-L
680709
Wood Side Base Panels (Qty 10 pairs) – for all SV Terminals
PANEL(Wood-Base)-L
680710
Wood Side Display Panels (Qty 10 pairs) – for 12/24/32/DESI-less Terminals
PANEL(Wood-VLCD)-L
680711
Wood Side Display Panels (Qty 10 pairs) – for Sophi (320C) Terminals
PANEL(Wood-SLCD)-L
680713
Clear Side Base Panels (Qty 10 pairs) – for all SV Terminals
PANEL(Clear-Base)-L
680741
Clear Side Display Panels (Qty 10 pairs) – for 12/24/32/DESI-less Terminals
PANEL(Clear-VLCD)-L
680742
Clear Side Display Panels (Qty 10 pairs) – for Sophi (320C) Terminals
PANEL(Clear-SLCD)-L
680771
Pink Side Base Panels (Qty 10 pairs) – for all SV Terminals
PANEL(Pink-Base)-L
680772
Pink Side Display Panels (Qty 10 pairs) – for 12/24/32/DESI-less Terminals
PANEL(Pink-VLCD)-L
680773
Pink Side Display Panels (Qty 10 pairs) – for Sophi (320C) Terminals
PANEL(Pink-SLCD)-L
680774
Gold Side Base Panels (Qty 10 pairs) – for all SV Terminals
PANEL(Gold-Base)-L
680775
Gold Side Display Panels (Qty 10 pairs) – for 12/24/32/DESI-less Terminals
PANEL(Gold-VLCD)-L
680776
Gold Side Display Panels (Qty 10 pairs) – for Sophi (320C) Terminals
PANEL(Gold-SLCD)-L
690636
Colored Side Panel Demo/Sample Kit. Includes one pair in each of (6) colors for the following: Side Base Panels for all terminals, Side Display Panels for 12/24/32/DESI-less terminals, Side Display Panels for Sophi IP Terminal. Colors: Red, Blue, Wood, Clear, Pink, Gold.
Cygnus Side/LCD Color Panel Demo Kit
680761
Line Key Cover Kit – Metallic Blue (Qty 10). For 12-Button Terminals
LK-Panel (12BTN)-L(M-Blue)
680762
Line Key Cover Kit – Gunmetal Grey (Qty 10). For 12-Button Terminals
LK-Panel (12BTN)-L(Gunmetal)
680763
Line Key Cover Kit – Metallic Green (Qty 10). For 12-Button Terminals
LK-Panel (12BTN)-L(Green-M)
680764
Line Key Cover Kit – Metallic Orange (Qty 10). For 12-Button Terminals
LK-Panel (12BTN)-L(Orange-M)
680765
Line Key Cover Kit – Metallic Dark Brown(Qty10). For 12-Button Terminals
LK-Panel (12BTN)-L(D-Brown-M)
680766
Line Key Cover Kit – Metallic Blue (Qty 10). For 24-Button Terminals
LK-Panel (24BTN)-L(M-Blue)
680767
Line Key Cover Kit – Gunmetal Grey (Qty 10). For 24-Button Terminals
LK-Panel (24BTN)-L(Gunmetal)
680768
Line Key Cover Kit – Metallic Green (Qty 10). For 24-Button Terminals
LK-Panel (24BTN)-L(Green-M)
680769
Line Key Cover Kit – Metallic Orange (Qty 10). For 24-Button Terminals
LK-Panel (24BTN)-L(Orange-M)
680770
Line Key Cover Kit – Metallic Dark Brown(Qty10). For 24-Button Terminals
LK-Panel (24BTN)-L(D-Brown-M)
680756
Dial/Function Key Cover Kit (Qty 10) – Metallic Blue. For Digital12/24/32-Button/DESI-less and IP 6/12/24/32/DESI-less terminals.
Key Kit Panel (V)-L(M-Blue)
680757
Dial/Function Key Cover Kit (Qty 10) – Gunmetal Grey. For Digital12/24/32-Button/DESI-less and IP 6/12/24/32/DESI-less terminals.
Key Kit Panel (V)-L(Gunmetal-M)
680758
Dial/Function Key Cover Kit (Qty 10) – Metallic Green. For Digital12/24/32-Button/DESI-less and IP 6/12/24/32/DESI-less terminals.
Key Kit Panel (V)-L(L-Green-M)
680759
Dial/Function Key Cover Kit (Qty 10) – Metallic Orange. For Digital12/24/32-Button/DESI-less and IP 6/12/24/32/DESI-less terminals.
Key Kit Panel (V)-L(Orange-M)
680760
Dial/Function Key Cover Kit (Qty 10) – Metallic Brown. For Digital12/24/32-Button/DESI-less and IP 6/12/24/32/DESI-less terminals.
Key Kit Panel (V)-L(D-Brown-M)
690637
Colored Key Cover Demo/Sample Kit. Includes: (5) 12-Button Line Key Covers, (5) 24-Button Line Key Covers, (10) Dial/Function Key Covers, in the following Colors: Metallic Blue, Gunmetal Grey, Metallic Green, Metallic Orange, Metallic Dark Brown. For 12/24/32-Button/DESI-less terminals.
Cygnus Side/LCD Color Panel Demo Kit
780275
Voice Security Recorder with Software. Provides ability to record, store and manage conversations of an SV8100 digital terminal. Equipped with (1) USB connector and (1) station input jack and (1) station output jack. Includes: 6ft. USB Cable, 4ft Terminal Line Cord, VSR Software CD. Connects to PC via USB. Connects to digital terminal via station jack. Recorded file is saved to local PC and/or network server. (1) Gigabit of storage provides (35) hours at the highest quality level or (168) hours at the standard quality level. Dimensions: 3 ¼" W x 2 ¾" D x 1" H One required per digital terminal.
DTERM VSR
780273
4-Port Digital Call Logging Unit. Provides ability to record, store and manage conversations of (4) SV8100 digital terminals. Equipped with (1) USB connector and (4) station jacks. Includes: 6Ft. USB Cable, (4) Terminal Line Cords, Back Office Recorder Software. Connects to (4) station cables at MDF. Connects to PC via USB. 1) Gigabit of storage provides (35) hours at the highest quality level or (168) hours at the standard quality level. Maximum Call Logging Units per PC: 12 (48 Stations). Multiple PCs can be used to increase capacity.
4-Port Digital Call Logging Unit
780274
VSR Manager Software. Consists of Software CD and USB Dongle. For managing the recorded call of multiple VSR or 4-Pt Call Logging Units. One VSR Manager is required for every PC that is used to manage the calls.
VSR Manager
780267
VSR Reporter Pro Software. Provides same features as the VSR Manager, plus the following features: Call Score Manager – Allows supervisor to grade an agent's performance during a sample of calls, Call Scoring – Calls are scored by simply selecting the Call Score play mode and grading each segment of the call as the supervisor listens to the actual recording, Call Score Reports – Provides easy to read graphs and charts of call scoring.
Dterm VSR Reporter Pro
670863
Basic SonicView Server Package. Web-based call recording solution. Probvides ability to record, store, and manage conversations of an SV8100 IP terminal. Package includes: 4-User/Client License, 1-Port Supervisor License. Each recording port can be configured as "On-Demand Recording" or "Full-Time Recording." Customer-provided server required. Refer to technical documents for server requirements. 1 GB of storage required per 138 hours of recording. Requires software on AK System PC Apps CD (670830) or no-charge download at www.necntac.com.
LKS-IP Recorder Basic Pkg-LIC
670862
1-Port Supervisor License. Provides supervisory Web login access.
LKS-Sys-IP Recorder Basic SUPV Add-on 1-LIC
670865
1-Port User/Client License
LKS-Sys-IP Recorder Port Add-on1LIC
670864
4-Port User/Client License
LKS-Sys-IP Recorder Port Add-on 4LIC
670920
8-Port User/Client License
LKS-Sys-IP Recorder Port Add-on 8LIC
670921
16-Port User/Client License
LKS-Sys-IP Recorder Port Add-on 16-LIC
670922
32-Port User/Client License
LKS-Sys-IP Recorder Port Add-on 32-LIC
670923
64-Port User/Client License
LKS-Sys-IP Recorder Port Add-on 64-LIC
780034
DTH-1-1 (BK) Single Line Telephone/BK. Features: Redial, flash, MW lamp, mute key, ringer/handset volume control, (4) programmable feature/speed dial keys.
780020
DTR-1-1 (BK) Single Line Telephone/BK. Features: Redial, flash, MW lamp, data jack, and ringer/handset volume control.
DTR-1-1(BK)
780021
DTR-1-1 (WH) Single Line Telephone/WH. Features: Redial, flash, MW lamp, data jack, and ringer/handset volume control.
DTR-1-1(WH)
780025
DTR-1HM-1 (BK) Enhanced Single Line Telephone/BK. Features: Redial, flash, MW lamp, data jack, and ringer/handset volume control, (8) programmable feature/speed dial keys, hold key, & monitor key.
DTR-1HM-1(BK)
780026
DTR-1HM-1 (WH) Enhanced Single Line Telephone/WH. Features: Redial, flash, MW lamp, data jack, and ringer/handset volume control, (8) programmable feature/speed dial keys, hold key, & monitor key.
DTR-1HM-1(WH)
780402
DESI Labels for 780020/780021 SL Tel– Metallic Silver (Package of 25)
780404
DESI Labels for 780025/780026 SL Tel – Black (Package of 25).
780406
DESI Labels for 780025/780026 – Metallic Silver (Package of 25).
780525
Flying Directory Plastic Clip Kit (Pkg of 10). For 780020/780021/780025/780026. Holds 770626 Directory Cards.
770626
Flying Directory Card Kit (Pkg of 10). For 780020/780021/780025/780026. Directory Cards for 780525.
730087
Cordless Lite II Telephone. Integrated to SV8100 system. 900MHz technology. Includes: Base Unit, Cordless Handset with Belt Clip, Charging Cradle, Ni-Mh battery, AC Adapter. Handset contains: Display, Dialpad, (6) Fixed feature keys, (4) Programmable Function Keys. Can only be used as a stand-alone station connected directly to a digital station port.
DTH-4R-2(BK) Cordless
730631
Replacement Battery for Cordless Lite II Handset. Nickel Metal Hydride (3.6VDC / 750mAh)
BT-930
730095
Digital Cordless DECT Telephone Integrated to SV8100 system. 1.9GHz DECT 6.0 technology. Includes: Base Unit with AC Adapter (10VDC 500mA), Cordless Handset with Belt Clip, Charging Cradle with AC Adapter (9VDC 350mA), Nickel Metal Hydride battery (2.4VDC-910 mAh) – 16-Hr talk time 7-day standby, Wall mounting plate & desk stand, User guide. Charging cradle equipped with slot to charge spare battery. Handset contains: Display & Dialpad, (7) Fixed feature keys, (8) Programmable Function Keys, Speakerphone (hands-free) feature. Can be used as a stand-alone station or in conjunction with an SV key terminal. Connects to digital station port.
DTL-8R-1
730097
IP Cordless DECT Telephone Integrated to SV8100 system. 1.9GHz DECT 6.0 technology. Includes: Base Unit with AC Adapter (10VDC 500mA), Cordless Handset with Belt Clip, Charging Cradle with AC Adapter (9VDC 350mA), Nickel Metal Hydride battery (2.4VDC-910 mAh) – 16-Hr talk time 7-day standby, Wall mounting plate & desk stand, User guide. Charging cradle equipped with slot to charge spare battery. Handset contains: Display & Dialpad, (7) Fixed feature keys, (8) Programmable Function Keys, Speakerphone (hands-free) feature. Requires NEC IP Terminal License (670716). Requires power from PoE (Power Over Ethernet). Connects directly to LAN via a L2 PoE switch port. Can only be used as a stand-alone station.
ITL-8R-1
730649
Cordless DECT Repeater . Extends the range of the Cordless DECT Telephones (730095 & 730097). Supplied with AC Adapter (5VDC/500mA) with 6Ft. cord. Repeater must be placed within range of the DECT base or another repeater. Maximum (6) repeaters per base unit, – (3) in opposite directions. Replaces 730639 Cordless DECT Repeater.
DTL-RPT-2
730643
Cordless DECT Spare/Replacement Battery. Nickel Metal Hydride ( 2.4VDC / 910mAh). For Digital & IP Cordless DECT Handsets (730095/730097).
BT-1009
730653
SMB Wireless ML440 Package. Consists of: (1) 730651 AP20 Access Point and (3) 730650 ML440 Handsets.
SMB Wireless Package
730651
AP20 IP DECT Access Point. Omni-directional 1.9GHz access point for ML440 DECT Handsets. Connects directly to LAN via a Level 2 POE switch port. Includes desk/shelf base and wall-mounting hardware. Can be ceiling-mounted w/optional hardware (730658). Simultaneous conversations allowed per AP20: (10) if only (1) AP20 is installed and (8) per access point if multiple AP20's are installed. Maximum (20) AP20 Access Points per system. Maximum of (30) ML440 Handsets can be registered to (1) AP20. System must be equipped with VoIP Daughter Board.
AP20 Access Point
730650
ML440 DECT Handset. Consists of: ML440 Handset, CE-MB206-5C-02 Li-ion Battery Pack (- 3.7V 1100mAh), Belt Clip, Charger Unit with slot to charge spare battery (includes wall-mounting hardware), AC Adapter for Charger Unit, Designatuion strips for extension number and programmable keys. Features: Dialpad, Speakerphone, Illuminated Color LCD Display, Navigator Key, Volume & Mute keys, (4) Fixed feature keys, (3) Soft Keys, (4) Programmable Function Keys, Headset Jack (2.5mm), Requires AP20 IP DECT Access Point (730651). Each ML440 Handset requires (1) NEC SIP Terminal License (670716). Maximum (200) ML440 allowed per system, but usage is limited by available VoIP resources. System must be equipped with VoIP Daughter Board.
ML440 MultiLine Wireless Handset
730658
Ceiling-Mount Bracket for AP20 Access Point
AP20 Ceiling Mount
730657
Spare/Replacement Battery Pack. Lithium-ion 3.7V 1100mAh.
CE-MB206-5C-02
730659
Spare/Replacement Charger Unit for ML440 Handset. Includes slot to charge spare battery. Includes hardware for wall-mounting.
ML440 Charger Unit
730660
Spare/Replacement AC Adapter for ML440 Charger. Switching power supply: Input: 100-240VAC 50/60Hz 250mA, Output: 5.5V 600mA, Center positive plug. 6-Ft cable.
ML440 AC Adapter
730661
Leather Case for ML440 Handset
ML440 Leather Case
690024
AP300 IP-DECT Wireless Access Point (DAP). For C124, G355, G955, and I755 IP DECT Handsets. Supports up to (11) simultaneous calls. Equipped with internal antenna. Requires DAP Manager Software, which must be downloaded from the NTAC Website. Requires power from either of the following: Dataswitch with 802.3af POE, Power Injector (750615, below), or AC Adapter (40V AC or DC with 10Watt output) Not offered by NEC. Refer to tech manual for wiring details. Requires Cat5 or higher cabling. Requires VoIP Resource Daughter Board (page 6). Can be wall or ceiling mounted (Horiz. or vert.) Must be located within 300 feet of the associated dataswitch. Refer to installation manual for coverage specifications. Replaces 750104 AP200S. Maximum 250 DAPs per system.
AP300 IP DECT ACCESS POINT
750898
NEC DECT Network Security License CD. Contains technical documentation & (printed) license key. One required per site.
DECT Network Security License CD
750615
Power Injector (PSA16U-480(POE). Provides power to (1) DECT Wireless Access Point, if associated dataswitch does not provide 802.3af POE. Connects between LAN dataswitch and Wireless Access Point. Equipped with 9.5-ft AC power cord. Dimensions: 6.5in s 2.5in x 1.5 in. Can be wall-mounted. Not required if dataswitch supports 802.3af POE or if dedicated AC adapter is used.
NEC DECT Power Injector
750614
Outdoor Weather Enclosure. For AP200S IP DECT Access Point.
NEC SIP DECT AP200S Out Wea Enc
690030
DMLS Basic License for SV8100. DECT Messaging and Location Services – universal software interface that enables other information systems, such as alarm and control, paging, databases, and scheduling to integrate with the G955 and I755 IP DECT handsets. NEC and Amcom Software have partnered to provide robust messaging applications.
DMLS Basic License for SV8100
750611
C124 IP DECT Basic Handset. Contains a standard display. Includes charger, hard-wired AC adapter & batteries. Requires (1) 3rd Party/NEC SIP Client license and uses (1) system port. System must be equipped with a VoIP Resource Daughter Board. Includes hands-free speakerphone feature. Up to 12 hours talk time & 200 hours standby. Equipped with (3) AAA NiMH rechargeable batteries. As these are standard batteries, replacements are not available from NEC. Notes: IP DECT Handsets require one or more IP DECT Access Points (690024 or 750104 ) and VoIP Resource Daughter Board. Maximum IP DECT Handsets per system is (250), but maximum IP DECT simultaneous conversations is based on the system's available VoIP resource ports (Maximum 128 if equipped with PZ-128IPLA or PZ-128IPLB). Each handset requires (1) 3rd Party/NEC SIP Client license (670721) and uses (1) system port.
NEC C124 SIP DECT Handset
750612
Set of (10) Belt Clips for C124 Handsets
C124 DECT Handset Belt Clip
690113
G355 IP DECT Enhanced Handset. Features: Color display, Navigator keys, SOS key (Emergency speed dial key), Hands-free speakerphone. Equipped with (1) 3.7V / 650mAh Lithium-Ion rechargeable battery – Talk time: Up to 12 Hrs | Standby: Up to 120 Hrs. Equipped with (2) types of belt clip & removal tool. Requires Charger (750619). Requires AC Adapter (750618). Charger and AC Adapter must be ordered separately. Bluetooth operation is not available for this model. Notes: IP DECT Handsets require one or more IP DECT Access Points (690024 or 750104) and VoIP Resource Daughter Board. Maximum IP DECT Handsets per system is (250), but maximum IP DECT simultaneous conversations is based on the system's available VoIP resource ports (Maximum 128 if equipped with PZ-128IPLA or PZ-128PLB). Each handset requires (1) 3rd Party/NEC SIP Client license (670721) and uses (1) system port.
NEC G355 SIP DECT HANDSET
750106
G955 IP DECT Enhanced Handset. Features: Color display, Navigator keys, SOS key (Emergency speed dial key), Broadcast (Text) messaging, Bluetooth headset capability (Requires optional adapter), Vibrator Alert Feature. Equipped with (1) 3.7V / 650mAh Lithium-Ion rechargeable battery – Talk time: Up to 12 Hrs | Standby: Up to 120 Hrs. Equipped with (2) types of belt clip & removal tool. Requires Charger (750619) & AC Adapter (750618). Charger and AC Adapter must be ordered separately. Notes: IP DECT Handsets require one or more IP DECT Access Points (690024 or 750104) and VoIP Resource Daughter Board. Maximum IP DECT Handsets per system is (250), but maximum IP DECT simultaneous conversations is based on the system's available VoIP resource ports (Maximum 128 if equipped with PZ-128IPLA or PZ-128PLB). Each handset requires (1) 3rd Party/NEC SIP Client license (670721) and uses (1) system port.
NEC G955 SIP DECT HANDSET
750619
Charger Stand for G355/G955 Handset. Requires AC Adapter (750618)
NEC G955 DESKTOP CHARGER
750618
AC Adapter for G355/G955 Handset Charger Stand. Input: 100-240VAC 50/60Hz 0.15A. Output: 5VDC 350mA
NEC G955 AC ADAPTER
690104
Replacement Battery for G355/G955 Handset. Lithium Ion 3.7V 650mAh
G355/955 BATTERY PACK
750626
Memory Card for G355/G955/i755 Handset (Qty 1). Allows transfer of subscription information to another G355/G955/ i755 Handset.
NEC G355/G955 MEMCARD
750617
Set of (10) Belt Clips for G355/G955 Handsets.
NEC G955 BELT CLIP/10PCS
750625
Bluetooth Adapter for G955/i755 Handset. Allows connection of a Bluetooth headset (10m range). Installs inside the handset, under the battery.
NEC G955 BLUETOOTH MODULE
690101
Horizontal Pouch for G355/G955/i755 Handset. With fixed belt clip.
G355/G955 Pouch (Horiz)
690102
Vertical Pouch for G355/G955/i755 Handset. With fixed belt clip.
G355/G955 Pouch (Vertical)
690103
Rugged Holder for G355/G955 Handset. With swivel belt clip.
G355/G955 Rugged Holder
690111
i755 IP DECT Enhanced Handset. Features: Color display, Navigator keys, SOS key (Emergency speed dial key), Hands-free speakerphone, Broadcast (Text) messaging, Bluetooth headset capability (Requires optional adapter), Vibrator Alert Feature, Man-down feature. Ingress Protection (dust & liquids) rating IP54. Equipped with (1) 3.7V / 650mAh Lithium-Ion rechargeable battery – Talk time: Up to 10 Hrs | Standby: Up to 120 Hrs. Equipped with spring-type belt clip. Requires Charger (690110). Requires AC Adapter (690114). Charger and AC Adapter must be ordered separately. NOTES: Requires (1) 3rd Party/NEC SIP Client license and uses (1) system port. System must be equipped with a VoIP Resource Daughter Board. Notes: IP DECT Handsets require one or more IP DECT Access Points (690024 or 750104) and VoIP Resource Daughter Board. Maximum IP DECT Handsets per system is (250), but maximum IP DECT simultaneous conversations is based on the system's available VoIP resource ports (Maximum 128 if equipped with PZ-128IPLA or PZ-128IPLB). Each handset requires (1) 3rd Party/NEC SIP Client license (670721).Uses (1) system port.
NEC I755 SIP DECT HANDSET
690110
Desktop Charger for i755 Handset. Input: 100-240VAC 50/60Hz 250mA. Output: 12VDC/400mA. Includes slot to charge a spare battery. Requires AC Adapter (690114).
I755S Desktop Charger
690114
AC Adapter for i755 Handset Charger. Equipped with (1) domestic & (3) international plugs.
I755S AC Adapter-Multi Region
690109
Spare/Replacement Battery for i755 Handset. 3.7V 650mA Lithium-Ion.
I755S Battery Pack
750626
Memory Card for G355/G955/ i755 Handset (Qty 1). Allows transfer of subscription information to another G355/G955/I755 Handset.
NEC G355/G955 MEMCARD
750625
Bluetooth Adapter for G955/ i755 Handset. Allows connection of a Bluetooth headset/10m range. Installs inside the handset, under the battery.
NEC G955 BLUETOOTH MODULE
690101
Horizontal Pouch for G355/G955/ i755 Handset. With fixed belt clip.
G355/G955 Pouch (Horiz)
690102
Vertical Pouch for G355/G955/ i755 Handset. With fixed belt clip.
G355/G955 Pouch (Vertical)
690115
Swivel Belt Clip for i755 Handset (Qty 1)
i755 Hset Swivel BT Clip(1ea)
690116
Replacement Spring Belt Clip for i755 Handset (Qty 1)
i755 Hset Spring BT Clip(1ea)
690023
MH240 / WL1700MS Bundle. Consists of: (1) WL1700MS Controller/Access Point and (4) MH240 Handsets. Discontinued 12/31/10. Available until inventory is depleted.
MH240 / WL Bundle
690022
WL1700MS WiFi Controller & Access Point. Dual function unit, required for MH240 applications: Controller function provides wireless interface for up to (3) WL1500-AP-A access points, Access Point function provides wireless access for MH240 Handsets, One WL1700MS is required for every (3) WL1500-AP-A wireless access points. The access point within the WL1700MS can handle (12) simultaneous MH240 calls. Requires POE or Power Injector (750615), below. Dimensions: 7.5" x 7.5" x 2". Includes mounting hardware.
WL1700MS
690020
WL1500-AP-A WiFi Access Point. Provides wireless access for MH240 Handsets. Requires WL1700MS for access to wireless network. Maximum (3) WL1500-AP-A per (1) WL1700MS. Each WL1500-AP-A access point can handle (12) simultaneous MH240 calls. Requires POE or 750615 Power Injector, below. Dimensions: 7.5" x 7.5" x 2". Includes mounting hardware. This item will be discontinued on 12/31/10.
WL1500-AP-A
750615
Power Injector (PSA16U-480POE). Provides power to (1) Wireless Access Point. Connects between dataswitch and Access Point. Not required if dataswitch supports 802.3af POE.
NEC DECT Power Injector
690015
MH240 WiFi Handset. Features: (8) Programmable Function Keys, (6) Fixed Feature Keys (Transfer, Conference, Hold, Menu, Off-Hook, On-Hook), Navigator Key, Speakerphone, 120 x 90 pixel Display. Equipped with: AC Adapter w/ 6Ft cord (DC5V 1A) – Mini USB, Charging Unit (Model IP3NA-8WVCHG) with slot for charging spare battery, Lithium Ion battery (3.7V 850mA – WLPS3E). Talk time: Up to 3 hrs Standby: Up to 80 Hrs, Headset adapter cable (4.75") – allows use with headsets equipped with 2.5mm plug Important Notes: MH240 applications require one or more WiFi access points.
Access points must meet MH240 specifications. Refer to MH240 Application Notes for approved models.
Each MH240 Handset requires (1) NEC SIP Terminal License (670716). The SV8100 system must be equipped with a VoIP Resource Daughter Board.
MH240 Wireless IP Tel Set
690021
MH240 Replacement/Spare Battery
WLPS3 (E) BATT PACK-A
690703
MH240 Handset Case with Belt Clip
MH240 Handset Case
690701
MH240 Replacement Headset Adapter (Pkg of 4)
MH240 Headset Adapter
690704
MH240 Replacement Handset Case Belt Clips (Pkg of 3)
MH240 Handset Case Clip
750660
TR-1 Cordless Headset Adapter. Allows connection of most Plantronics cordless headsets to an SV8100 APR Adapter. Eliminates need for Handset Lifter.
TR-1
750189
H81 TriStar Headset. In-ear style – Top only. Monaural with voice tube transmitter. Equipped with Quick Disconnect Cord, clothing clip, (4) eartips, & spare voice tube. Compatible with IP 12/24/32/DESI-less/Sophi terminals and Digital 12/24/32/DESI-less terminals if also equipped with an A10-16 Cable (750609). Can also be used with the IP 2/6-Button and Digital 2/6-Button terminals, but will then require the Plantronics M22 Amplifier/Switch (not sold by NEC).
H81 TriStar
750607
H251N SupraPlus Monaural NC Headset. Over-the-Head style – Top only. Monaural with noise canceling transmitter. Quick Disconnect Cord and clothing clip. Compatible with IP 12/24/32/DESI-less/Sophi terminals and Digital 12/24/32/DESI-less terminals if also equipped with an A10-16 Cable (750609). Can also be used with the IP 2/6-Button and Digital 2/6-Button terminals, but will then require the Plantronics M22 Amplifier/Switch (not sold by NEC).
H251N SupraPlus Monaural NC
750608
H261N SupraPlus Binaural NC Headset. Over-the-head style – Top only. Binaural with noise canceling transmitter. Quick Disconnect Cord and clothing clip. Compatible with IP 12/24/32/DESI-less/Sophi terminals and Digital 12/24/32/DESI-less terminals if also equipped with an A10-16 Cable (750609). Can also be used with the IP 2/6-Button and Digital 2/6-Button terminals, but will then require the Plantronics M22 Amplifier/Switch (not sold by NEC).
H261N SupraPlus Binaural NC
750609
A10-16 In-line Amplifier Cable. Provides transmit amplification for "H" headsets. Required for connection of above headsets to DT330, DT730, and DT750 terminals.
A10-16 In-line Amplifier Cable
750628
Audio 476 Stere USB Corded Headset. Features: Foldable design, no PC sound card required, noise-canceling microphone, 6.75-ft cord – equipped with inline volume control and mute switch. Also includes a spare set of ear cushions. Replaces 750627 Audio 470 Headset.
Audio 476 Stereo USB Corded Headset
730092
CS-50 Cordless USB Headset. For Softphones. To be discontinued when inventory is depleted.
NEC USB Headset CS-50
780581
UTR-1W-1 (BK) USB Handset. Equipped with (4) function keys. Check NTAC Website for PC O/S compatibility. For SV Softphones.
UTR-1W-1 (BK)
750646
Plantronics MX250 Headset – In-the-Ear style. For cordless and wireless telephones that are equipped with standard 2.5mm headset jack. Equipped with 4-ft cord, (2) ear cushions, and clothing clip.
MX250
750637
Plantronics M175 Headset – On-the-Ear or Over-the-Head style. For cordless and wireless telephones that are equipped with standard 2.5mm headset jack. Equipped with headband, (3) ear clips, 4.25-ft cord, clothing clip, mute switch, receive & transmit volume controls.
M175
730654
BT200 Bluetooth Speakerphone. Standalone, portable speakerphone unit. Technology: Version 2.1+ EDR (Enhanced Data Rate), Class 2. Features: Links with (2) compatible Bluetooth devices, High definition audio, Call-Waiting, Volume control, Mute, Controls music operation (Play, Pause, Skip) when linked to Bluetooth music player, LED indication of battery status, Equipped with: Lithium-Ion Polymer battery – provides 7 hours standby (5 hours when in HD mode), AC Adapter, USB connector – for charging external devices, 3.5mm audio jack – to allow use as amplified speaker for external music source. Dimensions: 5½"W x 3½"D x 1 5/16" D. Not compatible with SV8100 Bluetooth hub or handset.
BT200
730655
Spare/Replacement Battery. Lithium-Ion Polymer, 5VDC 1000mA. Provides LED indication of battery status.
BT-1026
730656
Replacement AC Adapter for BT200. Input: 100-240VAC 50/60Hz 0.3A. Output: 5.4VDC 1500mA Center positive.
PS-0043
670850
SV8100 System Document CD. Includes: SV8100 / SV8300 Hardware Manual, SV8100 System Maintenance Manual, SV8100 Feature & Specifications Manual, SV8100 Programming Manual, SV8100 Networking Manual, SV8100 PC Programming Manual
AK SV8100 System Documentation CD
670830
SV8100 System Application CD Package. Disk 1 includes: PC Pro, Communication Analyst, ACD MIS. Disk 2 includes: SonicView Recording Applications. Disk 3 includes: Text-to-Speech North American Prompt Sets, U.S. English / Canadian French / Latin American Spanish
AK System PC APP CD
670829
SV8100 Desktop Application CD. Includes: Desktop Applications (SP310 Softphone & Desktop Client), Shared Services, NEC End User Pro, NEC Phone Dialer, Quick Message Client, ACD Suite, UM8000 VoiceMail Suite
AK Desktop PC APP CD
670142
SV8100 IP Demo Kit with Case. Consists of: (1) 670067 9.5" 3-Blade SV8100 Chassis, (1) 670005 CPU Blade, (1) 670525 Memory Expansion Daughter Board, (1) 670168 32-Port VoIP Resource daughter Board, (1) 670128 Combo Station Blade (8 Digital/2 Analog), (1) 670111 4-Port CO Trunk Daughter Board, (1) 670103 Voice Mail Daughter Board, (1) 670966 InMail 64-Hour (1G) Compact Flash, (1) 670782 InMail 2-Port License, (1) 670124 8-Port POE Gigabit Dataswitch, (1) 690019 IP Sophi Terminal, (1) 690010 IP DESI-Less Terminal (BK), (1) 690001 IP 6-Button Display Terminal (BK), (1) 0893500 Soft-Sided Demo Case with Wheels.
SV8100 IP Demo Kit With Case
670143
SV8100 IP Demo Kit without Case. Consists of: (1) 670067 9.5" 3-Blade SV8100 Chassis, (1) 670005 CPU Blade, (1) 670525 Memory Expansion Daughter Board, (1) 670168 32-Port VoIP Resource daughter Board, (1) 670128 Combo Station Blade (8 Digital/2 Analog), (1) 670111 4-Port CO Trunk Daughter Board, (1) 670103 Voice Mail Daughter Board, (1) 670966 InMail 64-Hour (1G) Compact Flash, (1) 670782 InMail 2-Port License, (1) 670124 8-Port POE Gigabit Dataswitch, (1) 690019 IP Sophi Terminal, (1) 690010 IP DESI-Less Terminal (BK), (1) 690001 IP 6-Button Display Terminal (BK).
SV8100 IP Demo Kit Without Case
670140
SV8100 Digital Demo Kit with Case. Consists of: (1) 670067 9.5" 3-Blade SV8100 Chassis, (1) 670005 CPU Blade, (1) 670128 Combo Station Blade (8 Digital/2 Analog), (1) 670111 4-Port CO Trunk Daughter Board, (1) 670103 Voice Mail Daughter Board, (1) 670966 InMail 64-Hour (1G) Compact Flash, (1) 670782 InMail 2-Port License, (1) 680010 Digital DESI-Less Terminal (BK), (1) 680004 Digital 24-Button Display Terminal (BK), (1) 680002 Digital 12-Button Display Terminal (BK), (1) 0893500 Soft-Sided Demo case with Wheels, (1) 80890 Station Cable Adapter Box, (2) 80891 8-Conductor Connection Cable.
SV8100 Digital Demo Kit w/Case
670141
SV8100 Digital Demo Kit without Case. Consists of: (1) 670067 9.5" 3-Blade SV8100 Chassis, (1) 670005 CPU Blade, (1) 670128 Combo Station Blade (8 Digital /2 Analog), (1) 670111 4-Port CO Trunk Daughter Board, (1) 670103 Voice Mail Daughter Board, (1) 670966 InMail 64-Hour (1G) Compact Flash, (1) 670782 InMail 2-Port License, (1) 680010 Digital DESI-Less Terminal (BK), (1) 680004 Digital 24-Button Display Terminal (BK), (1) 680002 Digital 12-Button Display Terminal (BK).
SV8100 Digital Demo Kit Without Case
670902
SV8100 Demo License Bundle. Contains the following licenses: (1) 670702 1-Node NetLink Remote Node License, (1) 670709 ACD License, (1) 670812 ACD MIS Basic License, (1) 670706 Hotel/Motel License, (1) 670707 SMDR License, (1) 670802 Communications Analyst Full 20-Station License, (1) 670931 InMail Email Integration License, (1) 670713 4-Port IP Trunk License, (1) 670914 4-Port Softphone Client License, (1) 670904 4-Port Desktop Client License, (1) 670919 Shared Services License, (4) 670727 4-Port 1st Party CTI Client License, (1) 670711 Release 3 Feature License (NAT Traversal Feature), (1) 670798 UM8000 1-Port Fax License.
SV8100 Demo License Kit
670507
Replacement Fan Unit for 19" 6-Blade Chassis
CHS2U FAN BOX SET
670529
Replacement AC Cord for 19" 6-Blade Chassis
AC Cord
670500
Blank Blade Cover Set. (1) cover with screws. For 9.5" 3-Blade or 19" 6-Blade Chassis. (2) included in 670067 9.5" 3-Blade Chassis. (3) included in 670068 9.5" 3-Blade Expansion Chassis. (5) included in 670015 19" 6-Blade Chassis.
CHS2U Blank Slot Cover Kit
670523
Blank Cover for Expansion Blade Slot
CHS Blank Slot Cover Kit
670504
Small Battery Box. Installs in 9.5" 3-Slot Controlling Base Chassis. Requires 670511 Small Battery Set. Included in 670603 3-Blade Chassis Battery Box Kit.
CHSGW/CHS2U-B US SMALL BATT BOX
670511
(2) 12V 0.8Ah Lead-Acid Batteries with connector. Installs in 670504 Small Battery Box. Included in 670603 3-Blade Chassis Battery Box Kit.
CHSGW/CHS2U-B SMALL BATT SET
670509
Battery Mount for Internal Battery Kit. Included in 670601 Short Term Internal Battery Kit.
CHS2U BATT MTG KIT
670530
Battery Cable for Internal Battery Kit. Included in 670601 Short Term Internal Battery Kit.
CHS2U BATT CABLE INT
670533
Internal Battery Set. (2) NP2.3-12FR 12V 2.3Ah lead-acid batteries. Included in 670601 Short Term Internal Battery Kit.
CHS2U BATT SET
670505
CHS External Battery Box. Installs adjacent to the 9.5" 3-Blade Controlling Base Chassis or the 19" 6-Blade Chassis. Contains (4) cables for connection to up to (4) chassis. Contains (6) cables for connection of batteries. Requires (3) 670512 External Battery Sets. Included in 670602 CHS External Battery Box Kit.
CHS Large BATT BOX
670512
Long Term Battery Set. (2) 12V 7.0Ah lead-acid batteries. (3) sets required for 670505 External Battery Box. (3) sets Included in 670602 External Battery Box Kit.
CHS Large Batt Set
670176
Replacement CPU for SMB Value Package. Same as 67005, but is also equipped with: 2-Port InMail License and 4-Client Email Notification License
CD-CPOO-UX-9.5" TDM VALUE
670534
PMS to VM Interface Serial Adapter. For connection between discontinued PMS-U10 Adapter (750116) and Voice Mail Blade (670123). Not required for PVA-PMS applications.
PMS/VM Interface Adapter (DB9F-Mod6)
670938
PMS Application CompactFlash. Provides PMS Interface feature. Requires a dedicated PVA Blade (670131) and (1) PMS License (670937). Included in 670547 PVA-PMS Kit.
AKU-PVA-PMS-CF
670937
PMS Interface License. Enables PMS Interface feature. Only (1) license is required per PMS application. Requires a dedicated PVA Blade (670131) and PMS CompactFlash (670938). Included in 670547 PVA-PMS Kit.
LK-PVA-PMS-LIC
670545
PVA-PMS Serial Cable. Connects PVA Blade to customer's PMS equipment. Included in 670547 PVA-PMS Kit.
PVA PMS SERIAL CABLE
690628
Push-to-Mute Handset. Equipped with handset cord.
ITL/DTL PTM handset(BK)
690629
Push-to-Talk Handset. Equipped with handset cord.
ITL/DTL PTT handset(BK)
690614
Handset, NarrowBand for Digital Terminals (BK). Not equipped with handset cord.
Handset (Narrow)-L (BK)
690615
Handset, NarrowBand for Digital Terminals (WH). Not equipped with handset cord.
Handset (Narrow)-L (WH)
690616
Handset, WideBand for IP Terminals (BK). Not equipped with handset cord.
Handset (Wide) -L (BK)
690617
Handset, WideBand for IP Terminals (WH). Not equipped with handset cord.
Handset (Wide)-L (WH)
690622
Handset Hanger/Black (Qty 1)
Handset Hanger-L (BK)
690623
Handset Hanger/White (Qty 1)
Handset Hanger-L (WH)
690627
Replacement Line Cord – 7Ft. (BK)
Line Cord-L (BK)
690618
Handset Cord – 12Ft. Black (Qty 1)
Handset Cord(12FT)-L (BK)
690619
Handset Cord – 12Ft. White (Qty 1)
Handset Cord(12FT)-L (WH)
690620
Handset Cord – 25Ft. Black (Qty 1)
Handset Cord(25FT)-L (BK)
690621
Handset Cord – 25Ft. White (Qty 1)
Handset Cord(25FT)-L (WH)
690064
Replacement Belt Clips for Bluetooth Handset (Package of 5)
Belt Clip for BT Handset(5PK)
690070
Replacement Function Key Assembly and Cover. For DT330/DT730 type terminals.
BS(STANDARD)-L(BK) KIT
680714
Line Key Cover for 2-Button Terminals (Qty 1)
LK-PANEL (2BTN)-L(BK)
680715
Line Key Cover for 6-Button Terminals (Qty 1)
LK-PANEL (6BTN)-L(BK)
680716
Line Key Cover for Black 12-Button Terminals (Qty 1)
LK-PANEL (12BTN)-L(BK)
680717
Line Key Cover for White 12-Button Terminals (Qty 1)
LK-PANEL (12BTN)-L
680718
Line Key Cover for Black 24-Button Terminals (Qty 1)
LK-PANEL (24BTN)-L(BK)
680719
Line Key Cover for White 24-Button Terminals (Qty 1)
LK-PANEL (24BTN)-L(WH)
680720
Line Key Cover for Black 8-Btn Key Assembly (Qty 1)
LK-PANEL (8BTN)-L(BK)
680721
Line Key Cover for White 8-Btn Key Assembly (Qty 1)
LK-PANEL (8BTN)-L(WH)
680722
Line Key Cover for Black 60-Btn DSS Console (Qty 1)
LK-PANEL (60BTN)-L(BK)
680723
Line Key Cover for White 60-Btn DSS Console (Qty 1)
LK-PANEL (60BTN)-L(WH)
680745
Dial/Function Key Cover for Digital12/24/32-Button/DESI-less and IP 6/12/24/32/DESI-less/Sophi terminals – Black (Qty 1)
LK-panel (12BTN)-L(BK)
680746
Dial/Function Key Cover for Digital12/24/32-Button/DESI-less and IP 6/12/24/32/DESI-less/Sophi terminals – White (Qty 1)
LK-Panel (12BTN)-L(WH)
680747
Dial/Function Key Cover Kit For Digital 2/6-Button and IP 2-Button Terminals – Black (Qty 1)
KEY KIT PANEL (RETRO)-L(BK)
680748
Dial/Function Key Cover Kit For Digital 2/6-Button and IP 2-Button Terminals – White (Qty 1)
KEY KIT PANEL (RETRO)-L(WH)
680749
Dial/Function Key Cover Kit for IP Sophi Terminals – Black (Qty 1)
KEY KIT PANEL (SOPHI)-L(BK)
680751
Replacement Leg Assembly for Terminals equipped with BCH or PSA Adapters for Digital/IP2/6-Button Value Terminals.
LEG(OPTION)-L
680752
Replacement Leg Assembly for DT310/330 and DT710/730 Terminals.
LEG(VALUE)-L
680753
Replacement Leg Assembly for IP Sophi Terminal.
LEG(SOPHI)-L
680706
Replacement Silver Side Base Panels (10 pairs) – for all SV Terminals
PANEL(Silver-Base)-L
680707
Replacement Silver Side Display Panels (10 pairs) – for 12/24/32/DESI-less Terminals
PANEL(Silver-VLCD)-L
680708
Replacement Silver Side Display Panels (10 pairs) – for Sophi (320C) Terminals
PANEL(Silver-LCD)-L
750156
Conference Max Expansion Kit. Expansion unit with cable. Adds one speakerphone unit to the Conference Max (750073). Consists of speakerphone unit and 12ft cord. Up to (3) Conference Max Expansion Kits can be added to one Conference Max. Discontinued, but available until inventory is depleted.
NEC Conference Max Expansion Kit
750152
Charger for Conference Max Plus. AC adapter that plugs directly into the Conference Max Plus.
Spare/Replacement 12VDC charger
750153
Battery Pack for Conference Max Plus
Spare/Replacement battery pack
750157
12Ft. RJ45 Cable
Spare/Replacement cable for connection between Conf Max & base unit.
780502
Replacement Handset (BK) for 780020/780025.
DTR/DTH/ITR/ITH-2Handset Replacement(BK)
780501
Replacement Handset (WH) for 780021/780026.
DTR/DTH/ITR/ITH-2Handset Replacement(WH)
780530
Replacement 12Ft. Handset Cord (BK) for 780020/780025.
DT(x)/IT(x)8/16D-1(BK)Handset Cord(12Ft)
770512
Replacement 12Ft. Handset Cord (WH) for 780021/780026. Replaced 780532.
Handset Cord 12 Ft WH (DTU/DTP)
770521
Replacement 25Ft. Handset Cord (BK) for 780020/780025. Replaces 780535.
Handset Cord 25Ft BK (DTU/DTP)
770522
Replacement 25Ft. Handset Cord (WH) for 780020/780025. Replaces 780537.
Handset Cord 25Ft WH (DTU/DTP)
770502
Replacement Line Cord 7Ft (BK) for 780020/780025
Replacement Line Cord (BK) DTP/DTU
770503
Replacement Line Cord 7Ft (WH) for 780021/780026
Replacement Line Cord (WH) DTP/DTU
780505
Replacement Wall Mount Hangers (BK) for 780020/780025 (Pkg of 25)
DT(x)/IT(x)-8/16-1 Hanger Kit(BK)(Pkg25)
780538
Replacement Wall Mount Hangers (WH) for 780021/780026 (Pkg of 25)
DTR1-1/1HM-1 Hanger Kit (Pkg 25)
780540
Plastic Key Cover Kit for DTR-1-1 SLT for 780020/780021 (Pkg of 10). Discontinued 3/31/11
DTR-1-1 Line Panel Kit (Pkg 10)
780542
Plastic Key Cover Kit for DTR-1HM-1 SLT for 780025/780026 (Pkg of 10). Discontinued 3/31/11
DTR-1HM-1 Line Panel Kit (Pkg 10)
730637
Replacement/Spare Battery for DTR-1R-2. Discontinued. No longer available.
Model BT-446
730635
AC Adapter for DTR-1R-2 Cordless Tel Base Unit. Discontinued.
DTR-1R Base AC Adapter
750659
Spare/Replacement Battery for 730091 Dterm Headset Cordless II. Li-ion 3.75V, 190mAh (Plantronics P/N 65358-01)
DTERM Headset Cordless II Optional Batt
750658
Spare/ReplacementAC Adapter for 730091 Dterm Headset Cordless II. Input : 120VAC. 60Hz Output : 9VDC @ 800ma
DTERM HS Cordless II Optional AC Adap
730657
Spare/Replacement Battery Pack for ML440 Handset. Lithium-ion 3.7V 1100mAh
CE-MB206-5C-02
730659
Spare/Replacement Charger Unit for ML440 Handset. Includes slot to charge spare battery. Includes hardware for wall-mounting.
ML440 Charger Unit
730660
Spare/Replacement AC Adapter for ML440 Charger Switching power supply: Input: 100-240VAC 50/60Hz 250mA, Output: 5.5V 600mA, Center positive plug. 6-Ft cable.
ML440 AC Adapter
750612
Set of (10) Belt Clips for C124 Handsets
C124 DECT Handset Belt Clip
750613
Spare/Replacement Charger for C124 Handset – Includes hard-wired AC adapter. (5V / 350mA)
C124 SIP DECT Handset Repl Charger
750618
AC Adapter for G355/G955 Handset Charger
NEC G955 AC ADAPTER
690104
Replacement Battery for G355/G955 Handset
G355/955 BATTERY PACK
750626
Memory Card for G355/G955/I755 Handsets(Qty 1). Allows transfer of subscription information to another Handset.
NEC G955 MEMCARD
750617
Set of (10) Belt Clips for G355/G955 Handsets
NEC G955 BELT CLIP
750625
Bluetooth Adapter for G955/I755 Handsets. Allows connection of a Bluetooth headset /10m range)
NEC G955 BLUETOOTH MODULE
690109
Replacement Battery for I755 Handset
I755S Battery Pack
690110
Desktop Charger for I755 Handset
I755S Desktop Charger
690114
AC Adaptor for I755 Handset
I755S AC Adapter-Multi Region
690021
MH240 Replacement/Spare Battery
WLPS3 (E) BATT PACK-A
690703
MH240 Handset Case with Belt Clip
MH240 Handset Case
690701
MH240 Replacement Headset Adapters (Pkg of 4)
MH240 Headset Adapter
690704
MH240 Replacement Handset Case Belt Clips (Pkg of 3)
MH240 Handset Case Clip
730643
Spare/Replacement Battery for Cordless DECT. Nickel Metal Hydride (2.4VDC 910mAh)
BT-1009
730641
Replacement Charger for Cordless DECT (without AC Adapter)
Cordless DECT Repl. Charger
730662
AC Adapter for Cordless DECT Base Unit. Input : 120VAC / 60Hz / 14W. Output : 10VDC 500mA
PS-0001
730644
AC Adapter for Cordless DECT/Cordless II/Cordless Lite II Charger Unit. Input : 120VAC / 60Hz Output : 9VDC 350mA
PS-0005
730642
Spare/Replacement Belt Clip for Cordless DECT
Cordless DECT Repl. Belt Clip
730626
Leather Case for Cordless II Handset
EXP9783 Leather Case
730622
Spare/Replacement Battery for Cordless II Handset. Nickel Metal Hydride: 3.6V 1300mAh
BT2499A Battery
730621
Charger Unit for Cordless II Handset (without AC Adapter)
EXP9785 Charger Unit
730620
Belt Clip for Cordless II Handset.
EXP9702 Belt Clip
730608
Wall Mount Plate for Cordless II Base Unit
EXP9660 Wall Mount Plate
730631
Battery for Cordless Lite II Handset. Ni-MH, DC3.6V 750mAh
BT-930 Battery
730632
Charger Unit for Cordless Lite II Handset (without AC Adapter)
EXP9385 Charger Unit
730634
Belt Clip for Cordless Lite II Handset
EXP9302 Belt Clip
730608
Wall Mount Plate for Cordless Lite II Base Unit
EXP9660 Wall Mount Plate
Suitable for growth: Modular construction

The UNIVERGE® SV8100 Communications Server is a key component of this foundation and is the ideal system for businesses that wish to compete and grow.. You can deploy a pure IP solution or any combination of IP and traditional telephone technology with a single NEC SV8100 system.

Easy to use Call Management

Real-time business management with MyCalls application. MyCalls gives you all the information you need to manage every aspect of call activity & performance.

Customisable terminals and handsets

UNIVERGE® SV8100 terminals and handsets are like no other. Their modular construction means you can change the design for exact business requirements. They can then be upgraded at a later stage without having to replace them – a great investment protection that no other telephone system offers.

Free Mobile Extensions

System functionality straight to your mobile. The SV8100 Mobile Extension feature is like being in when you're out. Treat your mobile like your desk phone and enjoy system features while you're on the move. Best of all, Mobile Extensions are built in at no extra cost to the NEC SV8100!

Serving Customers Effectively with Unified Communications

Business ConneCT helps unify an entire organization, enabling individuals, departments and locations to work more efficiently by ensuring seamless internal and external communications. Users can connect and show presence from wherever they are via phones, PCs, mobile devices, faxes and the web – effortlessly.

True Business Mobility

The SV8100 range of IP DECTs offers a more fl exible way of working. Access to the main system features mean employees are more reachable, more quickly.

Click here for an NEC SV8100 Brochure or Data Sheet

NEC's UNIVERGE Desktop Digital Terminals offer features and benefits that brilliantly capture the essence of form and function while providing businesses the means to seamlessly communicate with their customers and coworkers. These telephones, which are an important part of NEC's UNIVERGE360 approach, deliver exceptional value and can be customized to fit your organization's needs. With their user-friendly ergonomic design, a range of models to choose from and a choice of interfaces and options, they provide users with access to the full power of UNIVERGE communication platforms.

From the entry level DT310 2E to the DT330 Desi-Less telephone, all NEC Univerge are built to NEC's exacting standards of reliability, functionality, and ease of use. All phones come equipped with backlit keypad, hands-free intercom, Easy to use soft keys / LCD prompts on display models, Directory dial key, 1000 system speed dials, 1000 group speed dials, 10 personal speed dials, 600 phone book entries, Conference key, Wall mountable, and Message waiting indicator. Most handsets also include navigation wheel, caller ID history, headset port, full duplex speakerphone operation, Optional items on high end handsets include Bluetooth handsets, added direct station select keys, paperless all LCD version with customizable interface.

NEC's UNIVERGE Desktop IP Terminals provide all the features and functionality of traditional phones with the seamless integration of advanced IP applications. Integration of voice and data is no longer limited to the network or the PC desktop; it is now in the end-users' hands, providing role-enabled communications as part of NEC's UNIVERGE360 approach.

UNIVERGE Desktop IP Terminals are ergonomically designed for natural comfort and facilitate use through an array of menu-driven soft key functions and easy-access function keys. Together, these aspects of the terminal deliver power, versatility and programmability to all user stations, maximizing efficiency and productivity.

Because the entire desktop surface is crafted for user productivity and fosters better speed, service and performance, the UNIVERGE Desktop IP Terminal can help your business reach more profitable heights.

Part No.
Description
Model
670094
SV8100 9.5 Inch 32IP System Package. Consists of: (1) 670067 9.5″ 3-Slot Chassis, (1) 670005 Standard CPU Blade, (1) 670104 32-Resourse VoIP Daughter Board
SV8100 9.5″ 32IP System Package
670095
SV8100 9.5 Inch 64IP System Package. Consists of: (1) 670067 9.5″ 3-Slot Chassis, (1) 670005 Standard CPU Blade, (1) 670105 64-Resourse VoIP Daughter Board
SV8100 9.5″ 64IP System Package
670096
SV8100 9.5 Inch 128IP System Package. Consists of: (1) 670067 9.5″ 3-Slot Chassis, (1) 670005 Standard CPU Blade, (1) 670106 128-Resourse VoIP Daughter Board
SV8100 9.5″ 128IP System Package
670023
SV8100 19 Inch 32 IP Package. Consists of: (1) 670015 19″ 6-Slot , (1) 670005 Standard CPU Blade, and (1) 670168 32-Resource VoIP Daughter Board
SV8100 19″ 32 IP Package
670013
SV8100 19 Inch 64 IP Package. Consists of: (1) 670015 19″ 6-Slot , (1) 670005 Standard CPU Blade, and (1) 670169 64-Resource VoIP Daughter Board
SV8100 19″ 64 IP Package
670024
SV8100 128 19 Inch IP Package. Consists of: (1) 670015 19″ 6-Slot , (1) 670005 Standard CPU Blade, and (1) 670170 128-Resource VoIP Daughter Board
SV8100 19″ 128 IP Package
670144
9.5 Inch SMB Value Package. Consists of: (1) 670067 9.5″ 3-Slot Chassis, (1) 670176 Value Package CPU Blade (equipped with (2) InMail Ports & InMail Email Notification Feature with 4 Clients), (1) 670525 Memory Daughter Board, (1) 670103 InMail/VRS Daughter Board, (1) 670966 InMail 1G CompactFlash, (1) 670215 8×2 Combo Station Blade with hard-wired 4-Port Trunk Daughter Board, (4) 680002 12-Button Digital Terminals/Black. (670215 is a temporary replacement for the 670128 and 670111.)
9.5″ SMB Value Package
670093
SV8100 9.5 Inch Digital System Package. Consists of: (1) 670067 CHS2U-B 9.5" 3-Blade Chassis, (1) 670005 CD-CP00 CPU Blade, (1) 670128 CD-LTA Combo Station Blade (8-pt Dig./2-Pt An.) Temporarily replaced with 670295.
SV8100 9.5" Digital System Package
670295
SV8100 9.5-Inch Digital System Package Plus. Consists of: (1) 670067 CHS2U-B 9.5" 3-Blade Chassis, (1) 670005 CD-CP00 CPU Blade, (1) 670215 CD-LTDH Combo Station Blade with hard-wired 4-Port Trunk Daughter Board (4 x 8 x 2.) This is a temporary package.
SV8100 9.5" Digital System Package Plus
670010
SV8100 19 Inch Digital System Package. Consists of: (1) 670015 19″ 6-Slot Chassis, (1) 670005 Standard CPU Blade, and (1) 670107 8-Port Digital Station Blade. Temporarily replaced with 670296.
SV8100 Digital System Package
670296
SV8100 19 Inch Digital System Package. Consists of: (1) 670015 19″ 6-Slot Chassis, (1) 670005 Standard CPU Blade, and (1) 670109 16-Port Digital Station Blade. This is a new, permanent package.
SV8100 19″ Digital System Package Plus
670067
9.5 inch 3-Slot Chassis. Contains power supply, (1) expansion blade slot, (3) universal blade slots, (2) universal blade slot covers, (1) Installed expansion blade slot cover, wall-mount/shelf-mount brackets. Can be expanded to (6) blade slots with the 670068 3-Slot Expansion Chassis. Power specification for UPS: 263VA(at 120VAC). The CPU Blade must be installed in the first slot of the controlling base chassis.
CHS2U B-US
670068
9.5 inch 3-Slot Expansion Chassis. Contains: (1) Expansion Blade Slot, (3) universal blade slots, (3) universal blank slot covers, (1) Installed expansion blade slot cover, installation brackets. Attaches to 9.5 Inch 3-Slot Base Chassis. Expansion blades are not required to install this expansion chassis.
CHS2U E
670015
19 inch 6-Slot 2U chassis. Contains: Power supply, (6) Universal blade slots, (5) installed blade slot covers, (1) Installed expansion blade slot cover, fan. Power specification for UPS: 263VA(at 120VAC). The CPU Blade must be installed in the first slot of the controlling base chassis. NOTE: The 19″ Chassis does NOT come equipped with mounting hardware.
CHS2U-US
670100
Expansion Blade for 9.5 Inch 3-Slot or 19 Inch 6-Slot Base Chassis. Required for connection between base chassis and up to (3) 670067 or 670015 expansion chassis. Installs in dedicated Expansion Blade slot. Also provides (64) additional system resources for DTMF Receivers, Caller ID, and Dial Tone Detection.
PZ-BS10
670101
Expansion Blade for 9.5 Inch 3-Slot or 19 Inch 6-Slot Expansion Chassis. Required for connection between expansion chassis and base chassis. One required for each 670067 or 670015 being used as an expansion chassis. Installs in dedicated Expansion Blade slot. Equipped with 4-ft. 8-conductor Interface cable.
PZ-BS11
670130
IPK/IPKII Migration Blade. Installs in the IPK / IPKII Chassis. SV8100 must be equipped with 2.5 software or above, Memory Expansion Daughter Board (PZ-ME50 – 670525), and Expansion Blade (PZ-BS10 – 670100).
MGN-U10
670510
Wall-Mount Bracket Set for 19 Inch 6-Blade Chassis. One required per chassis.
CHS1U/CHS2U Wall Mount Kit
670508
Rack-Mount Bracket Set for 19 Inch 6-Blade Chassis. For mounting in a 19" equipment rack. One suggested per chassis.
CHS2U Rack Mount Kit
670501
Joint Bracket Set for 19 Inch 6-Blade Chassis. Installed between (2) 19" chassis, for stabilization. Also used to join a 19" chassis to the Floor-Mount Box (670019). Contains (2) brackets & (8) screws.
CHS2U Joint Bracket Kit
670019
Floor-Mount Box for 6-Blade Chassis and/or CHS External Battery Box (670602). Allows mounting one 19" 6-Blade chassis (670015) and/or CHS External Battery Box (670602) to the floor, horizontally. Additional chassis can be added using the Joint Bracket Set (670501).
CHS Base Unit
670513
Floor-Mount Bracket Set for 6-Blade Chassis. Allows mounting one chassis to the floor, vertically.
CHS2U Stand Kit (K)
670522
Floor-Mount Bracket Extension Set. Expands 670513 Floor-Mount Bracket Set, to allow addition of 2nd and 3rd 6-Blade Chassis.
CHS2U Stand Kit (EXT)
670603
Short Term Battery Box Kit for 9.5 Inch 3-Slot Chassis. Installs on each 9.5" 3-Blade Base Chassis. Consists of: (1) 670504 Small Battery Box and (1) 670511 Small Battery Set : (2) 12V 0.8Ah lead-acid batteries. Does not provide surge protection or power conditioning, as SV8100 Chassis still plugs directly into AC outlet. Typical backup time: approximately 10 minutes.
3 Slot Chassis BATT KIT
670601
Short Term Internal Battery Kit for 19 Inch 6-Blade Chassis. Installs inside each 19" 6-Blade Chassis. Consists of: 670509 Battery Mount, 670530 Cable, and 670533 Internal Battery Set: (2) 12V 2.3Ah lead-acid batteries. Does not provide surge protection or power conditioning, as SV8100 Chassis still plugs directly into AC outlet. Typical backup time: approximately 10 minutes.
CHS2U INT BATT KIT
670602
External Battery Box Kit. Installs adjacent to the 9.5" 3-Blade Controlling Base Chassis or beneath the 19" 6-Blade Chassis, if floor-mounted. (1) External Battery Box can be connected to each chassis or up to (4) Chassis. Maximum (1) per chassis. Consists of: (1) 670505 External Battery Box and (3) 670512 External Battery Set: (2) 12V 7.0Ah lead-acid batteries. Connects to dedicated battery connector on chassis. Each of the (4) output cables is approximately 6 feet in length. The External Battery Box contains (3) battery trays. Each tray holds one set of (2) batteries. Each tray is equipped with (2) cables for connection of batteries. Does not provide surge protection or power conditioning, as SV8100 Chassis still plugs directly into AC outlet. (1) External Battery Box Kit provides the following typical backup times: 45 min for (4) chassis, 67 min for (3) chassis, 90 min for (2) chassis, 135 min for (1) chassis. (2) External Battery Box Kits provide the following typical backup times: 90 min for (4) chassis and 180 min for (2) chassis.

CHS1U/CHS2U EXT BATT KIT
670531
External Battery Cable. Connects 3-Blade or 6-Blade Chassis to a customer-provided 12V battery, when the External Battery Box Kit is not used.
CHS BATT CA EXT-A
670005
CPU Main Processor Blade. Installs in first universal slot of the base chassis. Controls all system functions & operations. Provides system ports 1-64. Provides (4) NEC SIP Terminal licenses (with system software 3.1 or higher). Provides (32) system resources for DTMF Receivers, Caller ID, and Dial Tone Detection. Contains: (1) USB connector for updating system S/W, storing system databases, licensing, (1) Fast Ethernet connector, (1) 8-conductor mod jack for relay contacts for BGM/MOH music source/external page, (1) DIM connector for diagnostics, (2) Sub-mini audio input/output jacks for music inputs and/or external paging output, CR2032 lithium battery. Contains connectors for: (1) Memory Expansion Daughter Board, (1) Voice Mail Daughter Board, and (1) VoIP Daughter Board.
CD-CP00-US (CPU)
670176
Replacement CPU for SMB Value Package. Same as 670005, but is also equipped with 2-Port InMail License and 4-Client Email Notification License.
CD-CP00-US-9.5-Inch TDM VALUE
670525
Memory Expansion Daughter Board. Provides additional system memory. Required for: Multiple chassis applications, More than (64) system ports, More than (8) InMail/VRS Ports (with R4+), More than (1) CD-LTA Blade (670128) in system, system networking (NetLink/AspireNet), Software updates by remote maintenance. Maximum (1) per CPU Blade. Installs on CPU Blade.
PZ-ME50-US
670103
InMail/VRS/Modem Daughter Board. Contains built-in V.90 Modem. Required for system modem – if system is not already equipped with InMail or VRS. Allows remote system programming access. When equipped with a CompactFlash and licenses, also provides InMail and/or VRS functions. Not required for UM8000 voice mail products. Maximum (1) per system. Installs on the CPU Blade.
PZ-VM21
670168
32-Resource VoIP Daughter Board. Required for VoIP applications. Replaces PZ-32IPLA (670104). Installs on the CPU Blade. Maximum (1) VoIP Daughter Board (any size) per system. Licenses required for IP terminals and IP Trunks.
PZ-32IPLB
670169
64-Resource VoIP Daughter Board. Required for VoIP applications. Replaces PZ-64IPLA (670105). Installs on the CPU Blade. Maximum (1) VoIP Daughter Board (any size) per system. Licenses required for IP terminals and IP Trunks.
PZ-64IPLB
670170
128-Resource VoIP Daughter Board. Required for VoIP applications. Replaces PZ-128IPLA (670106). Installs on the CPU Blade. Maximum (1) VoIP Daughter Board (any size) per system. Licenses required for IP terminals and IP Trunks.
PZ-128IPLB
670701
System Port License for ports 65 to 256. Requires Memory Expansion DB (670525).
LK-SYS- 65 TO 256 PORT LIC
670700
System Port License for ports 257 to 712. Requires Memory Expansion DB (670525). Requires 65-256 System Port License (670701).
LK-SYS-UPG 257 TO 712 PORT LIC
670702
NetLink 1 Remote Node License. Integrates multiple systems into a single "virtual" communication server. Main site requires a license for each remote node. A single site with more than (4) chassis requires (1) Remote Node License. Maximum of (16) sites (Main & 15 Remote Sites) and (712) network-wide ports. Main site must have System Port Licenses that will accommodate the trunks and stations of all networked sites. Only one voice mail system can be installed in a NetLink application.
LK-SYS-NETLINK1-LIC
670703
NetLink 2 Remote Node License. Integrates multiple systems into a single "virtual" communication server. Main site requires a license for each remote node. A single site with more than (4) chassis requires (1) Remote Node License. Maximum of (16) sites (Main & 15 Remote Sites) and (712) network-wide ports. Main site must have System Port Licenses that will accommodate the trunks and stations of all networked sites. Only one voice mail system can be installed in a NetLink application.
LK-SYS-NETLINK2-LIC
670704
NetLink 5 Remote Node License. Integrates multiple systems into a single "virtual" communication server. Main site requires a license for each remote node. A single site with more than (4) chassis requires (1) Remote Node License. Maximum of (16) sites (Main & 15 Remote Sites) and (712) network-wide ports. Main site must have System Port Licenses that will accommodate the trunks and stations of all networked sites. Only one voice mail system can be installed in a NetLink application.
LK-SYS-NETLINK5-LIC
670705
NetLink 10 Remote Node License. Integrates multiple systems into a single "virtual" communication server. Main site requires a license for each remote node. A single site with more than (4) chassis requires (1) Remote Node License. Maximum of (16) sites (Main & 15 Remote Sites) and (712) network-wide ports. Main site must have System Port Licenses that will accommodate the trunks and stations of all networked sites. Only one voice mail system can be installed in a NetLink application.
LK-SYS-NETLINK10-LIC
670964
AspireNet License. Required for each SV8100 in an AspireNet network. Each UX5000 in an AspireNet network that includes an SV8100 must be equipped with a SV8100 Migration CPU. Important: This affects general feature operation. One AspireNet license is required in each SV8100 and UX5000 system in an AspireNet application. Maximum (50) nodes in an AspireNet network. Contact NEC Sales Engineering for all AspireNet voice mail applications that include an SV8100 system.
LK-SYS-ASP-NET-LIC
670099
UX5000 to SV8100 Migration Kit. Consists of: Migration CPU Blade (670098), SV8100 R6 License (670632), and White Panel Overlay. The White Panel Overlay can be placed on the CPU Blade to match the color of the existing UX5000 Chassis and blades. Refer to the UX5000 to SV8100 Migration Manual for details.
LK-MIGRATION CP00 KIT
670139
LK-Migration Kit. Consists of MGN-U10 ETU Migration Board (670130) for Elite 192 / IPK / IPKII, PZ-BS10 Expansion Blade (670100) for connecting to B64U10/20/30, PZ-ME50-US Memory Expansion Daughter Board (670525)
SV8100 MIGRATION KIT
670103
InMail/VRS/Modem Daughter Board. Provides the following functions: InMail Voice Mail, VRS (Voice Response System), and Modem for remote system access. InMail and VRS applications require the associated CompactFlash (670966) and InMail and/or VRS Licenses. Installs on CPU blade (670005). Maximum one per system. InMail can be used in conjunction with the VRS feature. VRS requires separate licenses. The total quantity of available ports between InMail and VRS is (16). Examples: if a system has (4) InMail ports, there can be a maximum of (12) VRS ports. If a system has (16) InMail ports, there can be no VRS ports.
PZ-VM21
670966
InMail/VRS 64-Hour 1G CompactFlash. Required for InMail and/or VRS applications. Maximum one per system. (Replaces 670831)
AK INMAIL-1G-APP CF
670782
InMail 2-Port License. More than (8) InMail and/orVRS ports requires R4 or higher and 670525 Memory Expansion Daughter Board.
LKS-VM-INMAIL2-LIC
670783
InMail 4-Port License. More than (8) InMail and/orVRS ports requires R4 or higher and 670525 Memory Expansion Daughter Board.
LKS-VM-INMAIL4-LIC
670784
InMail 8-Port License. More than (8) InMail and/orVRS ports requires R4 or higher and 670525 Memory Expansion Daughter Board.
LKS-VM-INMAIL8-LIC
670843
InMail 16-Port License (Requires R4 or higher and 670525 Memory Expansion Daughter Board)
LKS-VM-INMAIL16-LIC
670931
InMail Email Notification License. Provides support for SMTP email integration. Includes (16) InMail Email Clients (Licenses activated prior to 2/22/10 had only 5 clients). Additional email clients can be added.
Requires 670525 Memory Expansion DB.
LK-SYS-VM-EMAIL-LIC
670926
Additional 1-Client Email License
LK-VM-EMAIL-CLIENT1 LIC
670927
Additional 4-Client Email License
LK-VM-EMAIL-CLIENT4 LIC
670928
Additional 8-Client Email License
LK-VM-EMAIL-CLIENT8 LIC
670929
Additional 16-Client Email License
LK-VM-EMAIL-CLIENT16 LIC
670930
Additional 32-Client Email License
LK-VM-EMAIL-CLIENT32 LIC
670785
InMail Additional Language License. One license required per additional language. Select from (20) languages. Maximum (20) language licenses per system.

LKS-VM-LANGUAGE-LIC
670778
VRS 2-Port License. Provides the following VRS features: Automated Attendant (without voice mail), General Message, Personal Greeting, and ACD Messages.
LKS-VM-VRS2-LIC
670779
VRS 4-Port License. Provides the following VRS features: Automated Attendant (without voice mail), General Message, Personal Greeting, and ACD Messages.
LKS-VM-VRS4-LIC
670780
VRS 8-Port License. Provides the following VRS features: Automated Attendant (without voice mail), General Message, Personal Greeting, and ACD Messages.
LKS-VM-VRS8-LIC
670781
VRS 16-Port License. Provides the following VRS features: Automated Attendant (without voice mail), General Message, Personal Greeting, and ACD Messages.
LKS-VM-VRS16-LIC
670123
UM8000/UM8000 Lite Voice Mail Blade. Required for UM8000 and UM8000 Lite applications.
Contains (2) USB 1.0 Ports for keyboard support and (1) VGA connector for VHA monitor support. Installs in universal blade slot. Requires UM8000 Lite 2G CompactFlash & Port License.

CD-VM00
670836
UM8000/UM8000 Lite 110-Hour CompactFlash (2G). The UM8000 Lite is not compatible with the 550-Hour CompactFlash (8G). UM8000 Lite can be used as centralized VM in Netlink and CCIS network applications.
AKS UM-2G APP CF
670791
2-Port UM8000 Lite License. Provides basic, non-synchronized SMTP email notification for all (512) stations.
Equipped with (5) View App Seats, consisting of View Mail, View Call Plus, VMM (Outlook), VML (Lotus Notes), VMG (GroupWise) and Web Mailbox Manager. Additional seats can be added with optional licenses.
LKS-UMS-PORT 2 LITE-LIC
670852
4-Port UM8000 Lite License. Provides basic, non-synchronized SMTP email notification for all (512) stations.
Equipped with (5) View App Seats, consisting of View Mail, View Call Plus, VMM (Outlook), VML (Lotus Notes), VMG (GroupWise) and Web Mailbox Manager. Additional seats can be added with optional licenses.
LKS-UMS-PORT 4 LITE-LIC
670853
8-Port UM8000 Lite License. Provides basic, non-synchronized SMTP email notification for all (512) stations.
Equipped with (5) View App Seats, consisting of View Mail, View Call Plus, VMM (Outlook), VML (Lotus Notes), VMG (GroupWise) and Web Mailbox Manager. Additional seats can be added with optional licenses.
LKS-UMS-PORT 8 LITE-LIC
670854
16-Port UM8000 Lite License. Provides basic, non-synchronized SMTP email notification for all (512) stations.
Equipped with (5) View App Seats, consisting of View Mail, View Call Plus, VMM (Outlook), VML (Lotus Notes), VMG (GroupWise) and Web Mailbox Manager. Additional seats can be added with optional licenses.
LKS-UMS-PORT 16 LITE-LIC
670851
2-Port Upgrade License. Provides (2) additional UM8000 Lite ports to an existing system.
Required for expansions only.
Required for all UM8000 Lite port expansions.
If more than a 2 port expansion is required, use this license in conjunction with standard port licenses.
For example, if (6) expansion ports are required, use (1) 2-Port Upgrade and (1) 4-Port License (670852).
LKS-UMS-PORT 2 LITE UPG LIC
670855
UM8000 Lite to UM8000 Upgrade. Also requires upgrade to 8G CompactFlash (670837).
LKS-UMS-UPG FM LITE TO FULL- LIC
670837
UM8000 (Full) 550-Hour CompactFlash (8G). The UM8000 is not compatible with the 110-Hour CompactFlash (2G). UM8000 can be used as centralized VM in Netlink and CCIS network applications.
AKS-UM-8G APP CF
670792
UM8000 4-Port License. Provides basic, non-synchronized SMTP email notification for all (512) stations.
Equipped with (5) View App Seats, consisting of View Mail, View Call Plus, VMM (Outlook), VML (Lotus Notes), VMG (GroupWise) and Web Mailbox Manager. Additional seats can be added with optional licenses.
LKS-UMS-PORT 4 LIC
670793
UM8000 8-Port License. Provides basic, non-synchronized SMTP email notification for all (512) stations.
Equipped with (5) View App Seats, consisting of View Mail, View Call Plus, VMM (Outlook), VML (Lotus Notes), VMG (GroupWise) and Web Mailbox Manager. Additional seats can be added with optional licenses.
LKS-UMS-PORT 8 LIC
670794
UM8000 16-Port License. Provides basic, non-synchronized SMTP email notification for all (512) stations.
Equipped with (5) View App Seats, consisting of View Mail, View Call Plus, VMM (Outlook), VML (Lotus Notes), VMG (GroupWise) and Web Mailbox Manager. Additional seats can be added with optional licenses.
LKS-UMS-PORT16 LIC
670796
1-Port UM8000 Text-to-Speech License. Provides the ability to "speak" the text of Microsoft Exchange, Lotus Notes, and GroupWise based email messages.
User can Save, Forward, or Delete email messages.
Maximum of (2) ports per UM8000.
Not compatible with UM8000 Lite.
LKS-UMS-TTS-PORT-LIC
670797
UM8000 Text-to-Speech Language License. Ability to "read" email messages in multiple languages.
LKS-UMS-TTS-LANGUAGE-LIC
670786
1 Additional Client View App License – Supports client View Mail, View Call Plus, View Fax, Web Mailbox Manager, and integration with Microsoft Exchamge/Outlook (VMM), Domino/Lotus Notes (VML), and Groupwise/Novell (VMG).
LKS-UMS-CLIENT 1-LIC
670787
4 Additional Client View App License – Supports client View Mail, View Call Plus, View Fax, Web Mailbox Manager, and integration with Microsoft Exchamge/Outlook (VMM), Domino/Lotus Notes (VML), and Groupwise/Novell (VMG).
LKS-UMS-CLIENT 4-LIC
670788
8 Additional Client View App License – Supports client View Mail, View Call Plus, View Fax, Web Mailbox Manager, and integration with Microsoft Exchamge/Outlook (VMM), Domino/Lotus Notes (VML), and Groupwise/Novell (VMG).
LKS-UMS-CLIENT 8-LIC
670789
16 Additional Client View App License – Supports client View Mail, View Call Plus, View Fax, Web Mailbox Manager, and integration with Microsoft Exchamge/Outlook (VMM), Domino/Lotus Notes (VML), and Groupwise/Novell (VMG).
LKS-UMS-CLIENT 16-LIC
670790
32 Additional Client View App License – Supports client View Mail, View Call Plus, View Fax, Web Mailbox Manager, and integration with Microsoft Exchamge/Outlook (VMM), Domino/Lotus Notes (VML), and Groupwise/Novell (VMG).
LKS-UMS-CLIENT 32-LIC
670935
512 Client View App License – Supports client View Mail, View Call Plus, View Fax, Web Mailbox Manager, and integration with Microsoft Exchamge/Outlook (VMM), Domino/Lotus Notes (VML), and Groupwise/Novell (VMG).
LKS-UMS-CLIENT 512-LIC
670798
1-Port Fax License. Allows user to receive and forward faxes from their mailbox.
UM8000 Lite supports up to (2) fax ports.
UM8000 supports up to (4) fax ports.
LKS-UMS-FAX-LIC
670795
Additional Language License. UM8000 Lite & VM8000 support up to (25) languages.
Note: Additional languages use up storage space.
LKS-UMS-LANGUAGE-LIC
670799
Hospitality & PMS License. Provides hotel/motel features and allows interface with property management system.
Includes hospitality prompts in (5) languages.
LKS-UMS-HOTEL-PMS-LIC
670800
Additional Hospitality Language License. Includes (5) Hospitality Languages.
UM8000 Lite & UM8000 support up to (20) hospitality language prompt sets.
LKS-UMS-HOTEL-LANGUAGE-LIC
670420
InUCB Server Blade. Installs in universal blade slot of an SV8100 Chassis. InUCB Documentation CD included.
CD-INUCB
670986
InUCB UC Package for SV8100 (R5.1). Basic software for InUCB Unified Communications. Consists of: (50) InUCB User Licenses (UCBUL ) – Enables mailbox owners, (10) InUCB UC Desktop/Exec Insight Licenses, (50) InUCB Unified Messaging Licenses – Unifies Messaging for Exchange, (4) InUCB Soft Ports – Speech channels between UCB and SV8100 (Aculab SIP ports)
670967
InUCB 5-Client User License (UCBUL) – Enables (5) mailbox owners.
670968
InUCB 1-Console License
670969
InUCB 5-Client UC Desktop/Executive Insight License
670970
InUCB 5-Client Unified Messaging License
670971
InUCB 2-Soft Port License (Aculab SIP ports). Speech channels between UCB and SV8100.
670987
InUCB CC Package for SV8100 (R5.1). Basic software for InUCB Contact Center. Consists of: (5) InUCB User Licenses (UCBUL ) – Enables mailbox owners, (5) InUCB Control Licenses (Routing), (5) InUCB Agent Desktop Licenses (Agent or Supervisor), (4) InUCB Announce Port Licenses (Custom announcements), (4) InUCB Soft Ports – Speech channels between UCB and SV8100 (Aculab SIP ports)
670967
InUCB 5-Client User License (UCBUL) – Enables (5) mailbox owners.
670968
InUCB 1-Console License
670972
InUCB 5-Control License
670973
InUCB 5-Agent Desktop License – Agent or Supervisor.
670974
InUCB 4-Announce Port License – Custom announcements.
670975
InUCB Callback License (1 per site)
670971
InUCB 2-Soft Port License (Aculab SIP ports). Speech channels between UCB and SV8100
670122
InRouter Blade with 8-Port QOS License. Provides T1/Ethernet WAN access.
Provides (15) VPN tunnels.
Most functions comparable to EdgeMarc 4300T.
Can be expanded with 750483 license, below.
Installs in universal blade slot.
CD-RTB
670124
8-Port Switching Hub Blade with POE. 8-port in-skin HUB Blade (PoE (802.3af) supported). Installs in universal blade slot.
CD-ETIA
670550
EdgeConnect 24-Port PoE Dataswitch. Provides 24 x 10/100 Mbps auto-sensing Ethernet ports, 2 x 10/100/1000 Mbps uplink "fiber" high speed server ports, 802.1Q based QoS with priority queuing, Inline Ethernet power (802.3af) with automatic power device detection. Power – supports (12) ports at 15.4 watts each, supports (24) ports at 7.5 watts each. Supports (24) DT710/730 type terminals. DT750 terminals require more power. See technical documetation for details. Manufactured by Edgewater Networks.
EdgeConnect 2402PoE
750481
Ethernet WAN Access Router with 2-Port QoS License Key. Cannot be expanded. Equipped w/ rack-mounting brackets.
EM-4500-SOHO
750482
T1/Ethernet WAN Access Router with 8-Pt QoS License Key. Provides (15) VPN Tunnels. Includes: 4Port 10/100Mbps Ethernet switch, VLan support, QoS and security support. Can be expanded to 24 ports with 750483 licenses. Equipped w/ rack-mounting brackets. Most functions are comparable with the in-skin CD-RTB (670122).
EM-4300T-08
750483
8-Port QoS Expansion License for InRouter Blade and EM-4300-T-08 External Router. Provides (8) additional QoS ports for the 670122 InRouter Blade or 750482 EM-4300T-08 router.
Maximum of (2) 8-Port License Upgrades can be added to either, for a total of (24) port licenses.
4300 8-Port License Key
750309
Spare Rack Mount Brackets for NEC EdgeMarc 4300T or 4500 SOHO Routers.
SPARE EDGEMARC RACK BRACKETS
670632
Release 6.0 Feature License. ncludes the following new features: NAT Traversal Enhancement ("IP Terminal Plug and Play"), PC Programming via Outbound IP Connection – Also requires 670998 Maintenance License and system must be equipped with 670525 Memory Expansion Daughter Board, Standard SIP Terminal Transfer (Unscreened/blind transfer), InMail Enhancements: Email Notification Save/Delete Option, Cascading Message Notification – Select Days of Week, Find Me/Follow Me – Select Days of Week, Automatic Message Playback Option, Mark previously Saved Message as New Option, Change Message Playback Order (FIFO or LIFO). The following R6 feature is available without the R6 license: Remote System Upgrade Enhancement – System requires the 670525 Memory Expansion Daughter Board.Also includes the R5, R4, and R3 enhancement features. R6 system software download from NTAC Website. Some R6, R5 & R4 features (other than those listed above) are also included without the R6 License. Refer to the R6 Release newsletter for details. Automatically provided at no charge in the LMS, for all CPU's that are registered after the release of R6.
LK-SYS-MAINVERSION 6 LICENSE
670709
Automatic Call Distribution (ACD) License. Uniformly distributes calls among agents of a programmed ACD group. Provides: (64) ACD Groups, (512) ACD Agents, (12) Supervisors
LKS-SYS-ACD-LIC
670630
ACD Skill Based Routing License. Distributes calls based on ACD Agent's priority level setting. Routing set for each ACD Group. One license per system. Also requires 670629 R5 (V5000) License.
LK-SYS-ACD-SKILLBASE-LIC
670812
InACD MIS Basic License. Required for InACD MIS features. Consists of: Basic InACD MIS Feature, (1) InACD MIS Monitor License, (3) InACD MIS Agent Client Licenses. Additional Monitors (670813) & Client Licenses (670814) can be added as required. Requires ACD License (670709). Requires SV8100 ACD MIS Suite, available as a no-charge download from the NTAC Website.
LKS-ACDMIS-BASIC-LIC
670813
InACD MIS Monitor License (Qty 1). Provides: Real-time desktop display of ACD status and ACD reporting capabilities. Requires InACD MIS Basic License (670812). (1) InACD Monitor license is included with the Basic InACD package (670812). Up to (4) Monitor Licenses can be added, for a system maximum of (5). Requires SV8100 ACD MIS Suite, available as a no-charge download from the NTAC Website.
LKS-ACDMIS-ADDMON-LIC
670814
InACD MIS 5-Agent Client License. Provides: On-screen "Agent State" indicator, "Real-Time Ticker" display of queue statistics and text messages, Ability to send text messages to other Agent Client users. Maximum of (512) InACD MIS Agent Client Licenses per system. Not required to be monitored by InACD Monitor. Requires InACD MIS Basic License (670812). Requires SV8100 ACD MIS Suite, available as a no-charge download from the NTAC Website.
LKS-ACDMIS-AGENT-LIC
670706
SV8100 Hotel-Motel/PMS License. Provides Hotel/Motel features. Also see UM8000 Lite/UM8000 Hospitality License (670799-page 12) and PVA-PMS Interface Package (670547).
LKS-SYS-HM-LIC
670707
SV8100 SMDR License. Enables Station Message Detail Recording output. Required for Communications Analyst Licenses.
LKS-SYS-SMDR-LIC
750305
Audio Input/Output Adapter. Provides (2) audio ports for interface with MOH, BGM, and/or external paging. (Note: The CPU blade also provides (2) built-in audio ports.) Also provides audio interface for Doorboxes. Uses (1) digital station port.
PGD(2)-U10 ADP
670131
Packet Voice Application Blade (PVA). Provides the following optional features when equipped with an associated CompactFlash and license(s): MultiMedia Conference Bridge, PMS Interface, CCIS T1 Networking. See specific CompactFlash and Licenses below. Within each feature, provides DTMF Detection, DTMF generation, General Tone Detection, and Automatic Gain Control (AGC). Installs in universal blade slot. Maximum of (3) PVA Blades per chassis. Maximum of (8) PVA Blades per system.
CD-PVAA
670838
PVA Multimedia Conference Bridge CompactFlash. Provides Multimedia Conference Bridge features. Requires a dedicated PVA Blade (670131) and (1or 2) Multimedia Conference Bridge licenses (670816). Two PVA blades can be installed for the Conference Bridge feature, but the maximum quantity of conference bridge parties per system is 16.
AKS CONF BRIDGE APP CF
670816
PVA 8-Port Multimedia Conference License. Provides (8) Ports of Multimedia Conference. Maximum (16) ports per system.
LKS-PVA-CONF-PORT8-LIC
670547
PVA-PMS Interface Package. Provides interface to customer's Property Management System in Hotel/Motel Applications. Consists of: (1) 670131 PVA Blade, (1) 670938 AKU-PVA PMS CompactFlash, (1) 670937 PVA-PMS License, (1) 670545 PVA-PMS Serial Cable. Replaces 750116 PMS Interface Unit.
AK-PVA-PMS-KIT
670918
CCIS T1 Networking CompactFlash. Provides K-CCIS Networking for point-to-point T1 network applications. Requires a dedicated PVA Blade (670131) and PVA CCIS Port Licenses (below). Maximum (24) channels per PVA Blade.
PVA CCISOIP APP CF
670815
4-Channel PVA CCIS License. Provides (4) channels of K-CCIS Networking. Maximum (24) channels per PVA Blade.
LK-PVA-CCIS-PORT-4-LIC
670924
24-Channel PVA CCIS License. Provides (24) channels of K-CCIS Networking. Maximum (24) channels per PVA Blade.
LK-PVA-CCIS-PORT-24-LIC
670802
Communications Analyst Full 20 License. Call accounting features for 20 Stations. Features include Call Alert, Project and Case Billing Manager and Campaign Manager. Requires SV8100 SMDR Licenses (670707). Requires software download from NTAC Website or System Application CD (670830).
LKS-CA 20 STATION PKG-LIC
670803
Communications Analyst Full 256 License. Call accounting features for 256 stations. Features include Call Alert, Project and Case Billing Manager and Campaign Manager. Requires SV8100 SMDR Licenses (670707). Requires software download from NTAC Website or System Application CD (670830).
LKS-CA 256 STATION PKG-LIC
670848
Communications Analyst Additional 256 Station License. Used in conjunction with CA Full 256 (670803).
LKS-CA ADD STA256-LIC
670807
Communications Analyst Remote Site Support License. Required for each site to be monitored. Used in conjunction with 670803. This license is installed on the main site CPU. In CCIS network applications, each remote SV8100 site must be equipped with an SMDR license (670707). Not required for NetLink Network applications.
LKS-CA-ADD REMOTE SITE-LIC
670804
Communications Analyst 5-Client License. Provides concurrent user access for (5) additional PCs on the customer's LAN. Compatible with CA Full 20 (670802) and CA Full 256 (670803).
LKS-CA-NW-5CLIENT-LIC
670811
Communications Analyst Web Reporting 5-Pack License. Allows Internet browser access to reports for (5) named users.
LKS-CA-WEB REPORTING 5CLIENT-LIC
670805
Communications Analyst Upgrade License from CA Full 20 to CA Full 256.
LKS-CA UPG 20 TO 256-LIC
670808
Communications Analyst Traffic Analysis License. Enables understanding of trunk utilization.
LKS-CA TRAFFIC ANALYSIS-LIC
670809
Communications Analyst PMS Integration License. Provides interface to property management systems for guest billing services.
LKS-CA PMS INTEGRATION-LIC
670849
Communications Analyst Remote Site Serial License. Software that runs on remote site PC. Helps buffer local data during network downtime. Allows connection to a remote phone system that is equipped with serial output only.
LKS-CA REMOTE SITE SOFTWARE-LIC
670830
System Application CD – Communication Analyst. Also available as no-charge download from NTAC Website.
AK SYSTEM PC APP CD
670941
E911 OSN – Basic Package. Maintains E911 Private Switch Automatic Location Identification (PS/ALI) data. Supports NENA recommended E911 registry format. Consists of: ESN Registry/E911 Registry, Centralized database & storage for PS/ALI details for all PS/ALI information. ESN ALI Lookup – Software tool allows users to search all ALI information. Included within ESN Registry. ESN Administrator Console – provides centralized administration of the ESN Application Suite and connects to centralized or distributed database. Also used to configure & manage the OSN application. One Admin Console can be used to control remote sites. ESN On-site Monitoring Service Module (EOMS). Monitors activity on the SV8100 to identify 911 calls and takes action to notify Alarm Clients. One EOMS required per site. Additional EOMS modules can be added at alternate sites with optional licenses (670942). ESN Alarm Client. Provides (5) users with real-time alarm indications through screen pops and/or email notifications. Additional alarm clients can be added with optional license (670943). NOTE: Must be used in conjunction with the CA Full-256 License.
LKS-E911 ESN SUITE-LIC
670942
E911 On-Site Monitoring Service License. One required for each remote site – if used in "centralized" application, where the main site is equipped with an OSN Service Basic Pkg.
LKS-E911 MONITOR-ADDON-LIC
670943
E911 Additional Five-Client Alarm License. Allows an additional (5) users to receive alarm indications through screen pops and/or email notifications.
LKS-E911 ALARM CLIENT-LIC
670201
SV8100 Appointment Reminder. An IVR application, the Appointment Reminder enables the SV8100 system to automatically call customers to remind them of their upcoming appointment. Interfaces with the SV8100 via VoIP. Consists of: External 1U Server Box and (16) Appointment Reminder Ports. Requires: SV8100 R6.02 or higher, IP Daughter Board (IPLA or IPLB), and 8-16 3rd-Party IP Terminal Licenses.
APPOINTMENT REMINDER
670713
4 IP Trunk License – Supports four SIP or H.323 trunks. All IP Trunk licenses are combined for proper Remote site allocation. This License is not required to support the CCISOIP Trunking feature.
LK-SYS-IP TRUNK4-LIC
670714
8 IP Trunk License – Supports eight SIP or H.323 trunks. All IP Trunk licenses are combined for proper Remote site allocation. This License is not required to support the CCISOIP Trunking feature.
LK-SYS-IP TRUNK8-LIC
670715
16 IP Trunk License – Supports sixteen SIP or H.323 trunks. All IP Trunk licenses are combined for proper Remote site allocation. This License is not required to support the CCISOIP Trunking feature.
LK-SYS-IP TRUNK16-LIC
670110
4-Port Loop-Start/Ground-Start Trunk Blade. Provides Caller-ID. Includes (2) Power-Failure circuits. Installs in universal blade slot. Accepts (1) PZ-4COTF Daughter Board (670111). Temporarily replaced with 670213.
CD-4COTB
670111
4-Port Loop-Start/Ground-Start Trunk Daughter Board. Provides Caller-ID. Installs on CD-4COTB Blade (670110) or CD-LTA Blade (670128).
Maximum (1) per blade. Temporarily replaced with 670213.
PZ-4COTF
670213
8-Port Loop-Start/Ground-Start Trunk Blade. Provides Caller-ID. Includes (2) Power-Failure circuits. Installs in universal blade slot. This is a temporary item.
CD-8COTBH
670118
T1/PRI Interface Blade. Can be programmed for (24) trunks or can be fractionalized in increments of 4. Installs in universal blade slot.
CD-PRTA
670119
Common Carrier Handler (Digital CCIS) Interface Blade. Provides a common channel signal through to a CCIS network and controls the signaling between systems. Contains single 24-channel 64Kb/s digital signal circuit that can be configured for each digital CCIS app.
CD-CCTA
670116
2-Channel BRI Blade. Installs in universal blade slot. Accepts (1) PZ-2BRIA Daughter Board (670117). See hardware manual for maximum blades per sys.
CD-2BRIA
670117
2-Channel BRI Daughter Board. Installs on CD-2BRIA Blade (670116) or CD-LTA Blade (670128).
PZ-2BRIA
670120
4-Port DID/OPX Blade. Installs in universal blade slot.
CD-4DIOPA
670121
4-Port E&M Tie Line Blade. Supports 2/4-Wire, Type I/V. Installs in universal blade slot.
CD-4ODTA
670535
Installation Cable. 25-pair cable for connection between Trunk / Station blades and MDF. Also used for relay contacts on CPU. Cable length is approximately 14 feet. MDF end is unterminated. Blade end is terminated with (6) 8-conductor mod plugs.
Installation Cable (Mod8-25Pair)
670107
8-Port Digital Station Blade. Installs in universal blade slot. Accepts (1) PZ-8DLCB Daughter Board (670108). Temporarily replaced with 670109.
CD-8DLCA
670108
8-Port Digital Station Daughter Board. Installs on the CD-8DLCA Digital Station Blade (670107). Temporarily replaced with 670109.
PZ-8DLCB
670109
16-Port Digital Station Blade. Installs in universal blade slot.
CD-16DLCA
670112
4-Port Analog Station Blade. Provides Message Waiting lamping. Installs in universal blade slot. Accepts (1) PZ-4LCA (670113) or PZ-8LCE Daughter Board (670115). Temporarily replaced with 670214.
CD-4LCA
670113
4-Port Analog Station Daughter Board. Provides Message Waiting lamping. Installs on CD-4/8LCA Blades (670112/670114). Temporarily replaced with 670214.
PZ-4LCA
670114
8-Port Analog Station Blade. Provides Message Waiting lamping. Installs in universal blade slot. Accepts (1) PZ-4LCA (670113) or PZ-8LCE Daughter Board (670115). Temporarily replaced with 670214.
CD-8LCA
670115
8-Port Analog Station Daughter Board. Provides Message Waiting lamping. Installs on CD4/8LCA Blades (670112/670114). Temporarily replaced with 670214.
PZ-8LCE
670214
16-Port Analog Station Blade. Provides Message Waiting lamping.
CD-16LCAH
670128
8-Port Digital Station / 2-Port Analog Station "Combo" Blade. Installs in universal blade slot. Accepts: PZ-4COTF Trunk Daughter Board (670111) or PZ-2BRIA BRI Daughter Board (670117). If system is not equipped with Memory Exp DB (670525), Maximum (1) per system. If system is equipped with Memory Exp DB (670525), Maximum (2) per 19" 6-Blade Chassis or Maximum (2) per combined 9.5" 3-Blade Chassis/Exp Chassis. Temporarily replaced with 670215.
CD-LTA
670215
8-Port Digital Station / 2-Port Analog Station "Combo" Blade with Hard-wired 4-Port Trunk Daughter Board. Installs in universal blade slot. If system is not equipped with Memory Exp DB (670525), Maximum (1) per system. If system is equipped with Memory Exp DB (670525), Maximum (2) per 19" 6-Blade Chassis or Maximum (2) per combined 9.5" 3-Blade Chassis/Exp Chassis. This is a temporary item.
CD-LTDH
670716
Single NEC SIP Client license – Support NEC MLT SIP (DT700) Terminal. (IP Terminal License is included with each Soft Phone to support Soft Phone only)
LKS-SYS-IP TERMINAL-1-LIC
670860
Encryption License. Provides encryption for all NEC IP Terminals in a specific system. Compatible with NEC SV8100 IP terminals and SV Softphones only. Not compatible with 3rd Party SIP terminals or MH240 WiFi terminals.
LKS-SYS-ENCRYPTION-LIC
670721
Single 3rd Party SIP Client license – Support 3rd party SIP telephones, NEC MLT SIP Terminals, SIP DECT and UCB. For 3rd Party SIP terminals, NEC IP Terminals (Including SIP DECT) and / or UCB
LK-SYS-IP-TERMINAL-SIP1-LIC
670965
Video License – System Wide. One required per system, to support applications with 3rd Party SIP video terminals, such as the Polycom VVX-1500 6-Line Media Phone.
LKS-SYS-SIP VIDEO-LIC
670727
1st Party CTI (TAPI over Ethernet) 1-Client
LKS-SYS-1ST-CTI1-LIC
670731
3rd Party CTI (TAPI 2) License. System-wide TAPI 2 license. Required for 3rd Party CTI (TAPI 2) applications. Also required for all SV8100 applications with InUCB or UCB Server.
LKS-SERVER-3rd-CTI- LIC
670898
Open Application Interface (OAI) Activation License. One required per system.
LKS-SYS-SOAI-LIC
670893
DTPlusWare Client License 1-Port. DTPLusWare enhances the displays of SV8100 terminals. Primarily used with the Sophi IP Terminal. Also compatible with 3 and 5-line display terminals, but feature access is limited. DTPlusWare supports the following features: Incoming Call Popup & Redirect, Call Setting, User Directory with Presence, Company Directory (Active Directory), Instant Message,Weather, Bulletin Boards,World Clock, Photo Album. Release 2 features are now available: Supports iPhone, Virtual Keyboard (DT750 only), New Icons, and Incoming Call Feature Enhancement. Requires an MSIIS Server. See technical documentation for specifications. Requires PC APP CD Software – Available as no-charge download from www.necntac.com.
LKS-DTPLusWare Client 1-Lic
670894
DTPlusWare Client License 4-Port. DTPLusWare enhances the displays of SV8100 terminals. Primarily used with the Sophi IP Terminal. Also compatible with 3 and 5-line display terminals, but feature access is limited. DTPlusWare supports the following features: Incoming Call Popup & Redirect, Call Setting, User Directory with Presence, Company Directory (Active Directory), Instant Message,Weather, Bulletin Boards,World Clock, Photo Album. Release 2 features are now available: Supports iPhone, Virtual Keyboard (DT750 only), New Icons, and Incoming Call Feature Enhancement. Requires an MSIIS Server. See technical documentation for specifications. Requires PC APP CD Software – Available as no-charge download from www.necntac.com.
LKS-DTPLusWare Client 4-Lic
670895
DTPlusWare Client License 8-Port. DTPLusWare enhances the displays of SV8100 terminals. Primarily used with the Sophi IP Terminal. Also compatible with 3 and 5-line display terminals, but feature access is limited. DTPlusWare supports the following features: Incoming Call Popup & Redirect, Call Setting, User Directory with Presence, Company Directory (Active Directory), Instant Message,Weather, Bulletin Boards,World Clock, Photo Album. Release 2 features are now available: Supports iPhone, Virtual Keyboard (DT750 only), New Icons, and Incoming Call Feature Enhancement. Requires an MSIIS Server. See technical documentation for specifications. Requires PC APP CD Software – Available as no-charge download from www.necntac.com.
LKS-DTPLusWare Client 8-Lic
670896
DTPlusWare Client License 16-Port. DTPLusWare enhances the displays of SV8100 terminals. Primarily used with the Sophi IP Terminal. Also compatible with 3 and 5-line display terminals, but feature access is limited. DTPlusWare supports the following features: Incoming Call Popup & Redirect, Call Setting, User Directory with Presence, Company Directory (Active Directory), Instant Message,Weather, Bulletin Boards,World Clock, Photo Album. Release 2 features are now available: Supports iPhone, Virtual Keyboard (DT750 only), New Icons, and Incoming Call Feature Enhancement. Requires an MSIIS Server. See technical documentation for specifications. Requires PC APP CD Software – Available as no-charge download from www.necntac.com.
LKS-DTPLusWare Client 16-Lic
670897
DTPlusWare Client License 64-Port. DTPLusWare enhances the displays of SV8100 terminals. Primarily used with the Sophi IP Terminal. Also compatible with 3 and 5-line display terminals, but feature access is limited. DTPlusWare supports the following features: Incoming Call Popup & Redirect, Call Setting, User Directory with Presence, Company Directory (Active Directory), Instant Message,Weather, Bulletin Boards,World Clock, Photo Album. Release 2 features are now available: Supports iPhone, Virtual Keyboard (DT750 only), New Icons, and Incoming Call Feature Enhancement. Requires an MSIIS Server. See technical documentation for specifications. Requires PC APP CD Software – Available as no-charge download from www.necntac.com.
LKS-DTPLusWare Client 64-Lic
670635
UC Desktop Suite InServer Bundle. Consists of: (1) 670421 InServer Blade, (1) 670919 Shared Services License, (1) 670981 Mobile Presence License, and (1) 670634 UC Desktop Client License for every purchased telephone in the associated system. This item is only available with new SV8100 systems and must be quoted through MasterQuote. Add-on users will utilize the standard UC Desktop Suite Client License (670903).
SV8100 UC Suite InServer Bundle
670903
Desktop Client License 1-Port. Provides complete call management and operation of a desktop terminal from a PC. Each client can be installed as a PC Assistant or PC Attendant. Provides integration with ACT and Goldmine CRM software. If one or more are installed as a PC Attendant, one Shared Services License (670919) is also required per system. If Enhancement Services are required (White Board, File Transfer, Desktop/Application Sharing, and Chat/Instant Messaging), use Desktop Client with Softphone (670908).
LK-DT CLIENT 1-LIC
670913
SP310 Softphone Client License 1-Port. Includes 4-Party Video (Softphone user plus 3 other parties), NEC SIP Terminal License (for use with Softphone only), Enhancement Services – White Board, File Transfer, Desktop/Application Sharing, and Chat (Instant Messaging)
LKS-SP E CLIENT-IP1 LIC
670908
Desktop Client/Softphone License 1-Port. Provides complete call management and operation of a desktop terminal from a PC. Each client can be installed as a PC Assistant or PC Attendant. Provides integration with ACT and Goldmine CRM software. If one or more are installed as a PC Attendant, one Shared Services License (670919) is also required per system. Each Softphone includes SP310 Softphone License with 4-Party Video (Softphone user plus 3 other parties), NEC SIP Terminal License (for use with Softphone only), Enhancement Services – White Board, File Transfer, Desktop/Application Sharing, and Chat (Instant Messaging)
LK-DT SP E CLIENT-IP1-LIC
670919
Shared Services License. Provides Shared Services features (Presence, Full System BLF/DSS, Quick Messaging, Directory & Contacts) for Desktop Suite. If any Desktop Client is configured as a PC Attendant, one Shared Services License is required per system.
LK-SYS-SHARED SVC-LIC
670869
PC Attendant Shared Services Upgrade License. Required when converting Desktop Suite 1.0 PC Assistant Client License to PC Attendant Client License.
LK-Desktop PC Attendant Shared SVC Upgrade –LIC
670184
Desktop Suite 4.0 Enhancement License. Provides InACD Agent capabilities. Also includes Outlook Calendar Presence feature from Desktop Suite 3.5 (670939). The following 4.0 features are provided without the license: Windows 7 collaboration support for Enhancement Services (White Board, File Transfer, Chat/Instant Messaging, and Desktop/Application Sharing), New easier-to-use GUI (Enhanced BLF, Animated Presence, Drag and Drop Transfer), Group Phone Messaging/Group Quick Messaging. Refer to sales/tech documentation for full feature list. Requires SV8100 system software R5.01 or higher. Required when upgrading existing systems only. Replaces 670939.
LK-DT ENHANCEMENT 4LIC
670981
Desktop Suite Mobile Presence License. Provides ability for Mobile Extension user to view and set their presence and Call Forwarding rules via a Web browser from a mobile device or PC. This is a system-wide license. Requires: Desktop Suite 4.0 software, Shared Services License (670919), SV8100 system software R5.01 or higher
LK-SYS-MOBILE PRESENCE-LIC
670940
Desktop Suite Additional CRM Integration License. Provides system-wide support of integration with the following types of CRM software: Salesforce, TimeMatters, TigerPaw. Also includes Answering Center Module feature, which displays information on the party being called.
LK-DT CRM INTEGRATION-LIC
670421
InServer Blade. Pre-loaded with the following software: Desktop Suite application software, InACD application software, Windows XP OS embedded. Equipped with: VGA connector, Ethernet Jack, (4) USB connectors. Associated feature licenses are required. Installs in universal blade slot of SV8100 chassis. Requires SV8100 system software 5.01 or higher. Maximum (1) InServer Blade per system.
CD-SVRU
690000
DT710 2-Button Non-Display Terminal (BK). Equipped with (2) Programmable Function Keys, (10) Fixed Feature Keys, (1) Volume Control Key, Full-duplex speakerphone, Four-step adjustable legs, Built-in wall-mount, 9-Ft Handset Cord, Standard dial pad, Dataswitch with PC LAN jack. Not equipped with Security Key or headset jack. Does not support Terminal Adapters. Each IP terminal requires POE (802.3af) or an AC Adapter (AC-2R 780135 or AC-3R 780152). No base cord is provided – requires 8-conductor data cord. Each IP Terminal requires an NEC SIP Terminal License.
ITL-2E(BK) TEL
690001
DT710 IP 6-Button Display Terminal (BK). Equipped 3-line Display. (6) Programmable Function Keys, (10) Fixed Feature Keys, (4) Interactive Soft Keys, (1) Navigator Key, Full-duplex speakerphone, Four-step adjustable legs, Built-in wall-mount, 9-Ft Handset Cord, Standard dial pad, Dataswitch with PC LAN jack. Not equipped with Security Key or headset jack. Does not support Terminal Adapters. Each IP terminal requires POE (802.3af) or an AC Adapter (AC-2R 780135 or AC-3R 780152). No base cord is provided – requires 8-conductor data cord. Each IP Terminal requires an NEC SIP Terminal License.
ITL-6DE(BK) TEL
690071
DT710 IP DESI-Iess Display Terminal (BK). Equipped with single backlit screen alternates between main display and 8-Programmable Function Key display, (11) Fixed Feature Keys, (4) Interactive Soft Keys and Navigator Key, Full-duplex speakerphone, Four-step adjustable legs, Built-in wall-mount, 9-Ft Handset Cord, Standard dial pad, Dataswitch with PC LAN jack. Not equipped with Security Key or headset jack. Does not support Termianl Adapters. Each IP terminal requires POE (802.3af) or an AC Adapter (AC-2R 780135 or AC-3R 780152). No base cord is provided – requires 8-conductor data cord. Each IP Terminal requires an NEC SIP Terminal License.
ITL-8LDE-1(BK) TEL
690002
DT730 IP 12-Button Display Terminal (BK). Equipped with (12) Programmable Function Keys and (10) Fixed Feature Keys, (4) Interactive Soft Keys, Backlit dial pad, Backlit 4-line XML display, Navigator Key, Headset jack, Lock Key, Connector for 8-Button Line Key Unit, Connector for 60-Button DSS, Connector for ADA adapter, Full-duplex speakerphone, Four-step adjustable legs, Built-in wall-mount, 9-Ft Handset Cord, Standard dial pad, Dataswitch with PC LAN jack, Each IP terminal requires POE (802.3af) or an AC Adapter (AC-2R 780135 or AC-3R 780152). No base cord is provided – requires 8-conductor data cord. Each IP Terminal requires an NEC SIP Terminal License.
ITL-12D-1(BK) TEL
690003
DT730 IP 12-Button Display Terminal (WH). Equipped with (12) Programmable Function Keys and (10) Fixed Feature Keys, (4) Interactive Soft Keys, Backlit dial pad, Backlit 4-line XML display, Navigator Key, Headset jack, Lock Key, Connector for 8-Button Line Key Unit, Connector for 60-Button DSS, Connector for ADA adapter, Full-duplex speakerphone, Four-step adjustable legs, Built-in wall-mount, 9-Ft Handset Cord, Standard dial pad, Dataswitch with PC LAN jack, Each IP terminal requires POE (802.3af) or an AC Adapter (AC-2R 780135 or AC-3R 780152). No base cord is provided – requires 8-conductor data cord. Each IP Terminal requires an NEC SIP Terminal License.
ITL-12D-1(WH) TEL
690004
DT730 IP 24-Button Display Terminal (BK). Equipped with (24) Programmable Function Keys, (10) Fixed Feature Keys, (4) Interactive Soft Keys, Backlit dial pad, Backlit 4-line XML display, Navigator Key, Headset jack, Lock Key, Connector for 8-Button Line Key Unit, Connector for 60-Button DSS, Connector for ADA adapter, Full-duplex speakerphone, Four-step adjustable legs, Built-in wall-mount, 9-Ft Handset Cord, Standard dial pad, Dataswitch with PC LAN jack, Each IP terminal requires POE (802.3af) or an AC Adapter (AC-2R 780135 or AC-3R 780152). No base cord is provided – requires 8-conductor data cord. Each IP Terminal requires an NEC SIP Terminal License.
ITL-24D-1(BK) TEL
690005
DT730 IP 24-Button Display Terminal (WH). Equipped with (24) Programmable Function Keys, (10) Fixed Feature Keys, (4) Interactive Soft Keys, Backlit dial pad, Backlit 4-line XML display, Navigator Key, Headset jack, Lock Key, Connector for 8-Button Line Key Unit, Connector for 60-Button DSS, Connector for ADA adapter, Full-duplex speakerphone, Four-step adjustable legs, Built-in wall-mount, 9-Ft Handset Cord, Standard dial pad, Dataswitch with PC LAN jack, Each IP terminal requires POE (802.3af) or an AC Adapter (AC-2R 780135 or AC-3R 780152). No base cord is provided – requires 8-conductor data cord. Each IP Terminal requires an NEC SIP Terminal License.
ITL-24D-1(WH) TEL
690006
DT730-IP32 IP 24+8-Button Display Terminal (BK). Equipped with 24-Btn Terminal equipped with 8-Btn Line Key Unit. (32) Programmable Function Keys, (10) Fixed Feature Keys, (4) Interactive Soft Keys, Backlit dial pad, Backlit 4-line XML display, Navigator Key, Headset jack, Lock Key, Connector for 8-Button Line Key Unit, Connector for 60-Button DSS, Connector for ADA adapter. Full-duplex speakerphone, Four-step adjustable legs, Built-in wall-mount, 9-Ft Handset Cord, Standard dial pad, Dataswitch with PC LAN jack, Each IP terminal requires POE (802.3af) or an AC Adapter (AC-2R 780135 or AC-3R 780152). No base cord is provided – requires 8-conductor data cord. Each IP Terminal requires an NEC SIP Terminal License.
ITL-32D-1(BK) TEL
690007
DT730 IP 24+8-Button Display Terminal (WH). Equipped with 24-Btn Terminal equipped with 8-Btn Line Key Unit. (32) Programmable Function Keys, (10) Fixed Feature Keys, (4) Interactive Soft Keys, Backlit dial pad, Backlit 4-line XML display, Navigator Key, Headset jack, Lock Key, Connector for 8-Button Line Key Unit, Connector for 60-Button DSS, Connector for ADA adapter, Full-duplex speakerphone, Four-step adjustable legs, Built-in wall-mount, 9-Ft Handset Cord, Standard dial pad, Dataswitch with PC LAN jack, Each IP terminal requires POE (802.3af) or an AC Adapter (AC-2R 780135 or AC-3R 780152). No base cord is provided – requires 8-conductor data cord. Each IP Terminal requires an NEC SIP Terminal License.
ITL-32D-1(WH) TEL
690010
DT730 IP DESI-less Display Terminal (BK). Equipped with (4) Alternating Function Key Screens – each with (8) Desi-less Function Keys, (11) Fixed Feature Keys, (4) Interactive Soft Keys, Backlit dial pad, Backlit 4-line XML display, Navigator Key, Headset jack, Lock Key, Connector for 8-Button Line Key Unit, Connector for 60-Button DSS, Connector for ADA adapter, Full-duplex speakerphone, Four-step adjustable legs, Built-in wall-mount, 9-Ft Handset Cord, Standard dial pad, Dataswitch with PC LAN jack, Each IP terminal requires POE (802.3af) or an AC Adapter (AC-2R 780135 or AC-3R 780152). No base cord is provided – requires 8-conductor data cord. Each IP Terminal requires an NEC SIP Terminal License.
ITL-8LD-1(BK) TEL
690011
DT730 IP DESI-less Display Terminal (WH). Equipped with (4) Alternating Function Key Screens – each with (8) Desi-less Function Keys, (11) Fixed Feature Keys,(4) Alternating Function Key Screens – each with (8) Desi-less Function Keys, (11) Fixed Feature Keys, (4) Interactive Soft Keys, Backlit dial pad, Backlit 4-line XML display, Navigator Key, Headset jack, Lock Key, Connector for 8-Button Line Key Unit, Connector for 60-Button DSS, Connector for ADA adapter, Full-duplex speakerphone, Four-step adjustable legs, Built-in wall-mount, 9-Ft Handset Cord, Standard dial pad, Dataswitch with PC LAN jack. Each IP terminal requires POE (802.3af) or an AC Adapter (AC-2R 780135 or AC-3R 780152). No base cord is provided – requires 8-conductor data cord. Each IP Terminal requires an NEC SIP Terminal License.
ITL-8LD-1(WH) TEL
690019
DT750 IP-Sophi IP Color Touch Screen Terminal (BK). Equipped with Backlit Color XML Display with Touch Panel, (10) Fixed Feature Keys, (4) Interactive Soft Keys, Navigator Key, Backlit dial pad, Headset jack, Lock Key, Connector for (1) optional adapter (ADA or BHA), Connectors for both a 60-Btn DSS and 8-Btn LK, Full-duplex speakerphone, Four-step adjustable legs, Built-in wall-mount, 9-Ft Handset Cord, Standard dial pad, Dataswitch with PC LAN jack. No base cord is provided – requires 8-conductor data cord. Each IP Terminal requires an NEC SIP Terminal License.
ITL-320C-2(BK) TEL
690009
DT730-IP12 IP 12-Button Display Terminal with Power Failure Adapter (PSA-L). Refer to "Terminal Adapters" section for PSA-L details. Available in black only.
ITL-12PA-1(BK) TEL
690065
DT730 IP 12-Button Display Terminal with Gigabit Adapter (GBA-L)
ITL-12DG-1(BK) TEL
680000
DT310 Digital 2-Button Non-Display Terminal (BK). Equipped with (2) Programmable Function Keys. (11) Fixed Feature Keys, (1) Volume Control Key – Half-duplex speakerphone, 4-step adjustable legs, Built-in wall-mount, 9-Ft Handset Cord, 7-Ft Base Cord, Standard dial pad – No headset jack
DTL-2E-1(BK) TEL
680001
DT310 Digital 6-Button Display Terminal (BK). Equipped with 3-line Display, (6) Programmable Function Keys, (13) Fixed Feature Keys, (4) Interactive Soft Keys, (1) Volume Control Key, Half-duplex speakerphone, 4-step adjustable legs, Built-in wall-mount, 9-Ft Handset Cord, 7-Ft Base Cord, Standard dial pad – No headset jack
DTL-6DE-1(BK) TEL
680062
DT310 Digital 12-Button Non-Display Terminal (BK). Equipped with (12) Programmable Function Keys, (11) Fixed Feature Keys, (1) Volume Control Key, Half-duplex speakerphone, Adjustable legs, Built-in wall-mount, 9-Ft Handset Cord, 7-Ft Base Cord, No Navigator Key or headset jack. Does not support Terminal Adapters.
DTL-12E-1(BK) TEL
680002
DT330 Digital 12-Button Display Terminal (BK). Equipped with (12) Programmable Function Keys, (10) Fixed Feature Keys, (4) Interactive Soft Keys, Navigator Key, 4-line display, Backlit dial pad, Full-duplex speakerphone, Adjustable legs, Built-in wall-mount, 9-Ft Handset Cord, 7-Ft Base Cord, Headset jack, Connector for 16-Button DLS Console, Connector for (1) optional adapter (APR, ADA, BHA, or BCH).
DTL-12D-1(BK) TEL
680003
DT330 Digital 12-Button Display Terminal (WH). Equipped with (12) Programmable Function Keys, (10) Fixed Feature Keys, (4) Interactive Soft Keys, Navigator Key, 4-line display, Backlit dial pad, Full-duplex, Adjustable legs, Built-in wall-mount, 9-Ft Handset Cord, 7-Ft Base Cord, Headset jack, Connector for 16-Button DLS Console, Connector for (1) optional adapter (APR, ADA, BHA, or BCH).
DTL-12D-1(WH) TEL
680004
DT330 Digital 24-Button Display Terminal (BK). Equipped with (24) Programmable Function Keys, (10) Fixed Feature Keys, (4) Interactive Soft Keys, Navigator Key, 4-line display, Backlit dial pad, Full-duplex, Adjustable legs, Built-in wall-mount, 9-Ft Handset Cord, 7-Ft Base Cord, Headset jack, Connector for 16-Button DLS Console, Connector for (1) optional adapter (APR, ADA, BHA, or BCH).
DTL-24D-1(BK) TEL
680005
DT330 Digital 24-Button Display Terminal (WH). Equipped with (24) Programmable Function Keys, (10) Fixed Feature Keys, (4) Interactive Soft Keys, Navigator Key, 4-line display, Backlit dial pad, Full-duplex, Adjustable legs, Built-in wall-mount, 9-Ft Handset Cord, 7-Ft Base Cord, Headset jack, Connector for 16-Button DLS Console, Connector for (1) optional adapter (APR, ADA, BHA, or BCH).
DTL-24D-1(WH) TEL
680006
DT330 Digital 24 + 8-Button Display Terminal (BK). Equipped with (32) Programmable Function Keys (24+8LK Unit), (10) Fixed Feature Keys, (4) Interactive Soft Keys, Navigator Key, 4-line display, Backlit dial pad, Full-duplex, Adjustable legs, Built-in wall-mount, 9-Ft Handset Cord, 7-Ft Base Cord, Headset jack, Connector for 16-Button DLS Console, Connector for (1) optional adapter (APR, ADA, BHA, or BCH).
DTL-32D-1(BK) TEL
680007
DT330 Digital 24 + 8-Button Display Terminal (WH). Equipped with (32) Programmable Function Keys (24+8LK Unit), (10) Fixed Feature Keys, (4) Interactive Soft Keys, Navigator Key, 4-line display, Backlit dial pad, Full-duplex, Adjustable legs, Built-in wall-mount, 9-Ft Handset Cord, 7-Ft Base Cord, Headset jack, Connector for 16-Button DLS Console, Connector for (1) optional adapter (APR, ADA, BHA, or BCH).
DTL-32D-1(WH) TEL
680010
DT330 Digital DESI-less Display Terminal (BK). Equipped with Backlit 4-Line Display, (4) Alternating Function Key Screens – each with (8) Desi-less Function Keys, (11) Fixed Feature Keys, (4) Interactive Soft Keys, Navigator Key, 4-line display, Backlit dial pad, Full-duplex, Adjustable legs, Built-in wall-mount, 9-Ft Handset Cord, 7-Ft Base Cord, Headset jack, Connector for 16-Button DLS Console, Connector for (1) optional adapter (APR, ADA, BHA, or BCH).
DTL-8LD-1(BK) TEL
680011
DT330 Digital DESI-less Display Terminal (WH). Equipped with Backlit 4-Line Display, (4) Alternating Function Key Screens – each with (8) Desi-less Function Keys, (11) Fixed Feature Keys, (4) Interactive Soft Keys, Navigator Key, 4-line display, Backlit dial pad, Full-duplex, Adjustable legs, Built-in wall-mount, 9-Ft Handset Cord, 7-Ft Base Cord, Headset jack, Connector for 16-Button DLS Console, Connector for (1) optional adapter (APR, ADA, BHA, or BCH).
DTL-8LD-1(WH) TEL
680008
DT330 Digital 12-Button Display Terminal with Bluetooth Handset (BK). Preassembled to eliminate labor time associated with replacing the handset on a DTL-12 Terminal with the Bluetooth Handset Adapter (BCH-L).
DTL-12BT-1(BK) TEL
680009
DT330 Digital 12-Button Display Terminal with Power Failure Adapter (BK). Preassembled to eliminate labor time associated with replacing the handset on a DTL-12 Terminal with the Power Failure Adapter (PSA-L).
DTL-12PA-1(BK) TEL
680012
60-Button DSS Console (BK). Compatible with: ITL-320C, IP-12/24/32-Button/DESI-less terminals, Digital 12/24/32-Button/DESI-less terminals. When used with an IP terminal: Attaches and connects directly to the IP terminal, Requires an AC adapter (780135 or 780152). When used with a digital terminal: Attaches to the terminal or the terminal's optional 8-Button Key Assembly, but connects to a separate digital station port., Does NOT require an AC Adapter. Contains built-in wall-mount. When a 60-Button DSS Console needs to be wall-mounted with a terminal that is equipped with an adapter (APR, ADA, or Bluetooth Hub), a DSS Wall Mount Adapter (P/N 680754) is required. Maximum (1) DSS Console per IP terminal (See note). Maximum (32) DSS Consoles per digital terminal. Maximum (32) DSS Consoles per system.
DCL-60-1(BK) CONSOLE
680013
60-Button DSS Console (WH). Compatible with: ITL-320C, IP-12/24/32-Button/DESI-less terminals, Digital 12/24/32-Button/DESI-less terminals. When used with an IP terminal: Attaches and connects directly to the IP terminal, Requires an AC adapter (780135 or 780152). When used with a digital terminal: Attaches to the terminal or the terminal's optional 8-Button Key Assembly, but connects to a separate digital station port., Does NOT require an AC Adapter. Contains built-in wall-mount. When a 60-Button DSS Console needs to be wall-mounted with a terminal that is equipped with an adapter (APR, ADA, or Bluetooth Hub), a DSS Wall Mount Adapter (P/N 680754) is required. Maximum (1) DSS Console per IP terminal (See note). Maximum (32) DSS Consoles per digital terminal. Maximum (32) DSS Consoles per system.
DCL-60-1(WH) CONSOLE
680014
8-Button Key Assembly (BK). Adds (8) programmable keys to DT330 (Digital 12/24/32-Button & DESI-Less), DT730 (IP-12/24/DESI-less) & DT750 320C terminals. Not compatible with DT310 or DT710 type terminals. Attaches and connects directly to the IP/digital terminal. Does not use a separate digital station port. Maximum (1) DLS per IP or digital terminal.
8LK-L(BK) UNIT
680015
8-Button Key Assembly (WH). Adds (8) programmable keys to DT330 (Digital 12/24/32-Button & DESI-Less), DT730 (IP-12/24/DESI-less) & DT750 320C terminals. Not compatible with DT310 or DT710 type terminals. Attaches and connects directly to the IP/digital terminal. Does not use a separate digital station port. Maximum (1) DLS per IP or digital terminal.
8LK-L(WH) UNIT
750480
Single Line Telephone Adapter. Converts (1) digital station port to (1) analog station port. Equipped with (2) RJ-11 type jacks and (1) base cord. Connects to (1) port of a digital station blade or daughter board.
SLTII(1)-U10 ADP
750305
Doorbox/Page/Audio Adapter. Provides interface and relay contacts for (2) Doorchime boxes. (Can also be used for MOH, BGM, or external paging zones.). Uses (1) digital station port.
PGD(2)-U10 ADP
721160
Doorchime Box. Surface-mount Doorchime Box. Requires Doorbox/Page/Audio Adapter (750305).
DP-D-1A
780135
AC Adapter / Domestic Power. Required for: IP terminal that does not receive Power Over Ethernet (POE), 60-Button DSS connected to an IP terminal, 2nd (and above) 60-Button DSS connected to a digital terminal. Supports North American power requirements: Input: 60Hz 120V, Output:: 24VDC 600mA
AC-2R
780152
AC Adapter / International Power. Required for: IP terminal that does not receive Power Over Ethernet (POE), 60-Button DSS connected to an IP terminal, 2nd (and above) 60-Button DSS connected to a digital terminal. Supports international power requirements: Input: 50-60Hz 100-240V, Output: 27VDC 750mA
AC-3R
690631
AC Adapter for Gigabit Adapter. Input: 50/60Hz 100-240V, Output: 27VDC 1.0A
AC-L
780122
POE Converter. Converts inline POE specification from 802.3af to CDP.
ILPA-R
680600
APR Analog Port Adapter w/ Ringing. Provides analog station connection. For Digital 12/24/32-Btn/DESI-less terminals only. If the associated terminal is wall-mounted, a Wall-Mount Adapter (680610) is required. Installs in the optional terminal adapter slot on the bottom of applicable terminals. Does not require an AC adapter.
APR-L
680601
ADA Call Recording Adapter. Provides connections for audio input & output. Equipped with (2) Stereo mini audio jacks – 1 Input / 1 output. For Digital 12/24/32-Btn/DESI-less and IP-12/24/32/DESI-less/320C only. If the associated terminal is wall-mounted, a Wall-Mount Adapter (680610) is required. Installs in the optional terminal adapter slot on the bottom of applicable terminals. Does not require an AC adapter.
ADA-L
680603
Power Failure Transfer Adapter (BK). Transfers an IP or digital terminal to a pre-connected outside trunk when commercial power is down or the user manually activates the switch. Consists of: PSA Handset Cradle (Replaces the terminal's existing handset cradle.), Replacement non-backlit dial (for PF use), Line cord for connection to PF line. For DT330 type (Digital) and DT730/DT750 type (IP) terminals only. A terminal that is equipped with this adapter cannot be wall-mounted.
PSA-L(BK)
680604
Power Failure Transfer Adapter (WH). Transfers an IP or digital terminal to a pre-connected outside trunk when commercial power is down or the user manually activates the switch. Consists of: PSA Handset Cradle (Replaces the terminal's existing handset cradle.), Replacement non-backlit dial (for PF use), Line cord for connection to PF line. For DT330 type (Digital) and DT730/DT750 type (IP) terminals only. A terminal that is equipped with this adapter cannot be wall-mounted.
PSA-L(WH)
680602
BHA Bluetooth Hub Adapter. Provides interface for user-provided Bluetooth cordless headset. For Digital 12/24/32/DESI-less terminals only. Installs in the optional terminal adapter slot on the bottom of applicable terminals.
BHA-L
690630
Gigabit Adapter for IP Terminal. 10/100/1000 Kbit dataswitch that allows a SV8100 IP terminal to connect to a gigabit LAN and provide a gigabit LAN jack for an associated PC. Consists of Gigabit module, mounting assembly, 13-inch power cable, and 18-inch LAN cable. Adapter becomes part of terminal's leg assembly. Compatible with any SV8100 IP Terminal. Requires 802.3af POE or an AC Adapter (690631). Associated IP terminal cannot be wall-mounted.
GBA-L
690631
AC Adapter for Gigabit Adapter. Input: 100-240V 50/60Hz 1.0A, Output: 27VDC 1.0A
AC-L
680605
BCH Bluetooth Handset Adapter (BK). Provides Bluetooth cordless handset operation. Replaces the terminal's handset, cradle & legs. Bluetooth handset is equipped with: 20-Character/2-Line Display, (8) Programmable Function Keys, (6) Fixed Feature Keys & Navigator Key, Lithium-Ion Rechargeable Battery, Dial, Belt Clip, User Guide. Handset charges when in the cradle. Maximum range is 50 meters. For Digital 12/24/32-Button terminals only. Not available for white terminals. Note: When a BCH is installed, an APR, ADA, or BHA adapter cannot be installed.
BCH-L(BK)
690063
Replacement Battery for Bluetooth Handset. Lithium-Ion 3.7V-1100mAh
Batt Pack for BT Handset
780581
USB Handset for Softphones. Equipped with (4) programmable function keys. Check NTAC Website for PC O/S compatibility.
UTR-1W-1(BK)
690628
Push-to-Mute Handset. For Digital & IP Terminals.
ITL/DTL PTM handset(BK)
690629
Push-to-Talk Handset. For Digital & IP Terminals.
ITL/DTL PTT handset(BK)
690600
French Function Keypad Assembly (BK). Replaces the assembly of (7) fixed function keys, Menu key, and Navigator key. The designations of the fixed feature keys are in French. For Digital 12/24/32-Button/DESI-less terminals and for IP 6/12/24/32-Button/DESI-less and 320C terminals.
BS(F)-L(BK) KIT
690601
French Function Keypad Assembly (WH). Replaces the assembly of (7) fixed function keys, Menu key, and Navigator key. The designations of the fixed feature keys are in French. For Digital 12/24/32-Button/DESI-less terminals and for IP 6/12/24/32-Button/DESI-less and 320C terminals.
BS(F)-L(WH) KIT
690602
Spanish Function Keypad Assembly (BK). Replaces the assembly of (7) fixed function keys, Menu key, and Navigator key. The designations of the fixed feature keys are in Spanish. For Digital 12/24/32-Button/DESI-less terminals and for IP 6/12/24/32-Button/DESI-less and 320C terminals.
BS(S)-L(BK) KIT
690603
Spanish Function Keypad Assembly (WH). Replaces the assembly of (7) fixed function keys, Menu key, and Navigator key. The designations of the fixed feature keys are in Spanish. For Digital 12/24/32-Button/DESI-less terminals and for IP 6/12/24/32-Button/DESI-less and 320C terminals.
BS(S)-L(WH) KIT
690608
Retrofit Lower Panel Assembly (BK). Consists of 13-button lower panel key assembly (excluding dial) and plastic dial/function key cover. Adds Redial, Conf, Directory, and Message keys. Contains volume keys instead of Navigator Key.
LCD(BL)-L(BK)
690609
Retrofit Lower Panel Assembly (WH). Consists of 13-button lower panel key assembly (excluding dial) and plastic dial/function key cover. Adds Redial, Conf, Directory, and Message keys. Contains volume keys instead of Navigator Key.
LCD(BL)-L(WH)
690610
ICON Panel for Digital 2/6-Btn & IP 2-Btn Terminals (BK). Shows Icon for each of the (11) fixed function keys.
ICONPANEL(R)-L(BK)
690611
ICON Panel for Digital 2/6-Btn & IP 2-Btn Terminals (WH). Shows Icon for each of the (11) fixed function keys.
ICONPANEL(R)-L(WH)
690606
ICON Panel for 12/24/32/Desi-less/Sophi Terminals(BK). Shows Icon for each of the (7) fixed function keys.
ICONPANEL(V)-L(BK)
690607
ICON Panel for 12/24/32/Desi-less/Sophi Terminals(WH). Shows Icon for each of the (7) fixed function keys.
ICONPANEL(V)-L(WH)
680755
ICON Panel for IP Sophi (ITL-320C) Terminals. Shows Icon for each of the (7) fixed function keys.
ICONPANEL(S)-L(BK)
680606
12-Line Key Expansion Module Kit (BK). Converts 12-Button Display Terminal (Digital or IP) to 24-Button. Includes 24-button faceplate & designation sheet.
12LK-L(BK) KIT
680607
12-Line Key Expansion Module Kit (WH). Converts 12-Button Display Terminal (Digital or IP) to 24-Button. Includes 24-button faceplate & designation sheet.
12LK-L(WH) KIT
680016
DESI-Less LK/LCD Unit for Digital Terminals (BK). Consists of backlit DESI-Less unit & backlit display unit.
Replaces the Function Key Module and the existing display module in a DT330 Digital 12/24/32-Button terminal, to convert it to DESI-less. Not compatible with DT310-type terminals.
8LKD(LD)-L(BK)
680017
DESI-Less LK/LCD Unit for Digital Terminals (WH). Consists of backlit DESI-Less unit & backlit display unit.
Replaces the Function Key Module and the existing display module in a DT330 Digital 12/24/32-Button terminal, to convert it to DESI-less. Not compatible with DT310-type terminals.
8LKD(LD)-L(WH)
690013
DESI-less LK/LCD Unit for IP Terminals (BK). Consists of backlit DESI-Less unit & backlit display unit. Replaces the Function Key Module and the existing display module in a DT730 IP 12/24/32-Button terminal, to convert it to DESI-less. Not compatible with DT710-type terminals.
8LKI(LD)-L(BK)
690014
DESI-less LK/LCD Unit for IP Terminals (WH). Consists of backlit DESI-Less unit & backlit display unit. Replaces the Function Key Module and the existing display module in a DT730 IP 12/24/32-Button terminal, to convert it to DESI-less. Not compatible with DT710-type terminals.
8LKI(LD)-L(WH)
680608
Backlit Display for Digital 12/24/32-Btn Terminals (BK). Replaces the standard non-backlit Display Module in a DT330 Digital 12/24/32-Button terminal.
LCD(BL)-L(BK)
680609
Backlit Display for Digital 12/24/32-Btn Terminals (WH). Replaces the standard non-backlit Display Module in a DT330 Digital 12/24/32-Button terminal.
LCD(BL)-L(WH)
690612
Braille Label Kit – For all SV8100 terminals.
Sticker-Braille-L Kit
680610
Terminal Wall Mount Adapter. For wall-mounting an IP/DG terminal that is equipped with an ADA or APR adapter.
WM-L
680754
DSS Wall Mount Adapter. For wall-mounting a 60-Button DSS Console when its associated terminal is equipped with an ADA or APR adapter.
DSS WM-L
680650
Designation Sheets for 2-Button IP & Digital Terminals (Pkg of 25 – 2/sheet)
DESI ITL/DTL-2E (25/Pkg)
680651
Designation Sheets for 6-Button IP & Digital Terminals (Pkg of 25 – 2/sheet)
DESI ITL/DTL-6DE (25/Pkg)
680649
Designation Sheets for 12-Button Non-Display Digital Terminals (Pkg of 25 – 2/sheet)
DESI ITL/DTL-12E-1 (25/Pkg)
680652
Designation Sheets for 12-Button IP & Digital Terminals (Pkg of 25 – 2/sheet)
DESI ITL/DTL-12D (25/Pkg)
680659
Designation Sheets for 24-Button IP & Digital Terminals (Pkg of 25 – 2/sheet)
DESI ITL/DTL-24D (25/Pkg)
680653
Designation Sheets for 8-Button Key Assembly (Pkg of 25 – 1/sheet)
DESI ITL/DTL-8LK (25/Pkg)
680660
Designation Sheets for 32-Button IP & Digital Terminals (Pkg of 25 – 1/sheet). 24-Button Terminal & associated 8LK Assembly
DESI ITL/DTL-32D (25/Pkg)
680654
Designation Sheets for 60-Button DSS Console (Pkg of 25 – 1/sheet)
DESI ITL/DTL-60 (25/Pkg)
680655
Designation Sheets for Main Side Panels of All Terminals with Clear Side Panels (Pkg of 25 – 1 pair/sheet)
DESI ITL/DTL-SIDE (25/Pkg)
680656
For Display Side Panels of 12/24/32-Button Terminals with Clear Side Panels (Pkg of 25 – 2/sheet)
DESI ITL/DTL-LCDV (25/Pkg)
680657
For Display Side Panels of Sophi Terminals with Clear Side Panels (Pkg of 25 – 1 pair/sheet)
DESI ITL/DTL-LCDS (25/Pkg)
680658
Blank inserts for the Directory Card Units (680739 & 680738). (Pkg of 25 – 2/sheet)
DESI ITL/DTL Directory Card(25/Pkg)
680739
Directory Card Unit for 2/6-Btn Terminals/Qty 1. Includes mounting clip, directory card & plastic cover. Installs at the top of the terminal.
VAL Directory Card
680738
Directory Card Unit for 12/24/32-Btn & Desi-less Terminals/Qty 1 . Includes mounting clip, directory card & plastic cover. Installs at the top of the terminal. Not compatible with CTS Terminal.
ECO Directory Card
680700
Red Side Base Panels (Qty 10 pairs) – for all SV Terminals
PANEL(Red-Base)-L
680701
Red Side Display Panels (Qty 10 pairs) – for 12/24/32/DESI-less Terminals
PANEL(Red-VLCD)-L
680702
Red Side Display Panels (Qty 10 pairs) – for Sophi (320C) Terminals
PANEL(Red-SLCD)-L
680703
Blue Side Base Panels (Qty 10 pairs) – for all SV Terminals
PANEL(Blue-Base)-L
680704
Blue Side Display Panels (Qty 10 pairs) – for 12/24/32/DESI-less Terminals
PANEL(Blue-VLCD)-L
680705
Blue Side Display Panels (Qty 10 pairs) – for Sophi (320C) Terminals
PANEL(Blue-SLCD)-L
680709
Wood Side Base Panels (Qty 10 pairs) – for all SV Terminals
PANEL(Wood-Base)-L
680710
Wood Side Display Panels (Qty 10 pairs) – for 12/24/32/DESI-less Terminals
PANEL(Wood-VLCD)-L
680711
Wood Side Display Panels (Qty 10 pairs) – for Sophi (320C) Terminals
PANEL(Wood-SLCD)-L
680713
Clear Side Base Panels (Qty 10 pairs) – for all SV Terminals
PANEL(Clear-Base)-L
680741
Clear Side Display Panels (Qty 10 pairs) – for 12/24/32/DESI-less Terminals
PANEL(Clear-VLCD)-L
680742
Clear Side Display Panels (Qty 10 pairs) – for Sophi (320C) Terminals
PANEL(Clear-SLCD)-L
680771
Pink Side Base Panels (Qty 10 pairs) – for all SV Terminals
PANEL(Pink-Base)-L
680772
Pink Side Display Panels (Qty 10 pairs) – for 12/24/32/DESI-less Terminals
PANEL(Pink-VLCD)-L
680773
Pink Side Display Panels (Qty 10 pairs) – for Sophi (320C) Terminals
PANEL(Pink-SLCD)-L
680774
Gold Side Base Panels (Qty 10 pairs) – for all SV Terminals
PANEL(Gold-Base)-L
680775
Gold Side Display Panels (Qty 10 pairs) – for 12/24/32/DESI-less Terminals
PANEL(Gold-VLCD)-L
680776
Gold Side Display Panels (Qty 10 pairs) – for Sophi (320C) Terminals
PANEL(Gold-SLCD)-L
690636
Colored Side Panel Demo/Sample Kit. Includes one pair in each of (6) colors for the following: Side Base Panels for all terminals, Side Display Panels for 12/24/32/DESI-less terminals, Side Display Panels for Sophi IP Terminal. Colors: Red, Blue, Wood, Clear, Pink, Gold.
Cygnus Side/LCD Color Panel Demo Kit
680761
Line Key Cover Kit – Metallic Blue (Qty 10). For 12-Button Terminals
LK-Panel (12BTN)-L(M-Blue)
680762
Line Key Cover Kit – Gunmetal Grey (Qty 10). For 12-Button Terminals
LK-Panel (12BTN)-L(Gunmetal)
680763
Line Key Cover Kit – Metallic Green (Qty 10). For 12-Button Terminals
LK-Panel (12BTN)-L(Green-M)
680764
Line Key Cover Kit – Metallic Orange (Qty 10). For 12-Button Terminals
LK-Panel (12BTN)-L(Orange-M)
680765
Line Key Cover Kit – Metallic Dark Brown(Qty10). For 12-Button Terminals
LK-Panel (12BTN)-L(D-Brown-M)
680766
Line Key Cover Kit – Metallic Blue (Qty 10). For 24-Button Terminals
LK-Panel (24BTN)-L(M-Blue)
680767
Line Key Cover Kit – Gunmetal Grey (Qty 10). For 24-Button Terminals
LK-Panel (24BTN)-L(Gunmetal)
680768
Line Key Cover Kit – Metallic Green (Qty 10). For 24-Button Terminals
LK-Panel (24BTN)-L(Green-M)
680769
Line Key Cover Kit – Metallic Orange (Qty 10). For 24-Button Terminals
LK-Panel (24BTN)-L(Orange-M)
680770
Line Key Cover Kit – Metallic Dark Brown(Qty10). For 24-Button Terminals
LK-Panel (24BTN)-L(D-Brown-M)
680756
Dial/Function Key Cover Kit (Qty 10) – Metallic Blue. For Digital12/24/32-Button/DESI-less and IP 6/12/24/32/DESI-less terminals.
Key Kit Panel (V)-L(M-Blue)
680757
Dial/Function Key Cover Kit (Qty 10) – Gunmetal Grey. For Digital12/24/32-Button/DESI-less and IP 6/12/24/32/DESI-less terminals.
Key Kit Panel (V)-L(Gunmetal-M)
680758
Dial/Function Key Cover Kit (Qty 10) – Metallic Green. For Digital12/24/32-Button/DESI-less and IP 6/12/24/32/DESI-less terminals.
Key Kit Panel (V)-L(L-Green-M)
680759
Dial/Function Key Cover Kit (Qty 10) – Metallic Orange. For Digital12/24/32-Button/DESI-less and IP 6/12/24/32/DESI-less terminals.
Key Kit Panel (V)-L(Orange-M)
680760
Dial/Function Key Cover Kit (Qty 10) – Metallic Brown. For Digital12/24/32-Button/DESI-less and IP 6/12/24/32/DESI-less terminals.
Key Kit Panel (V)-L(D-Brown-M)
690637
Colored Key Cover Demo/Sample Kit. Includes: (5) 12-Button Line Key Covers, (5) 24-Button Line Key Covers, (10) Dial/Function Key Covers, in the following Colors: Metallic Blue, Gunmetal Grey, Metallic Green, Metallic Orange, Metallic Dark Brown. For 12/24/32-Button/DESI-less terminals.
Cygnus Side/LCD Color Panel Demo Kit
780275
Voice Security Recorder with Software. Provides ability to record, store and manage conversations of an SV8100 digital terminal. Equipped with (1) USB connector and (1) station input jack and (1) station output jack. Includes: 6ft. USB Cable, 4ft Terminal Line Cord, VSR Software CD. Connects to PC via USB. Connects to digital terminal via station jack. Recorded file is saved to local PC and/or network server. (1) Gigabit of storage provides (35) hours at the highest quality level or (168) hours at the standard quality level. Dimensions: 3 ¼" W x 2 ¾" D x 1" H One required per digital terminal.
DTERM VSR
780273
4-Port Digital Call Logging Unit. Provides ability to record, store and manage conversations of (4) SV8100 digital terminals. Equipped with (1) USB connector and (4) station jacks. Includes: 6Ft. USB Cable, (4) Terminal Line Cords, Back Office Recorder Software. Connects to (4) station cables at MDF. Connects to PC via USB. 1) Gigabit of storage provides (35) hours at the highest quality level or (168) hours at the standard quality level. Maximum Call Logging Units per PC: 12 (48 Stations). Multiple PCs can be used to increase capacity.
4-Port Digital Call Logging Unit
780274
VSR Manager Software. Consists of Software CD and USB Dongle. For managing the recorded call of multiple VSR or 4-Pt Call Logging Units. One VSR Manager is required for every PC that is used to manage the calls.
VSR Manager
780267
VSR Reporter Pro Software. Provides same features as the VSR Manager, plus the following features: Call Score Manager – Allows supervisor to grade an agent's performance during a sample of calls, Call Scoring – Calls are scored by simply selecting the Call Score play mode and grading each segment of the call as the supervisor listens to the actual recording, Call Score Reports – Provides easy to read graphs and charts of call scoring.
Dterm VSR Reporter Pro
670863
Basic SonicView Server Package. Web-based call recording solution. Probvides ability to record, store, and manage conversations of an SV8100 IP terminal. Package includes: 4-User/Client License, 1-Port Supervisor License. Each recording port can be configured as "On-Demand Recording" or "Full-Time Recording." Customer-provided server required. Refer to technical documents for server requirements. 1 GB of storage required per 138 hours of recording. Requires software on AK System PC Apps CD (670830) or no-charge download at www.necntac.com.
LKS-IP Recorder Basic Pkg-LIC
670862
1-Port Supervisor License. Provides supervisory Web login access.
LKS-Sys-IP Recorder Basic SUPV Add-on 1-LIC
670865
1-Port User/Client License
LKS-Sys-IP Recorder Port Add-on1LIC
670864
4-Port User/Client License
LKS-Sys-IP Recorder Port Add-on 4LIC
670920
8-Port User/Client License
LKS-Sys-IP Recorder Port Add-on 8LIC
670921
16-Port User/Client License
LKS-Sys-IP Recorder Port Add-on 16-LIC
670922
32-Port User/Client License
LKS-Sys-IP Recorder Port Add-on 32-LIC
670923
64-Port User/Client License
LKS-Sys-IP Recorder Port Add-on 64-LIC
780034
DTH-1-1 (BK) Single Line Telephone/BK. Features: Redial, flash, MW lamp, mute key, ringer/handset volume control, (4) programmable feature/speed dial keys.
780020
DTR-1-1 (BK) Single Line Telephone/BK. Features: Redial, flash, MW lamp, data jack, and ringer/handset volume control.
DTR-1-1(BK)
780021
DTR-1-1 (WH) Single Line Telephone/WH. Features: Redial, flash, MW lamp, data jack, and ringer/handset volume control.
DTR-1-1(WH)
780025
DTR-1HM-1 (BK) Enhanced Single Line Telephone/BK. Features: Redial, flash, MW lamp, data jack, and ringer/handset volume control, (8) programmable feature/speed dial keys, hold key, & monitor key.
DTR-1HM-1(BK)
780026
DTR-1HM-1 (WH) Enhanced Single Line Telephone/WH. Features: Redial, flash, MW lamp, data jack, and ringer/handset volume control, (8) programmable feature/speed dial keys, hold key, & monitor key.
DTR-1HM-1(WH)
780402
DESI Labels for 780020/780021 SL Tel– Metallic Silver (Package of 25)
780404
DESI Labels for 780025/780026 SL Tel – Black (Package of 25).
780406
DESI Labels for 780025/780026 – Metallic Silver (Package of 25).
780525
Flying Directory Plastic Clip Kit (Pkg of 10). For 780020/780021/780025/780026. Holds 770626 Directory Cards.
770626
Flying Directory Card Kit (Pkg of 10). For 780020/780021/780025/780026. Directory Cards for 780525.
730087
Cordless Lite II Telephone. Integrated to SV8100 system. 900MHz technology. Includes: Base Unit, Cordless Handset with Belt Clip, Charging Cradle, Ni-Mh battery, AC Adapter. Handset contains: Display, Dialpad, (6) Fixed feature keys, (4) Programmable Function Keys. Can only be used as a stand-alone station connected directly to a digital station port.
DTH-4R-2(BK) Cordless
730631
Replacement Battery for Cordless Lite II Handset. Nickel Metal Hydride (3.6VDC / 750mAh)
BT-930
730095
Digital Cordless DECT Telephone Integrated to SV8100 system. 1.9GHz DECT 6.0 technology. Includes: Base Unit with AC Adapter (10VDC 500mA), Cordless Handset with Belt Clip, Charging Cradle with AC Adapter (9VDC 350mA), Nickel Metal Hydride battery (2.4VDC-910 mAh) – 16-Hr talk time 7-day standby, Wall mounting plate & desk stand, User guide. Charging cradle equipped with slot to charge spare battery. Handset contains: Display & Dialpad, (7) Fixed feature keys, (8) Programmable Function Keys, Speakerphone (hands-free) feature. Can be used as a stand-alone station or in conjunction with an SV key terminal. Connects to digital station port.
DTL-8R-1
730097
IP Cordless DECT Telephone Integrated to SV8100 system. 1.9GHz DECT 6.0 technology. Includes: Base Unit with AC Adapter (10VDC 500mA), Cordless Handset with Belt Clip, Charging Cradle with AC Adapter (9VDC 350mA), Nickel Metal Hydride battery (2.4VDC-910 mAh) – 16-Hr talk time 7-day standby, Wall mounting plate & desk stand, User guide. Charging cradle equipped with slot to charge spare battery. Handset contains: Display & Dialpad, (7) Fixed feature keys, (8) Programmable Function Keys, Speakerphone (hands-free) feature. Requires NEC IP Terminal License (670716). Requires power from PoE (Power Over Ethernet). Connects directly to LAN via a L2 PoE switch port. Can only be used as a stand-alone station.
ITL-8R-1
730649
Cordless DECT Repeater . Extends the range of the Cordless DECT Telephones (730095 & 730097). Supplied with AC Adapter (5VDC/500mA) with 6Ft. cord. Repeater must be placed within range of the DECT base or another repeater. Maximum (6) repeaters per base unit, – (3) in opposite directions. Replaces 730639 Cordless DECT Repeater.
DTL-RPT-2
730643
Cordless DECT Spare/Replacement Battery. Nickel Metal Hydride ( 2.4VDC / 910mAh). For Digital & IP Cordless DECT Handsets (730095/730097).
BT-1009
730653
SMB Wireless ML440 Package. Consists of: (1) 730651 AP20 Access Point and (3) 730650 ML440 Handsets.
SMB Wireless Package
730651
AP20 IP DECT Access Point. Omni-directional 1.9GHz access point for ML440 DECT Handsets. Connects directly to LAN via a Level 2 POE switch port. Includes desk/shelf base and wall-mounting hardware. Can be ceiling-mounted w/optional hardware (730658). Simultaneous conversations allowed per AP20: (10) if only (1) AP20 is installed and (8) per access point if multiple AP20's are installed. Maximum (20) AP20 Access Points per system. Maximum of (30) ML440 Handsets can be registered to (1) AP20. System must be equipped with VoIP Daughter Board.
AP20 Access Point
730650
ML440 DECT Handset. Consists of: ML440 Handset, CE-MB206-5C-02 Li-ion Battery Pack (- 3.7V 1100mAh), Belt Clip, Charger Unit with slot to charge spare battery (includes wall-mounting hardware), AC Adapter for Charger Unit, Designatuion strips for extension number and programmable keys. Features: Dialpad, Speakerphone, Illuminated Color LCD Display, Navigator Key, Volume & Mute keys, (4) Fixed feature keys, (3) Soft Keys, (4) Programmable Function Keys, Headset Jack (2.5mm), Requires AP20 IP DECT Access Point (730651). Each ML440 Handset requires (1) NEC SIP Terminal License (670716). Maximum (200) ML440 allowed per system, but usage is limited by available VoIP resources. System must be equipped with VoIP Daughter Board.
ML440 MultiLine Wireless Handset
730658
Ceiling-Mount Bracket for AP20 Access Point
AP20 Ceiling Mount
730657
Spare/Replacement Battery Pack. Lithium-ion 3.7V 1100mAh.
CE-MB206-5C-02
730659
Spare/Replacement Charger Unit for ML440 Handset. Includes slot to charge spare battery. Includes hardware for wall-mounting.
ML440 Charger Unit
730660
Spare/Replacement AC Adapter for ML440 Charger. Switching power supply: Input: 100-240VAC 50/60Hz 250mA, Output: 5.5V 600mA, Center positive plug. 6-Ft cable.
ML440 AC Adapter
730661
Leather Case for ML440 Handset
ML440 Leather Case
690024
AP300 IP-DECT Wireless Access Point (DAP). For C124, G355, G955, and I755 IP DECT Handsets. Supports up to (11) simultaneous calls. Equipped with internal antenna. Requires DAP Manager Software, which must be downloaded from the NTAC Website. Requires power from either of the following: Dataswitch with 802.3af POE, Power Injector (750615, below), or AC Adapter (40V AC or DC with 10Watt output) Not offered by NEC. Refer to tech manual for wiring details. Requires Cat5 or higher cabling. Requires VoIP Resource Daughter Board (page 6). Can be wall or ceiling mounted (Horiz. or vert.) Must be located within 300 feet of the associated dataswitch. Refer to installation manual for coverage specifications. Replaces 750104 AP200S. Maximum 250 DAPs per system.
AP300 IP DECT ACCESS POINT
750898
NEC DECT Network Security License CD. Contains technical documentation & (printed) license key. One required per site.
DECT Network Security License CD
750615
Power Injector (PSA16U-480(POE). Provides power to (1) DECT Wireless Access Point, if associated dataswitch does not provide 802.3af POE. Connects between LAN dataswitch and Wireless Access Point. Equipped with 9.5-ft AC power cord. Dimensions: 6.5in s 2.5in x 1.5 in. Can be wall-mounted. Not required if dataswitch supports 802.3af POE or if dedicated AC adapter is used.
NEC DECT Power Injector
750614
Outdoor Weather Enclosure. For AP200S IP DECT Access Point.
NEC SIP DECT AP200S Out Wea Enc
690030
DMLS Basic License for SV8100. DECT Messaging and Location Services – universal software interface that enables other information systems, such as alarm and control, paging, databases, and scheduling to integrate with the G955 and I755 IP DECT handsets. NEC and Amcom Software have partnered to provide robust messaging applications.
DMLS Basic License for SV8100
750611
C124 IP DECT Basic Handset. Contains a standard display. Includes charger, hard-wired AC adapter & batteries. Requires (1) 3rd Party/NEC SIP Client license and uses (1) system port. System must be equipped with a VoIP Resource Daughter Board. Includes hands-free speakerphone feature. Up to 12 hours talk time & 200 hours standby. Equipped with (3) AAA NiMH rechargeable batteries. As these are standard batteries, replacements are not available from NEC. Notes: IP DECT Handsets require one or more IP DECT Access Points (690024 or 750104 ) and VoIP Resource Daughter Board. Maximum IP DECT Handsets per system is (250), but maximum IP DECT simultaneous conversations is based on the system's available VoIP resource ports (Maximum 128 if equipped with PZ-128IPLA or PZ-128IPLB). Each handset requires (1) 3rd Party/NEC SIP Client license (670721) and uses (1) system port.
NEC C124 SIP DECT Handset
750612
Set of (10) Belt Clips for C124 Handsets
C124 DECT Handset Belt Clip
690113
G355 IP DECT Enhanced Handset. Features: Color display, Navigator keys, SOS key (Emergency speed dial key), Hands-free speakerphone. Equipped with (1) 3.7V / 650mAh Lithium-Ion rechargeable battery – Talk time: Up to 12 Hrs | Standby: Up to 120 Hrs. Equipped with (2) types of belt clip & removal tool. Requires Charger (750619). Requires AC Adapter (750618). Charger and AC Adapter must be ordered separately. Bluetooth operation is not available for this model. Notes: IP DECT Handsets require one or more IP DECT Access Points (690024 or 750104) and VoIP Resource Daughter Board. Maximum IP DECT Handsets per system is (250), but maximum IP DECT simultaneous conversations is based on the system's available VoIP resource ports (Maximum 128 if equipped with PZ-128IPLA or PZ-128PLB). Each handset requires (1) 3rd Party/NEC SIP Client license (670721) and uses (1) system port.
NEC G355 SIP DECT HANDSET
750106
G955 IP DECT Enhanced Handset. Features: Color display, Navigator keys, SOS key (Emergency speed dial key), Broadcast (Text) messaging, Bluetooth headset capability (Requires optional adapter), Vibrator Alert Feature. Equipped with (1) 3.7V / 650mAh Lithium-Ion rechargeable battery – Talk time: Up to 12 Hrs | Standby: Up to 120 Hrs. Equipped with (2) types of belt clip & removal tool. Requires Charger (750619) & AC Adapter (750618). Charger and AC Adapter must be ordered separately. Notes: IP DECT Handsets require one or more IP DECT Access Points (690024 or 750104) and VoIP Resource Daughter Board. Maximum IP DECT Handsets per system is (250), but maximum IP DECT simultaneous conversations is based on the system's available VoIP resource ports (Maximum 128 if equipped with PZ-128IPLA or PZ-128PLB). Each handset requires (1) 3rd Party/NEC SIP Client license (670721) and uses (1) system port.
NEC G955 SIP DECT HANDSET
750619
Charger Stand for G355/G955 Handset. Requires AC Adapter (750618)
NEC G955 DESKTOP CHARGER
750618
AC Adapter for G355/G955 Handset Charger Stand. Input: 100-240VAC 50/60Hz 0.15A. Output: 5VDC 350mA
NEC G955 AC ADAPTER
690104
Replacement Battery for G355/G955 Handset. Lithium Ion 3.7V 650mAh
G355/955 BATTERY PACK
750626
Memory Card for G355/G955/i755 Handset (Qty 1). Allows transfer of subscription information to another G355/G955/ i755 Handset.
NEC G355/G955 MEMCARD
750617
Set of (10) Belt Clips for G355/G955 Handsets.
NEC G955 BELT CLIP/10PCS
750625
Bluetooth Adapter for G955/i755 Handset. Allows connection of a Bluetooth headset (10m range). Installs inside the handset, under the battery.
NEC G955 BLUETOOTH MODULE
690101
Horizontal Pouch for G355/G955/i755 Handset. With fixed belt clip.
G355/G955 Pouch (Horiz)
690102
Vertical Pouch for G355/G955/i755 Handset. With fixed belt clip.
G355/G955 Pouch (Vertical)
690103
Rugged Holder for G355/G955 Handset. With swivel belt clip.
G355/G955 Rugged Holder
690111
i755 IP DECT Enhanced Handset. Features: Color display, Navigator keys, SOS key (Emergency speed dial key), Hands-free speakerphone, Broadcast (Text) messaging, Bluetooth headset capability (Requires optional adapter), Vibrator Alert Feature, Man-down feature. Ingress Protection (dust & liquids) rating IP54. Equipped with (1) 3.7V / 650mAh Lithium-Ion rechargeable battery – Talk time: Up to 10 Hrs | Standby: Up to 120 Hrs. Equipped with spring-type belt clip. Requires Charger (690110). Requires AC Adapter (690114). Charger and AC Adapter must be ordered separately. NOTES: Requires (1) 3rd Party/NEC SIP Client license and uses (1) system port. System must be equipped with a VoIP Resource Daughter Board. Notes: IP DECT Handsets require one or more IP DECT Access Points (690024 or 750104) and VoIP Resource Daughter Board. Maximum IP DECT Handsets per system is (250), but maximum IP DECT simultaneous conversations is based on the system's available VoIP resource ports (Maximum 128 if equipped with PZ-128IPLA or PZ-128IPLB). Each handset requires (1) 3rd Party/NEC SIP Client license (670721).Uses (1) system port.
NEC I755 SIP DECT HANDSET
690110
Desktop Charger for i755 Handset. Input: 100-240VAC 50/60Hz 250mA. Output: 12VDC/400mA. Includes slot to charge a spare battery. Requires AC Adapter (690114).
I755S Desktop Charger
690114
AC Adapter for i755 Handset Charger. Equipped with (1) domestic & (3) international plugs.
I755S AC Adapter-Multi Region
690109
Spare/Replacement Battery for i755 Handset. 3.7V 650mA Lithium-Ion.
I755S Battery Pack
750626
Memory Card for G355/G955/ i755 Handset (Qty 1). Allows transfer of subscription information to another G355/G955/I755 Handset.
NEC G355/G955 MEMCARD
750625
Bluetooth Adapter for G955/ i755 Handset. Allows connection of a Bluetooth headset/10m range. Installs inside the handset, under the battery.
NEC G955 BLUETOOTH MODULE
690101
Horizontal Pouch for G355/G955/ i755 Handset. With fixed belt clip.
G355/G955 Pouch (Horiz)
690102
Vertical Pouch for G355/G955/ i755 Handset. With fixed belt clip.
G355/G955 Pouch (Vertical)
690115
Swivel Belt Clip for i755 Handset (Qty 1)
i755 Hset Swivel BT Clip(1ea)
690116
Replacement Spring Belt Clip for i755 Handset (Qty 1)
i755 Hset Spring BT Clip(1ea)
690023
MH240 / WL1700MS Bundle. Consists of: (1) WL1700MS Controller/Access Point and (4) MH240 Handsets. Discontinued 12/31/10. Available until inventory is depleted.
MH240 / WL Bundle
690022
WL1700MS WiFi Controller & Access Point. Dual function unit, required for MH240 applications: Controller function provides wireless interface for up to (3) WL1500-AP-A access points, Access Point function provides wireless access for MH240 Handsets, One WL1700MS is required for every (3) WL1500-AP-A wireless access points. The access point within the WL1700MS can handle (12) simultaneous MH240 calls. Requires POE or Power Injector (750615), below. Dimensions: 7.5" x 7.5" x 2". Includes mounting hardware.
WL1700MS
690020
WL1500-AP-A WiFi Access Point. Provides wireless access for MH240 Handsets. Requires WL1700MS for access to wireless network. Maximum (3) WL1500-AP-A per (1) WL1700MS. Each WL1500-AP-A access point can handle (12) simultaneous MH240 calls. Requires POE or 750615 Power Injector, below. Dimensions: 7.5" x 7.5" x 2". Includes mounting hardware. This item will be discontinued on 12/31/10.
WL1500-AP-A
750615
Power Injector (PSA16U-480POE). Provides power to (1) Wireless Access Point. Connects between dataswitch and Access Point. Not required if dataswitch supports 802.3af POE.
NEC DECT Power Injector
690015
MH240 WiFi Handset. Features: (8) Programmable Function Keys, (6) Fixed Feature Keys (Transfer, Conference, Hold, Menu, Off-Hook, On-Hook), Navigator Key, Speakerphone, 120 x 90 pixel Display. Equipped with: AC Adapter w/ 6Ft cord (DC5V 1A) – Mini USB, Charging Unit (Model IP3NA-8WVCHG) with slot for charging spare battery, Lithium Ion battery (3.7V 850mA – WLPS3E). Talk time: Up to 3 hrs Standby: Up to 80 Hrs, Headset adapter cable (4.75") – allows use with headsets equipped with 2.5mm plug Important Notes: MH240 applications require one or more WiFi access points.
Access points must meet MH240 specifications. Refer to MH240 Application Notes for approved models.
Each MH240 Handset requires (1) NEC SIP Terminal License (670716). The SV8100 system must be equipped with a VoIP Resource Daughter Board.
MH240 Wireless IP Tel Set
690021
MH240 Replacement/Spare Battery
WLPS3 (E) BATT PACK-A
690703
MH240 Handset Case with Belt Clip
MH240 Handset Case
690701
MH240 Replacement Headset Adapter (Pkg of 4)
MH240 Headset Adapter
690704
MH240 Replacement Handset Case Belt Clips (Pkg of 3)
MH240 Handset Case Clip
750660
TR-1 Cordless Headset Adapter. Allows connection of most Plantronics cordless headsets to an SV8100 APR Adapter. Eliminates need for Handset Lifter.
TR-1
750189
H81 TriStar Headset. In-ear style – Top only. Monaural with voice tube transmitter. Equipped with Quick Disconnect Cord, clothing clip, (4) eartips, & spare voice tube. Compatible with IP 12/24/32/DESI-less/Sophi terminals and Digital 12/24/32/DESI-less terminals if also equipped with an A10-16 Cable (750609). Can also be used with the IP 2/6-Button and Digital 2/6-Button terminals, but will then require the Plantronics M22 Amplifier/Switch (not sold by NEC).
H81 TriStar
750607
H251N SupraPlus Monaural NC Headset. Over-the-Head style – Top only. Monaural with noise canceling transmitter. Quick Disconnect Cord and clothing clip. Compatible with IP 12/24/32/DESI-less/Sophi terminals and Digital 12/24/32/DESI-less terminals if also equipped with an A10-16 Cable (750609). Can also be used with the IP 2/6-Button and Digital 2/6-Button terminals, but will then require the Plantronics M22 Amplifier/Switch (not sold by NEC).
H251N SupraPlus Monaural NC
750608
H261N SupraPlus Binaural NC Headset. Over-the-head style – Top only. Binaural with noise canceling transmitter. Quick Disconnect Cord and clothing clip. Compatible with IP 12/24/32/DESI-less/Sophi terminals and Digital 12/24/32/DESI-less terminals if also equipped with an A10-16 Cable (750609). Can also be used with the IP 2/6-Button and Digital 2/6-Button terminals, but will then require the Plantronics M22 Amplifier/Switch (not sold by NEC).
H261N SupraPlus Binaural NC
750609
A10-16 In-line Amplifier Cable. Provides transmit amplification for "H" headsets. Required for connection of above headsets to DT330, DT730, and DT750 terminals.
A10-16 In-line Amplifier Cable
750628
Audio 476 Stere USB Corded Headset. Features: Foldable design, no PC sound card required, noise-canceling microphone, 6.75-ft cord – equipped with inline volume control and mute switch. Also includes a spare set of ear cushions. Replaces 750627 Audio 470 Headset.
Audio 476 Stereo USB Corded Headset
730092
CS-50 Cordless USB Headset. For Softphones. To be discontinued when inventory is depleted.
NEC USB Headset CS-50
780581
UTR-1W-1 (BK) USB Handset. Equipped with (4) function keys. Check NTAC Website for PC O/S compatibility. For SV Softphones.
UTR-1W-1 (BK)
750646
Plantronics MX250 Headset – In-the-Ear style. For cordless and wireless telephones that are equipped with standard 2.5mm headset jack. Equipped with 4-ft cord, (2) ear cushions, and clothing clip.
MX250
750637
Plantronics M175 Headset – On-the-Ear or Over-the-Head style. For cordless and wireless telephones that are equipped with standard 2.5mm headset jack. Equipped with headband, (3) ear clips, 4.25-ft cord, clothing clip, mute switch, receive & transmit volume controls.
M175
730654
BT200 Bluetooth Speakerphone. Standalone, portable speakerphone unit. Technology: Version 2.1+ EDR (Enhanced Data Rate), Class 2. Features: Links with (2) compatible Bluetooth devices, High definition audio, Call-Waiting, Volume control, Mute, Controls music operation (Play, Pause, Skip) when linked to Bluetooth music player, LED indication of battery status, Equipped with: Lithium-Ion Polymer battery – provides 7 hours standby (5 hours when in HD mode), AC Adapter, USB connector – for charging external devices, 3.5mm audio jack – to allow use as amplified speaker for external music source. Dimensions: 5½"W x 3½"D x 1 5/16" D. Not compatible with SV8100 Bluetooth hub or handset.
BT200
730655
Spare/Replacement Battery. Lithium-Ion Polymer, 5VDC 1000mA. Provides LED indication of battery status.
BT-1026
730656
Replacement AC Adapter for BT200. Input: 100-240VAC 50/60Hz 0.3A. Output: 5.4VDC 1500mA Center positive.
PS-0043
670850
SV8100 System Document CD. Includes: SV8100 / SV8300 Hardware Manual, SV8100 System Maintenance Manual, SV8100 Feature & Specifications Manual, SV8100 Programming Manual, SV8100 Networking Manual, SV8100 PC Programming Manual
AK SV8100 System Documentation CD
670830
SV8100 System Application CD Package. Disk 1 includes: PC Pro, Communication Analyst, ACD MIS. Disk 2 includes: SonicView Recording Applications. Disk 3 includes: Text-to-Speech North American Prompt Sets, U.S. English / Canadian French / Latin American Spanish
AK System PC APP CD
670829
SV8100 Desktop Application CD. Includes: Desktop Applications (SP310 Softphone & Desktop Client), Shared Services, NEC End User Pro, NEC Phone Dialer, Quick Message Client, ACD Suite, UM8000 VoiceMail Suite
AK Desktop PC APP CD
670142
SV8100 IP Demo Kit with Case. Consists of: (1) 670067 9.5" 3-Blade SV8100 Chassis, (1) 670005 CPU Blade, (1) 670525 Memory Expansion Daughter Board, (1) 670168 32-Port VoIP Resource daughter Board, (1) 670128 Combo Station Blade (8 Digital/2 Analog), (1) 670111 4-Port CO Trunk Daughter Board, (1) 670103 Voice Mail Daughter Board, (1) 670966 InMail 64-Hour (1G) Compact Flash, (1) 670782 InMail 2-Port License, (1) 670124 8-Port POE Gigabit Dataswitch, (1) 690019 IP Sophi Terminal, (1) 690010 IP DESI-Less Terminal (BK), (1) 690001 IP 6-Button Display Terminal (BK), (1) 0893500 Soft-Sided Demo Case with Wheels.
SV8100 IP Demo Kit With Case
670143
SV8100 IP Demo Kit without Case. Consists of: (1) 670067 9.5" 3-Blade SV8100 Chassis, (1) 670005 CPU Blade, (1) 670525 Memory Expansion Daughter Board, (1) 670168 32-Port VoIP Resource daughter Board, (1) 670128 Combo Station Blade (8 Digital/2 Analog), (1) 670111 4-Port CO Trunk Daughter Board, (1) 670103 Voice Mail Daughter Board, (1) 670966 InMail 64-Hour (1G) Compact Flash, (1) 670782 InMail 2-Port License, (1) 670124 8-Port POE Gigabit Dataswitch, (1) 690019 IP Sophi Terminal, (1) 690010 IP DESI-Less Terminal (BK), (1) 690001 IP 6-Button Display Terminal (BK).
SV8100 IP Demo Kit Without Case
670140
SV8100 Digital Demo Kit with Case. Consists of: (1) 670067 9.5" 3-Blade SV8100 Chassis, (1) 670005 CPU Blade, (1) 670128 Combo Station Blade (8 Digital/2 Analog), (1) 670111 4-Port CO Trunk Daughter Board, (1) 670103 Voice Mail Daughter Board, (1) 670966 InMail 64-Hour (1G) Compact Flash, (1) 670782 InMail 2-Port License, (1) 680010 Digital DESI-Less Terminal (BK), (1) 680004 Digital 24-Button Display Terminal (BK), (1) 680002 Digital 12-Button Display Terminal (BK), (1) 0893500 Soft-Sided Demo case with Wheels, (1) 80890 Station Cable Adapter Box, (2) 80891 8-Conductor Connection Cable.
SV8100 Digital Demo Kit w/Case
670141
SV8100 Digital Demo Kit without Case. Consists of: (1) 670067 9.5" 3-Blade SV8100 Chassis, (1) 670005 CPU Blade, (1) 670128 Combo Station Blade (8 Digital /2 Analog), (1) 670111 4-Port CO Trunk Daughter Board, (1) 670103 Voice Mail Daughter Board, (1) 670966 InMail 64-Hour (1G) Compact Flash, (1) 670782 InMail 2-Port License, (1) 680010 Digital DESI-Less Terminal (BK), (1) 680004 Digital 24-Button Display Terminal (BK), (1) 680002 Digital 12-Button Display Terminal (BK).
SV8100 Digital Demo Kit Without Case
670902
SV8100 Demo License Bundle. Contains the following licenses: (1) 670702 1-Node NetLink Remote Node License, (1) 670709 ACD License, (1) 670812 ACD MIS Basic License, (1) 670706 Hotel/Motel License, (1) 670707 SMDR License, (1) 670802 Communications Analyst Full 20-Station License, (1) 670931 InMail Email Integration License, (1) 670713 4-Port IP Trunk License, (1) 670914 4-Port Softphone Client License, (1) 670904 4-Port Desktop Client License, (1) 670919 Shared Services License, (4) 670727 4-Port 1st Party CTI Client License, (1) 670711 Release 3 Feature License (NAT Traversal Feature), (1) 670798 UM8000 1-Port Fax License.
SV8100 Demo License Kit
670507
Replacement Fan Unit for 19" 6-Blade Chassis
CHS2U FAN BOX SET
670529
Replacement AC Cord for 19" 6-Blade Chassis
AC Cord
670500
Blank Blade Cover Set. (1) cover with screws. For 9.5" 3-Blade or 19" 6-Blade Chassis. (2) included in 670067 9.5" 3-Blade Chassis. (3) included in 670068 9.5" 3-Blade Expansion Chassis. (5) included in 670015 19" 6-Blade Chassis.
CHS2U Blank Slot Cover Kit
670523
Blank Cover for Expansion Blade Slot
CHS Blank Slot Cover Kit
670504
Small Battery Box. Installs in 9.5" 3-Slot Controlling Base Chassis. Requires 670511 Small Battery Set. Included in 670603 3-Blade Chassis Battery Box Kit.
CHSGW/CHS2U-B US SMALL BATT BOX
670511
(2) 12V 0.8Ah Lead-Acid Batteries with connector. Installs in 670504 Small Battery Box. Included in 670603 3-Blade Chassis Battery Box Kit.
CHSGW/CHS2U-B SMALL BATT SET
670509
Battery Mount for Internal Battery Kit. Included in 670601 Short Term Internal Battery Kit.
CHS2U BATT MTG KIT
670530
Battery Cable for Internal Battery Kit. Included in 670601 Short Term Internal Battery Kit.
CHS2U BATT CABLE INT
670533
Internal Battery Set. (2) NP2.3-12FR 12V 2.3Ah lead-acid batteries. Included in 670601 Short Term Internal Battery Kit.
CHS2U BATT SET
670505
CHS External Battery Box. Installs adjacent to the 9.5" 3-Blade Controlling Base Chassis or the 19" 6-Blade Chassis. Contains (4) cables for connection to up to (4) chassis. Contains (6) cables for connection of batteries. Requires (3) 670512 External Battery Sets. Included in 670602 CHS External Battery Box Kit.
CHS Large BATT BOX
670512
Long Term Battery Set. (2) 12V 7.0Ah lead-acid batteries. (3) sets required for 670505 External Battery Box. (3) sets Included in 670602 External Battery Box Kit.
CHS Large Batt Set
670176
Replacement CPU for SMB Value Package. Same as 67005, but is also equipped with: 2-Port InMail License and 4-Client Email Notification License
CD-CPOO-UX-9.5" TDM VALUE
670534
PMS to VM Interface Serial Adapter. For connection between discontinued PMS-U10 Adapter (750116) and Voice Mail Blade (670123). Not required for PVA-PMS applications.
PMS/VM Interface Adapter (DB9F-Mod6)
670938
PMS Application CompactFlash. Provides PMS Interface feature. Requires a dedicated PVA Blade (670131) and (1) PMS License (670937). Included in 670547 PVA-PMS Kit.
AKU-PVA-PMS-CF
670937
PMS Interface License. Enables PMS Interface feature. Only (1) license is required per PMS application. Requires a dedicated PVA Blade (670131) and PMS CompactFlash (670938). Included in 670547 PVA-PMS Kit.
LK-PVA-PMS-LIC
670545
PVA-PMS Serial Cable. Connects PVA Blade to customer's PMS equipment. Included in 670547 PVA-PMS Kit.
PVA PMS SERIAL CABLE
690628
Push-to-Mute Handset. Equipped with handset cord.
ITL/DTL PTM handset(BK)
690629
Push-to-Talk Handset. Equipped with handset cord.
ITL/DTL PTT handset(BK)
690614
Handset, NarrowBand for Digital Terminals (BK). Not equipped with handset cord.
Handset (Narrow)-L (BK)
690615
Handset, NarrowBand for Digital Terminals (WH). Not equipped with handset cord.
Handset (Narrow)-L (WH)
690616
Handset, WideBand for IP Terminals (BK). Not equipped with handset cord.
Handset (Wide) -L (BK)
690617
Handset, WideBand for IP Terminals (WH). Not equipped with handset cord.
Handset (Wide)-L (WH)
690622
Handset Hanger/Black (Qty 1)
Handset Hanger-L (BK)
690623
Handset Hanger/White (Qty 1)
Handset Hanger-L (WH)
690627
Replacement Line Cord – 7Ft. (BK)
Line Cord-L (BK)
690618
Handset Cord – 12Ft. Black (Qty 1)
Handset Cord(12FT)-L (BK)
690619
Handset Cord – 12Ft. White (Qty 1)
Handset Cord(12FT)-L (WH)
690620
Handset Cord – 25Ft. Black (Qty 1)
Handset Cord(25FT)-L (BK)
690621
Handset Cord – 25Ft. White (Qty 1)
Handset Cord(25FT)-L (WH)
690064
Replacement Belt Clips for Bluetooth Handset (Package of 5)
Belt Clip for BT Handset(5PK)
690070
Replacement Function Key Assembly and Cover. For DT330/DT730 type terminals.
BS(STANDARD)-L(BK) KIT
680714
Line Key Cover for 2-Button Terminals (Qty 1)
LK-PANEL (2BTN)-L(BK)
680715
Line Key Cover for 6-Button Terminals (Qty 1)
LK-PANEL (6BTN)-L(BK)
680716
Line Key Cover for Black 12-Button Terminals (Qty 1)
LK-PANEL (12BTN)-L(BK)
680717
Line Key Cover for White 12-Button Terminals (Qty 1)
LK-PANEL (12BTN)-L
680718
Line Key Cover for Black 24-Button Terminals (Qty 1)
LK-PANEL (24BTN)-L(BK)
680719
Line Key Cover for White 24-Button Terminals (Qty 1)
LK-PANEL (24BTN)-L(WH)
680720
Line Key Cover for Black 8-Btn Key Assembly (Qty 1)
LK-PANEL (8BTN)-L(BK)
680721
Line Key Cover for White 8-Btn Key Assembly (Qty 1)
LK-PANEL (8BTN)-L(WH)
680722
Line Key Cover for Black 60-Btn DSS Console (Qty 1)
LK-PANEL (60BTN)-L(BK)
680723
Line Key Cover for White 60-Btn DSS Console (Qty 1)
LK-PANEL (60BTN)-L(WH)
680745
Dial/Function Key Cover for Digital12/24/32-Button/DESI-less and IP 6/12/24/32/DESI-less/Sophi terminals – Black (Qty 1)
LK-panel (12BTN)-L(BK)
680746
Dial/Function Key Cover for Digital12/24/32-Button/DESI-less and IP 6/12/24/32/DESI-less/Sophi terminals – White (Qty 1)
LK-Panel (12BTN)-L(WH)
680747
Dial/Function Key Cover Kit For Digital 2/6-Button and IP 2-Button Terminals – Black (Qty 1)
KEY KIT PANEL (RETRO)-L(BK)
680748
Dial/Function Key Cover Kit For Digital 2/6-Button and IP 2-Button Terminals – White (Qty 1)
KEY KIT PANEL (RETRO)-L(WH)
680749
Dial/Function Key Cover Kit for IP Sophi Terminals – Black (Qty 1)
KEY KIT PANEL (SOPHI)-L(BK)
680751
Replacement Leg Assembly for Terminals equipped with BCH or PSA Adapters for Digital/IP2/6-Button Value Terminals.
LEG(OPTION)-L
680752
Replacement Leg Assembly for DT310/330 and DT710/730 Terminals.
LEG(VALUE)-L
680753
Replacement Leg Assembly for IP Sophi Terminal.
LEG(SOPHI)-L
680706
Replacement Silver Side Base Panels (10 pairs) – for all SV Terminals
PANEL(Silver-Base)-L
680707
Replacement Silver Side Display Panels (10 pairs) – for 12/24/32/DESI-less Terminals
PANEL(Silver-VLCD)-L
680708
Replacement Silver Side Display Panels (10 pairs) – for Sophi (320C) Terminals
PANEL(Silver-LCD)-L
750156
Conference Max Expansion Kit. Expansion unit with cable. Adds one speakerphone unit to the Conference Max (750073). Consists of speakerphone unit and 12ft cord. Up to (3) Conference Max Expansion Kits can be added to one Conference Max. Discontinued, but available until inventory is depleted.
NEC Conference Max Expansion Kit
750152
Charger for Conference Max Plus. AC adapter that plugs directly into the Conference Max Plus.
Spare/Replacement 12VDC charger
750153
Battery Pack for Conference Max Plus
Spare/Replacement battery pack
750157
12Ft. RJ45 Cable
Spare/Replacement cable for connection between Conf Max & base unit.
780502
Replacement Handset (BK) for 780020/780025.
DTR/DTH/ITR/ITH-2Handset Replacement(BK)
780501
Replacement Handset (WH) for 780021/780026.
DTR/DTH/ITR/ITH-2Handset Replacement(WH)
780530
Replacement 12Ft. Handset Cord (BK) for 780020/780025.
DT(x)/IT(x)8/16D-1(BK)Handset Cord(12Ft)
770512
Replacement 12Ft. Handset Cord (WH) for 780021/780026. Replaced 780532.
Handset Cord 12 Ft WH (DTU/DTP)
770521
Replacement 25Ft. Handset Cord (BK) for 780020/780025. Replaces 780535.
Handset Cord 25Ft BK (DTU/DTP)
770522
Replacement 25Ft. Handset Cord (WH) for 780020/780025. Replaces 780537.
Handset Cord 25Ft WH (DTU/DTP)
770502
Replacement Line Cord 7Ft (BK) for 780020/780025
Replacement Line Cord (BK) DTP/DTU
770503
Replacement Line Cord 7Ft (WH) for 780021/780026
Replacement Line Cord (WH) DTP/DTU
780505
Replacement Wall Mount Hangers (BK) for 780020/780025 (Pkg of 25)
DT(x)/IT(x)-8/16-1 Hanger Kit(BK)(Pkg25)
780538
Replacement Wall Mount Hangers (WH) for 780021/780026 (Pkg of 25)
DTR1-1/1HM-1 Hanger Kit (Pkg 25)
780540
Plastic Key Cover Kit for DTR-1-1 SLT for 780020/780021 (Pkg of 10). Discontinued 3/31/11
DTR-1-1 Line Panel Kit (Pkg 10)
780542
Plastic Key Cover Kit for DTR-1HM-1 SLT for 780025/780026 (Pkg of 10). Discontinued 3/31/11
DTR-1HM-1 Line Panel Kit (Pkg 10)
730637
Replacement/Spare Battery for DTR-1R-2. Discontinued. No longer available.
Model BT-446
730635
AC Adapter for DTR-1R-2 Cordless Tel Base Unit. Discontinued.
DTR-1R Base AC Adapter
750659
Spare/Replacement Battery for 730091 Dterm Headset Cordless II. Li-ion 3.75V, 190mAh (Plantronics P/N 65358-01)
DTERM Headset Cordless II Optional Batt
750658
Spare/ReplacementAC Adapter for 730091 Dterm Headset Cordless II. Input : 120VAC. 60Hz Output : 9VDC @ 800ma
DTERM HS Cordless II Optional AC Adap
730657
Spare/Replacement Battery Pack for ML440 Handset. Lithium-ion 3.7V 1100mAh
CE-MB206-5C-02
730659
Spare/Replacement Charger Unit for ML440 Handset. Includes slot to charge spare battery. Includes hardware for wall-mounting.
ML440 Charger Unit
730660
Spare/Replacement AC Adapter for ML440 Charger Switching power supply: Input: 100-240VAC 50/60Hz 250mA, Output: 5.5V 600mA, Center positive plug. 6-Ft cable.
ML440 AC Adapter
750612
Set of (10) Belt Clips for C124 Handsets
C124 DECT Handset Belt Clip
750613
Spare/Replacement Charger for C124 Handset – Includes hard-wired AC adapter. (5V / 350mA)
C124 SIP DECT Handset Repl Charger
750618
AC Adapter for G355/G955 Handset Charger
NEC G955 AC ADAPTER
690104
Replacement Battery for G355/G955 Handset
G355/955 BATTERY PACK
750626
Memory Card for G355/G955/I755 Handsets(Qty 1). Allows transfer of subscription information to another Handset.
NEC G955 MEMCARD
750617
Set of (10) Belt Clips for G355/G955 Handsets
NEC G955 BELT CLIP
750625
Bluetooth Adapter for G955/I755 Handsets. Allows connection of a Bluetooth headset /10m range)
NEC G955 BLUETOOTH MODULE
690109
Replacement Battery for I755 Handset
I755S Battery Pack
690110
Desktop Charger for I755 Handset
I755S Desktop Charger
690114
AC Adaptor for I755 Handset
I755S AC Adapter-Multi Region
690021
MH240 Replacement/Spare Battery
WLPS3 (E) BATT PACK-A
690703
MH240 Handset Case with Belt Clip
MH240 Handset Case
690701
MH240 Replacement Headset Adapters (Pkg of 4)
MH240 Headset Adapter
690704
MH240 Replacement Handset Case Belt Clips (Pkg of 3)
MH240 Handset Case Clip
730643
Spare/Replacement Battery for Cordless DECT. Nickel Metal Hydride (2.4VDC 910mAh)
BT-1009
730641
Replacement Charger for Cordless DECT (without AC Adapter)
Cordless DECT Repl. Charger
730662
AC Adapter for Cordless DECT Base Unit. Input : 120VAC / 60Hz / 14W. Output : 10VDC 500mA
PS-0001
730644
AC Adapter for Cordless DECT/Cordless II/Cordless Lite II Charger Unit. Input : 120VAC / 60Hz Output : 9VDC 350mA
PS-0005
730642
Spare/Replacement Belt Clip for Cordless DECT
Cordless DECT Repl. Belt Clip
730626
Leather Case for Cordless II Handset
EXP9783 Leather Case
730622
Spare/Replacement Battery for Cordless II Handset. Nickel Metal Hydride: 3.6V 1300mAh
BT2499A Battery
730621
Charger Unit for Cordless II Handset (without AC Adapter)
EXP9785 Charger Unit
730620
Belt Clip for Cordless II Handset.
EXP9702 Belt Clip
730608
Wall Mount Plate for Cordless II Base Unit
EXP9660 Wall Mount Plate
730631
Battery for Cordless Lite II Handset. Ni-MH, DC3.6V 750mAh
BT-930 Battery
730632
Charger Unit for Cordless Lite II Handset (without AC Adapter)
EXP9385 Charger Unit
730634
Belt Clip for Cordless Lite II Handset
EXP9302 Belt Clip
730608
Wall Mount Plate for Cordless Lite II Base Unit
EXP9660 Wall Mount Plate