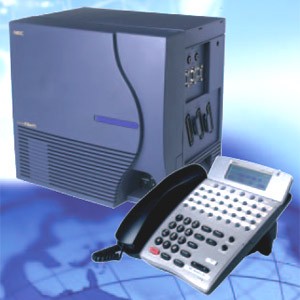 NEC business telephone systems are built to last, typically from 12 to 15 years. It is not uncommon to have an NEC telephone system even 20 years or more. If you bought an NEC IPK II telephone system in the early 2000's there is a good chance it's still running well and supporting your business today and with proper support your NEC IPK phone system could last for years to come.
Teleco supports all older NEC telephone systems including the NEC Electra Elite IPK II digital business telephone system. We can provide service support, add-ons, moves, upgrades and maintenance service contracts. We provide emergency service and carry all parts in stock for immediate repairs. We carry CPUs, power supplies, COI cards, ESI cards, SLI cards, DPH cards, PGD door phone modules, Voice Mail Systems, and all NEC IPK phones including DTH-8, DTH-16, and DTH-32 phones and even the older DTU line of NEC phones.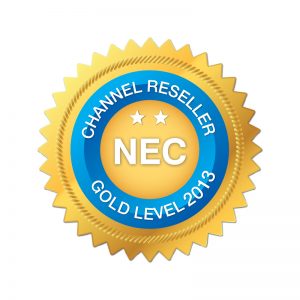 Teleco can also upgrade your older NEC to the latest line of NEC telephone system. An upgrade can give you all the latest features and keep you running smoothly for the next 12 to 15 years. Teleco supports all NEC voice mail systems including the legacy NEC EliteMail and InMail.
Please call Teleco at 855-5-Teleco for more information or email us at service@teleco4.com.
The NEC Advantage
The NEC Electra Elite IPK II is designed and manufactured by NEC Unified Solutions. NEC have over100 years of experience ensures that quality and reliability are standard features. NEC has more patents then any other telephone company in the world, so you know the technology is state of the art. This fusion of legendary quality and today's most advanced technology has made NEC is the #1 selling brand of business telephones in America. Whether you need 4 phones or 104 or more the NEC IPK II telephone system is perfect for the needs of your business.
The IPK II design objectives were based on three E's –– Easy to Install, Easy to Maintain and Easy to Use — all at a reasonable price. The Elite IPK II is user-friendly, exceptionally reliable and cost-effective. Built for long-term reliability and modular growth the NEC IPK II comes with productivity driven features that help your business every day including the many advantages of Voice over Internet Protocol (VoIP), the future of telecommunications.
Investment Protection and Modular Growth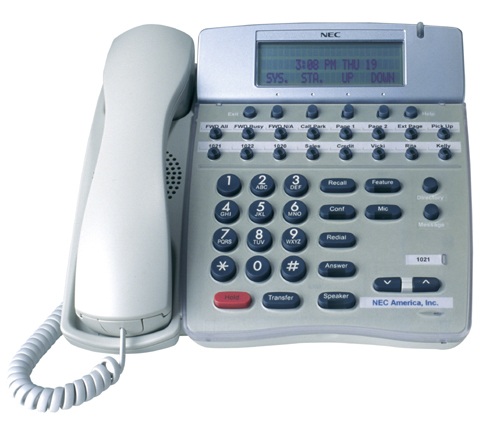 The Electra Elite IPK II is fully digital and is designed to last 12-15 years or more. No matter how much your business grows or your needs change, the IPK II gives you all the expandability and flexibility you will ever need from a business telephone system.
The IPK II already includes all of today's top features. For tomorrow, inexpensive, simple to install software upgrades will add new features and technologies, as they are developed, so the system won't become obsolete.
The IPK II telephone system can start as small as 4 phones and 4 lines, but can grow to 200 lines and 240 phones. Everything is modular, so you only pay for what you need today. Adding additional lines or phones is quick, simple and inexpensive. The Elite IPK II CPU is configured for 64 ports (combination of lines and phones); but, growth up to 456 ports is simple with the addition of an single, inexpensive Port Key Upgrade chip. 16 VoIP Station Licenses are also included on the CPU at no extra cost.
The base cabinet has 8 universal slots and can support up to 152 ports. Up to 2 expansion cabinets can be added, each with 8 universal slots and up to 152 ports. No other telephone system offers so much expansion with so little hardware or cost. There is no need to worry about out growing the phone system. You can even link multiple locations together to form one seamless telephone system.
The Elite IPK II is About Choice
The IPK II is truly a single processor solution that deploys traditional circuit switching and IP on the same CPU. This means the choice and timing of IP migration is easily left to the customer.
The IPK II CPU comes equipped to support up to 256 IP phones. IP Telephones support the same feature set as TDM telephones, making for a seamless and consistent user experience.
Advanced Technology
The NEC IPK II features a totally new CPU architecture. The new innovative IPK II CPU is more advanced than anything else on the market and has 4 times the power of the old IPK processor. The IPK II CPU supports both traditional voice and Voice over Internet Protocol (VoIP) on a single processor. This allows you to implement VoIP if and when you are ready without having to replace the CPU or upgrade the software. There are even 16 VoIP station licenses built in.
Features and Flexibility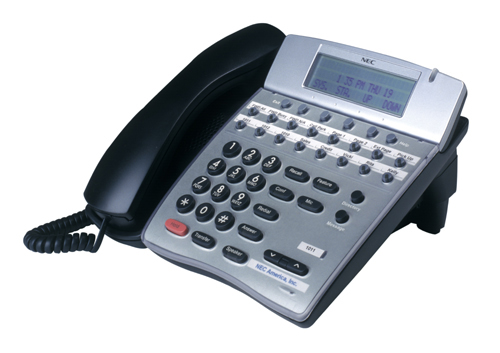 Everything about the NEC IPK II telephone system is designed to be customized for your business. During the installation process, the telephone system is programmed for the exact way your business works. Whether you want an automated attendant, a main receptionist, or everyone shares the answering duties, Teleco's expert, certified technicians will explain all of your options and help you decide which features are right for you. If your needs change, anything can be reprogrammed at any time. With Remote Administration, those changes can even be made without a site visit or any extra charges.
Just like the system's features, the type of telephone service you need is tailored to you specific business. Whether you need traditional POTS phone lines, T1, PRI, VoIP, or any combination, the IPK II does it all! You have the freedom to adopt any service you need at any time, now or in the future. Teleco's expert sales staff can help you decide which services are best for you and can usually save you money too. No other business telephone system is this powerful at such a reasonable price.
The feature-rich Electra Elite IPK II system provides dozens of telephone features including:
Live Record into Voice Mail
32 Party Conferencing
Voice Over
Reverse Voice Over
Follow Me Forwarding
Automatic Call Distribution (ACD)*
Caller ID with Auto Call Back
Electra Elite IPK Telephones
There are IPK telephones for every need and price range. Available in black or white, there are 8-Line, 16-Line, and 32-Line models. Each comes in a display or non-display model. Speakerphones are standard, providing full hands free operation. For basic functionality, there is an inexpensive 4-Line digital display telephone and a 2-Line digital non-display phone.
All NEC IPK telephones have a built-in headset jack, tilt stand, 360° large message waiting light, and wall mount bracket. The large Liquid Crystal Display (LCD) on the display phones provides call status data and programming information, as well as voice mail soft key integration. The display phones have four interactive soft keys which provide menu driven help information for voice mail functions, speed dial directory, caller ID list, intercom numbers, and much more. click for a detailed view of an IPK telephone
For Voice over IP applications, there are MEGACO VoIP Display Telephones in 4, 8 and 16 button sizes and IP soft phones that run on your computer.
Several adapters can be added an IPK phone to enhance functionality.
Computer Telephony Adapter: Connects your IPK telephone to a PC via USB. This allows users to dial from their keyboard or from a phonebook applications such as Outlook, Goldmine, or Act. The adapter can be used to provide caller ID screen pops, database lookups, and to record calls directly to your PC as well.
IP Adapter: Converts your phone into an VoIP phone to protect your investment if you migrate to IP in the future
Analog Port Adapter: Provides an interface for a single line device such as a modem, fax machine, credit card machine, or analog cordless phone.
Ancillary Device Adapter: Connects your IPK phone to a recording device, such as a tape recorder or a PC sound card. The adapter also features dedicated input connectors for a recording tone unit which informs the parties involved that the call is being recorded.
Duplex Adapter: Adds full duplex speaker phone capabilities for enhanced speaker phone operation.
For larger installations there is a 16 button LCD add-on module and a 60 button receptionist console. For companies with a very high call volume, there is a PC Attendant Console which can provide your receptionist with advanced call processing features.
There is also a 16-Line LCD display telephone which displays button information digitally without the need for a printer paper tag (see very top of page). The LCD phone also uses Icons to display certain functions. For restaurants, bars, or other dark locations there is 16 button Back Lit speaker display telephone.
Cordless Telephones
The Dterm Cordless II has Spread Spectrum technology that provides up to 350 feet of range. It's features include access to all lines, intercom, hold, transfer, 3 ring tones or vibrate, headset jack, belt clip, 2 line display, 6 hours of talk time, 4 step volume control, and more. Perfect for the mobile manager. (click phone for brochure)
There is also a Cordless II Lite with the same features, but a 150 foot range and a lower price tag.
The NEC IPK II also supports standard cordless phones. This is the ideal choice for employees that would benefit from mobility but do not require the power and versatility of a digital telephone. Standard Analog Cordless telephones offer a highly affordable solution and easy access to many system features. They can operate "stand alone" or can piggy back off your main digital extension.
Additional Equipment
Additional equipment such as: single line telephones, external paging speakers, conference room phones, duplex speakerphones such as Polycoms, call recording systems, computer integration devices, voice mail or fax machines can be connected to enhance the abilities of the NEC IPK II.
Advanced Software = Improved User Experience
The IPK II comes standard with many features that are optional or not available on other systems.
Interactive Soft Keys change based on the state of the telephone. Dozens of soft keys to assist users in maximizing the power of their Electra Elite IPK system features. Users are not forced to memorize access codes or dedicate line keys for feature assignments.
Call Park System– The number of call park zones has been expanded from 10 to 40. A visual line key indication on the telephone assists users in simple retrieval of parked calls.
32 Party Conferencing– The NEC IPK II allows you to conference any combination of internal and external parties up to 32.
Remote System Upgrade– The NEC IPK II's software and firmware can be upgrading remotely using a Compact Flash card mounted on the CPU. This keeps your system completely up to date and eliminates the need for a site visit to install an upgrade.
Reverse Voice Over — A brand new NEC Exclusive feature. Normal voice over allows you to receive an intercom call through your handset while you are on the phone. You can even respond to that intercom call with out your outside party knowing. Reverse voice over allows you to make an intercom call while on an outside call. You can call another extension without the outside party knowing or putting your call on hold.
Speed Dial Expansion-– The Electra Elite IPK II has two options for assigning speed dial–. 80 system speed dial numbers and 20 station numbers per phone or 1000 system speed dial numbers. Prior to Release 4000, with the 1000 system option, stations were unable to support any station speed dial. The IPK II allows each station to have 10 station speed dial buffers even with the 1000 option.
Last 10 Number Redial– The last number redial feature has been expanded to support the last 10 numbers dialed. Users have the ability to view these most recently dialed numbers and immediately dial the selected number, saving time and offering additional convenience.
Internal Intercom Directory — Allows you to scroll though a list of extensions on your display
New IP Telephones– The new version of the Electra Elite IP telephones, support an optional adapter that provides local survivability when the IP network is inoperative. With the adapter users can make/receive phone calls through a back up local line. The new IP telephones support the IEEE 802.3af PoE (Power over Ethernet) as a standard feature which eliminates the AC adapter and reduces desk clutter.